Indians survive cycle, avoid Cup elimination
Walters makes history for Clippers, then leaves with injury in Game 3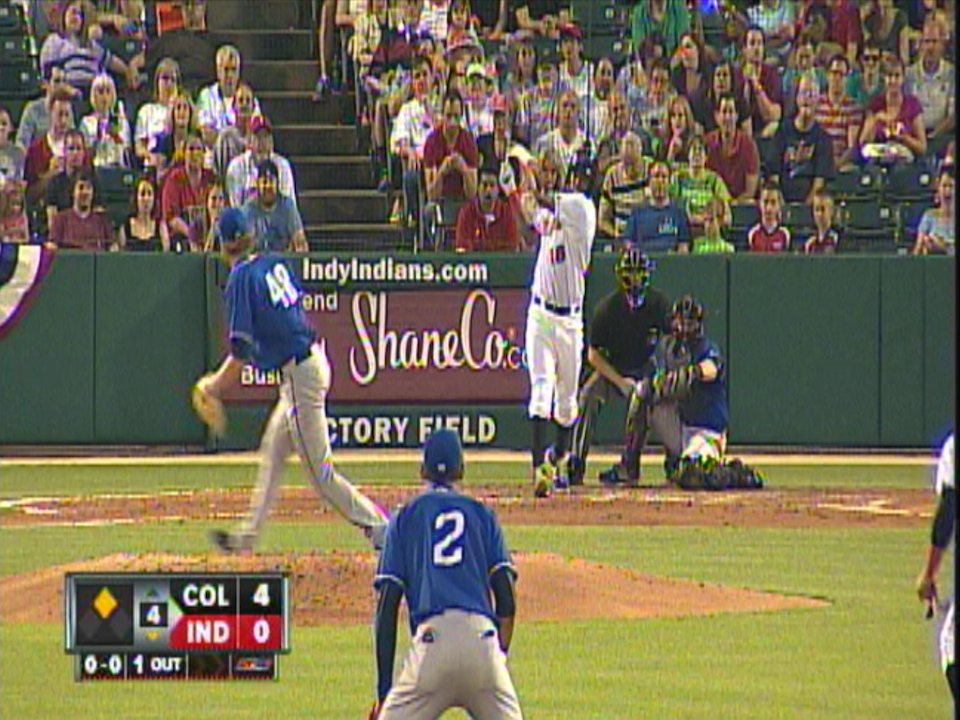 By Danny Wild / MiLB.com | September 18, 2015 12:12 AM
The Indians needed a special night Thursday to stay alive, and for the first time in this series, things finally went their way.
"We did everything we could tonight to win and live for another day," said Indianapolis hitting coach Butch Wynegar. "The boys did a good job."
The Pirates' Triple-A affiliate grinded across the go-ahead run in the eighth inning and overcame a cycle by Zach Walters to beat Triple-A Columbus, 6-5, on Thursday at Victory Field. The Game 3 win kept Indy alive in the best-of-5 Governors' Cup Finals.
Down 2-0 in the League series and facing elimination, the Indians scored the game's decisive run in the eighth when Keon Broxton walked and came home on an RBI grounder by Gustavo Nunez. In the top half of the frame, Walters doubled to hit for the cycle and then scored the game-tying run.
"I was proud of the boys the way they came back," said Wynegar. "A lot of emotion and energy in the dugout. It was a huge win and we talked after the game, 'We live to fight another day.'"
Fresh off a dramatic win in Game 2, Columbus built a 4-0 lead by the fourth on homers from Walters, Yandy Diaz and Michael Choice. The Indians' bats woke up in the bottom of the fourth when No. 3 Pirates prospect Josh Bell and John Bowker hit RBI doubles and Broxton knocked in Willy Garcia with a sacrifice fly. Indianapolis took the lead an inning later when Gorkys Hernandez singled home Tony Sanchez and Nunez.
"Great team effort, all hands on deck," said Jeremy Bleich, who picked up the win in relief for Indianapolis. "We got down early, clawed back and were able to piece it together at the end and it worked out for us."
Walters, a 26-year-old outfielder who was sent to Cleveland from Washington for Asdrubal Cabrera at the trade deadline in 2014, went 4-for-4 and ripped a line-drive double off the wall in the right-field corner to complete the feat. Adam Moore followed with an RBI single to left, but Walters injured his left shoulder while sliding into home plate with the tying run and was forced to leave the game. Ronny Rodriguez replaced him in left.
Columbus manager Chris Tremie said he didn't yet know the extent of Walters' injury.
"I'll have to check with him, I don't have any information right now," Tremie said.
Wynegar, a former Major Leaguer who has been a coach and manager in the Minors since 1994, was equally impressed with Walters' efforts across the field.
"My goodness, I know Zach a little bit, I've seen him a number of years. He's a good-looking player and good hitter," said Wynegar. "I don't know what happened to him, don't know if he hurt his shoulder or wrist, but he exited the game. He's a wonderful ballplayer and he looks like he was locked in tonight, using the whole field. He crushed that home run, he swung the bat well."
Indians closer Blake Wood came on for the ninth and retired Choice, Game 2 hero Tyler Holt and Gonzalez for the save.
Columbus' Will Roberts started off with three perfect innings but ended up allowing four runs -- three earned -- on five hits over four innings. Joseph Colon (1-1) took the loss after allowing an unearned run in the eighth.
"We played a good ball game, unfortunately tonight we unable to come away with a win," Tremie said. "We'll come back out and get them tomorrow. But we're playing really good baseball and we're going to be ready to play."
Top Pirates prospect Tyler Glasnow started for the Indians and was charged with four runs on six hits and two walks over 6 2/3 innings. The righty, who threw 68 of his 111 pitches for strikes, struck out six.
Down early, Wynegar told his hitters to do whatever they could to score some runs.
"I said, 'Hey guys, let's find a way, get on top of the plate, whatever we gotta do to get something on the board before the game gets out of hand,'" he said. "I give guys credit for settling in and chipping away. I thought we had better at-bats the second time through the lineup and were able to cash in."
Wynegar had a meeting with his batters before the game and told them he was proud of the way they've battled this season.
"We've won three in a row before," he said. "I think about top to bottom, we had to go out there and put together solid, mentally-tough at-bats. We can play it one day at a time at this point, and fortunately, we were able to do it tonight."
The Indians, though, face elimination again Friday when Indianapolis right-hander Chad Kuhl (11-5, 2.48 ERA) takes on Columbus' Jarrett Grube (13-4, 2.57) at 7:15 p.m. ET.
"It's been three great games, very energetic and emotional," said Wynegar. "It's been really close, one-run games. It could have been us 2-1 up now as they are. ... It's been fun."
Danny Wild is an editor for MiLB.com. Follow his MLBlog column, Minoring in Twitter. This story was not subject to the approval of the National Association of Professional Baseball Leagues or its clubs.
View More