Swihart sends PawSox back to IL Finals
Red Sox's No. 3 prospect plates go-ahead run, helps complete sweep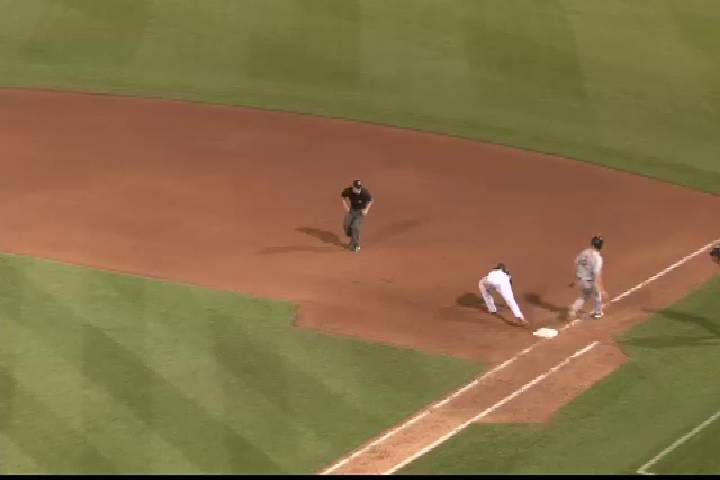 By Robert Emrich / MiLB.com | September 6, 2014 1:26 AM
Blake Swihart and the Red Sox try to have a good time on the field. There were plenty of good times to be had on Friday night.
The Red Sox's No. 3 prospect drove in the go-ahead run in the seventh inning as Pawtucket rallied past Syracuse, 7-6, to return to the Governors' Cup Finals.
The PawSox trailed, 6-4, heading to the seventh, but Ryan Lavarnway knotted things up with a two-run single. Two batters later, Swihart singled with two outs to give Pawtucket its first lead of the night.
"We just have fun with it," Swihart told the Providence Journal. "It's a good group of guys, a lot of team chemistry. Being a part of the Red Sox organization, it's win, win, win."
The PawSox fell behind, 4-0, after the second inning before chipping away. Top Red Sox prospect Henry Owens, who allowed five runs on eight hits over four innings, was not surprised to at the club's resilience.
"I came [into the locker room] for a half-inning," he said. "You've got to get your teammates back. I wanted to give these guys a chance. I didn't give them a good chance, but they proved to be resilient, like they have all season."
After falling short in their quest for the International League title last year, Pawtucket will face Durham or Columbus in search of a second Governors' Cup in three years.
"It's a long season, going from Spring Training," manager Kevin Boles told the newspaper. "A lot of these guys play winter ball. There's a lot that goes into this. The goal is getting to the highest level, but playing for something, it means a lot. It doesn't happen every day. Our guys fight."
Bryce Brentz was 3-for-5 with a double and an RBI, while Corey Brown homered for the PawSox.
Daller Hinojosa (1-0) gave up a run on two hits over two innings to get the win and Heath Hembree recorded the final four outs for the save.
Emmanuel Burriss collected four hits, including a two-run homer, for the Chiefs, who were making their first playoff appearance since 1998.
Robert Emrich is a contributor to MiLB.com. Follow him on Twitter @RobertEmrich. This story was not subject to the approval of the National Association of Professional Baseball Leagues or its clubs.
View More