Non-Radio improves to 4-0 in Media Softball Game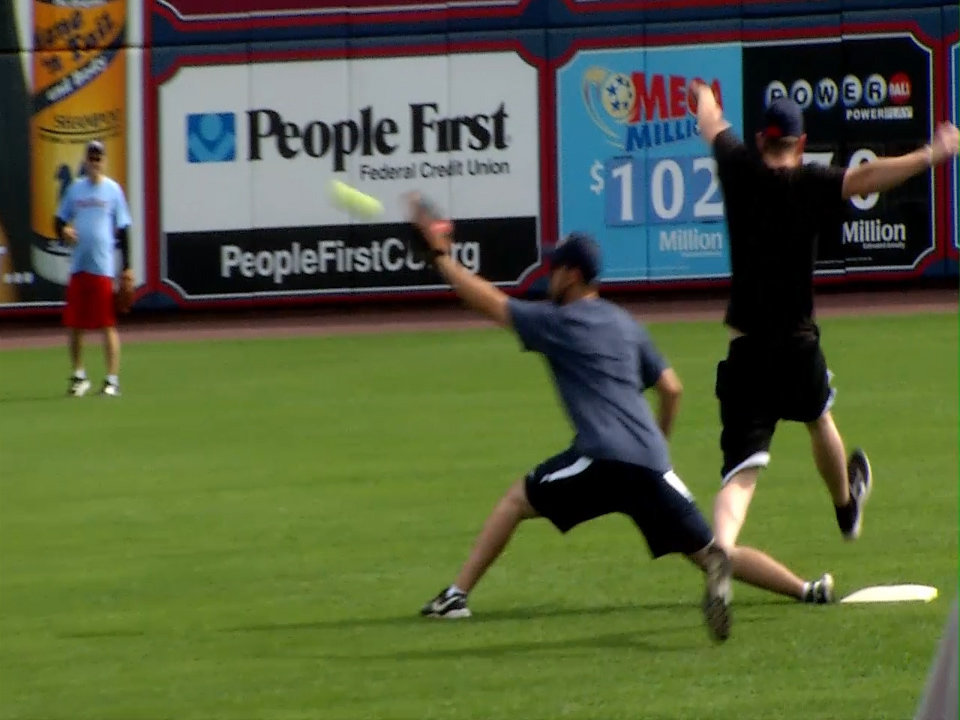 By Lehigh Valley IronPigs | October 6, 2017 12:20 PM ET
ALLENTOWN, Pa. - The Morning Call's Keith Groller earned the win, hold and save as Team Gold (non-radio) defeated the Bacon (radio), 14-9, in the Fourth Annual IronPigs Media Softball Game on Thursday at Coca-Cola Park. With the win, the non-radio team improved to a perfect 4-0 in the history of the series.
"I find it quite ironic that those who 'talk' have not been able to 'walk the walk'," said IronPigs Beat Writer and Team Gold Captain Tom Housenick, who remains the all-time IMSG hits leader. "Once again, the pen proves mightier."
Groller also added a pair of singles, while The Morning Call colleagues Housenick (4-5, 2B, R) and Ernie Long (3-4, 2 RBI, 3 R) also had big performances for Team Gold, which consisted of TV personalities, sports journalists and press box personnel.
For his work on the mound, Groller became the second-consecutive MCall representative to earn game MVP honors. Team Gold's victory was even more impressive as it played without 2016 MVP Stephen Gross, who was erroneously left off the invitation email list (my bad, SG!).
"I felt great out there. The location, the velocity - it was all working for me today," said Groller, who claimed to have drawn his inspiration from Al "The Mad Hungarian" Hrabosky, Bob Forsch and Chris Carpenter (for the record, he was wearing a St. Louis Cardinals jersey).
Long also made short work of the Team Bacon by providing an array of diving catches in left field to secure Team Gold's fourth-consecutive victory.
"It all in a day's work. I put in the time in the offseason and it all pays off when I come out here," Long said. "Tom [Housenick] was telling me where the guys were going to hit it. He put all the right pieces in place."
TV2's Al DiCarlo (3-5, HR, 2 RBI, R) emerged on the IMSG scene in historical fashion - homering over the left-field wall in his first career at-bat with one out and no one on in the second inning. He became the first player ever to hit an out-of-the park homer since the inception of the classic.
1B Kyle Taylor (3-4, 2B, 2 RBI, 3 R), a team photographer from Digital Photographic Imaging, also turned in a picture-perfect defensive performance that featured more scoops than Baskin-Robbins on a Saturday in August.
In the losing effort, Team Bacon received three hits apiece from The Happy Hour's Tom Fallon (3-7, 2B, 2 R) and Matt Markus (3-7, RBI, 2 R), After Further Review's Bob Holder (3-6, R) and Connoisseur Media's Joe Brown (3-6, 2 RBI, R). Joe Brown, an IMSG rookie, looked like Joe DiMaggio in centerfield - as the "Bacon Clipper" made several highlight-reel catches to keep his microphone midgets in the game.
"I don't know how to live with myself after being 0-4," said Holder, Team Bacon captain. "This is the only game we get to shine and we didn't show up. We're going to go back to the drawing board. We're going to work hard in the offseason and we're going to come back."

Team Gold jumped out to a big lead with a four-run first inning. Housenick and TV2's Kristi Fulkerson (1-5, R) both singled to lead off the game. TV2's Doug Heater (1-5, 3B, RBI, R) drove home the first run of the game on an RBI groundout that gave Team Gold a lead it would never relinquish. The lead was extended on RBI singles by Long and the IronPigs' Matt Provence (3-5, 2 RBI, R) as well as on an RBI groundout by Taylor.
During the rally, WFMZ Sports Director Dan Moscaritolo (2-5, 2B, 3B, R) ripped a double in the first at-bat of his IMSG debut.
Team Bacon would not go away quietly. Down, 5-1, the radio personalities would pull to within one on the strength of a three-run rally in the bottom of the third inning. After Markus, Holder and Brown all singled to load the bases with no outs, Cat Country's Sam Malone (2-7, 2 RBI, R) singled home the first run of the frame. That was followed by the fifth of five-consecutive hits -- a two-run single by ESPN Lehigh Valley's Johny Safi (2-7, 2 RBI, R).
Then, the turning point of the game.
With the lead trimmed to 5-4 and with two runners on and still no outs, starting pitcher Al DiCarlo did his best Aldo Savoldello (Italian illusionist) routine to preserve the lead. After inducing a pop-up from Cumulus Media's Jerry Paddon (2-6, RBI), DiCarlo got some help from his Keystone Combo -- as Moscaritolo (SS) and Fulkerson (2B) turned a 6-4-3 double play on a grounder by Spin Radio's Riley Reed (2-6, RBI) to escape without further damage.
As was the case all afternoon, Team Gold had an immediate answer. In the next half-inning, the lead was built back to 7-4 on RBI singles by Provence and RCN's Chris Michael (2-5, RBI, R). There could've been a lot more scoring in the frame had it not been for an amazing, inning-ending catch by Brown -- who crashed high up against the center-field wall to make a leaping, juggling catch to rob DiCarlo of extra bases and a few more RBI.
Team Bacon would later pull to within one run, 8-7, with a Brown sac-fly in the bottom of the eighth. But once again, Team Gold had swift response with a four-run ninth that essentiality iced the game.
"I'm guaranteeing a victory next year, too," Holder said. "I'm 0-4 for guarantees, but we're going to try it again."
The 12-inning contest was played in exactly two hours and in front of a crowd of two (Chuck Hixson, Rocky Groller) on a 79-degree day at Coca-Cola Park.
This story was not subject to the approval of the National Association of Professional Baseball Leagues or its clubs.
View More