Storm To Host 14th Annual Sip N' Swing Preseason Party On March 29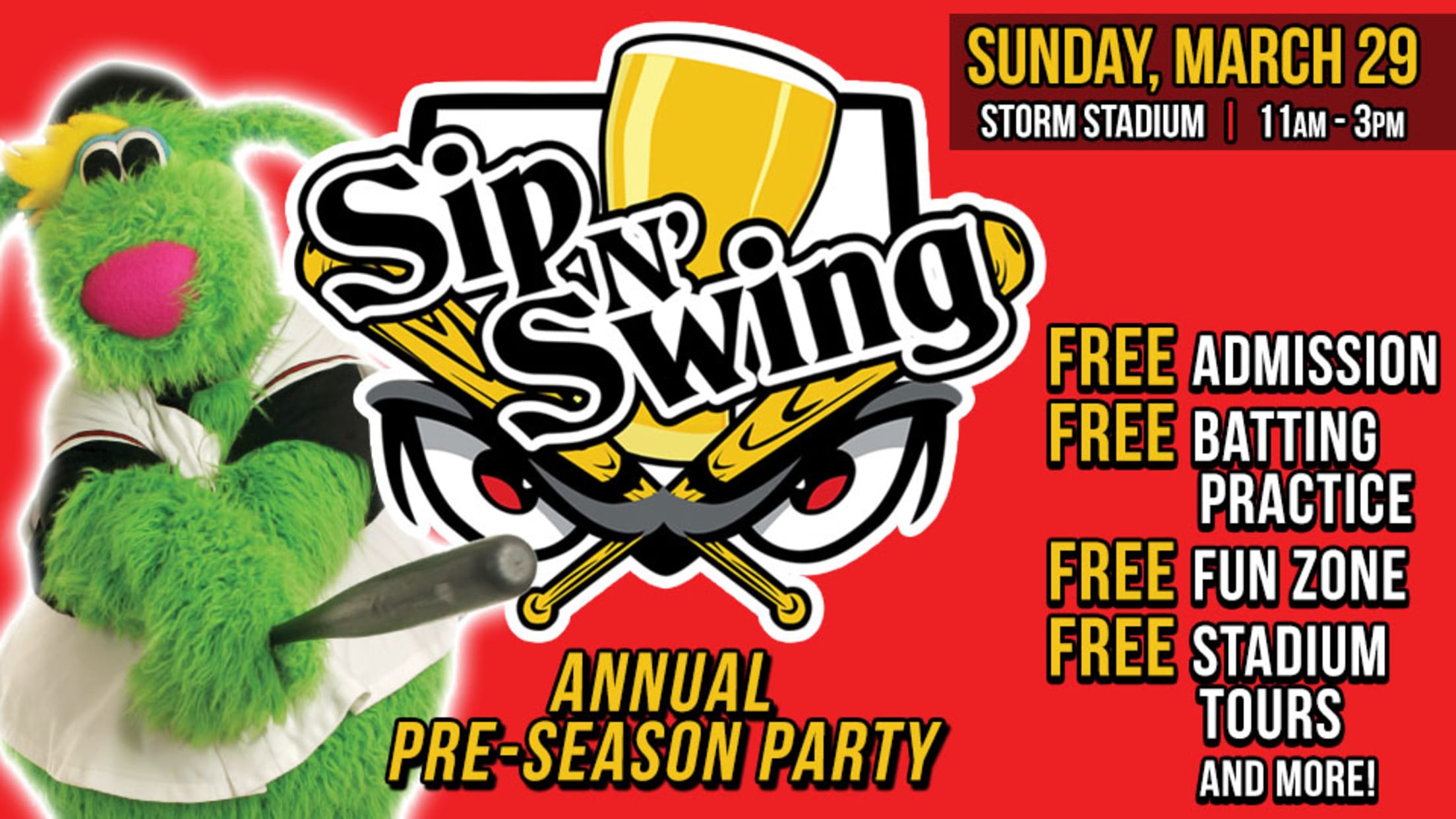 Free event for fans of all ages will feature on-field batting practice, prizes, fun zone and more
Free event for fans of all ages will feature on-field batting practice, prizes, fun zone and more
LAKE ELSINORE, CA - The Lake Elsinore Storm invite guests of all ages to the 14th Annual Sip N' Swing Preseason Party on Sunday, March 29 at The Diamond in Lake Elsinore. Gates will be open from 11:00am - 3:00pm and parking and admission are free.
The 27th season of Storm Baseball begins on Opening Night, April 9 but those able to attend Sip N' Swing will have the opportunity to be a part of the season's first batting practice on the field. Guests also can take a behind-the-scenes tour of the stadium with stops at the Suite Level, home clubhouse, home dugout and a stroll around the outfield warning track for a unique perspective at Pete Lehr Field.
Storm mascot, Thunder, the loveable green dog, will be on hand for pictures and zaniness, the Fun Zone will be open for kids 12 and under, and the Souvenir Store will feature the Storm Eyes on this season's newest merchandise. Also, fans will have the chance to take home prizes, including a VIP Grand Prize, along with special giveaways during the event.
The new Diamond Taproom will be open for regular business, and stadium concessions will be honoring a new theme and promotion in 2020 called $Cinco Sunday$, offering five dollar food and beverage specials at the ballpark.
Guests in attendance can purchase their favorite seats for the best promotions of the season and witness firsthand the off-season changes and additions at The Diamond.
"Sip N' Swing is a fantastic way to remind and encourage our local communities that Storm Baseball is ready for another season of fun and excitement," said team co-General Manager Christine Kavic. "We're thrilled to get the ball rolling and the chance to showcase what's new at the ballpark in 2020."
For more information about Sip N' Swing call the Storm at 951-245-4487, visit stormbaseball.com and follow us on Facebook, Twitter (@Storm_Baseball) and Instagram (lakeelsinorestorm).