2021 Las Vegas Aviators Triple-A Field Staff
Fran Riordan - Manager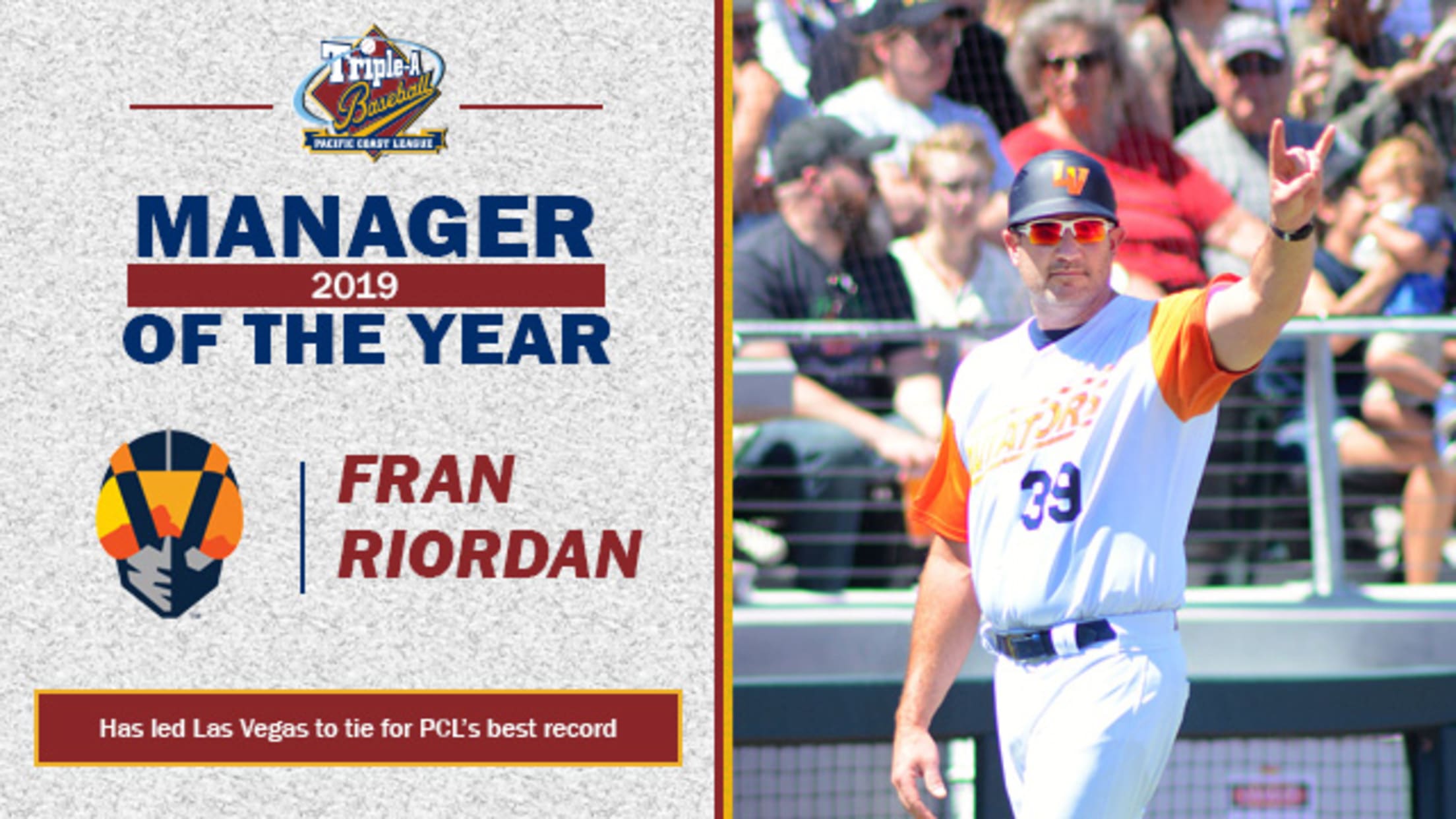 BORN: 8/25/75 - Virginia Beach, VA
AVIATORS SUMMARY: Fran Riordan, on November 8, 2018, was named the 25th manager in the history of the Las Vegas franchise (1983 - present, 38 calendar seasons).
CAREER SUMMARY: He has recorded 20 seasons overall in professional baseball and has been a member of the Oakland Athletics organization for the past six seasons (2015-20). Riordan has compiled an overall managerial record over 20 seasons of 1,024-982 (.510).
2019: He was named PCL Manager of the Year and led Triple-A Las Vegas to the second-best record in the 16-team PCL (83-57, .593) and the Aviators captured the Pacific Southern Division Championship. Las Vegas returned to the playoffs for the first time since 2014 and lost to Sacramento, 3-games-to-2, in the conference championship series. The 83-57 record marked a single-season franchise record for winning percentage at .593 (140-game season). 2020: Riordan was involved with the Athletics 60-man player pool alternate site located in San Jose, Calif.
In 2018, he made his Triple-A debut as manager with the Nashville Sounds of the Pacific Coast League and compiled an overall record of 72-68 (.514) and finished in second place in the American Southern Division to the PCL and Triple-A National Champion, the Memphis Redbirds. Nashville compiled a PCL-best 15-game winning streak from July 29 - August 14. In 2017, he compiled a record of 67-71 (.486) with Double-A Midland and his squad captured the Texas League Championship. The prior two seasons, he was the skipper of Single-A Beloit of the Midwest League (2015-16). Before joining the Oakland organization, Riordan spent four seasons as manager of the Florence Freedom of the Frontier League (2011-14). He led the team to two playoff berths and is the all-time Frontier League leader in wins with 625. He was a 2014 Frontier League Hall of Fame inductee. Prior to his time with Florence, he managed the Northern League's Lake County Fielders (2010) and Kalamazoo Kings for six seasons (2004-09), leading the Kings to the 2005 Frontier League title. He was named the 2008 Frontier League Manager of the Year. He also served as player-manager in the Frontier League from 2000-02, leading the Richmond Roosters to back-to-back-league championships in 2001 and 2002.
PROFESSIONAL PLAYING CAREER: The first baseman/outfielder played seven seasons of professional baseball in the Frontier League with Richmond (1997-98, 2001-02), Dubois County (1999-2000) and North Shore (2003). He appeared in 501 career games and batted .281 (525-for-1,869) with 95 doubles, 11 triples, 55 home runs and 349 RBI. He was a three-time All-Star (first base) from 2000-02 and hit a career-high .314 with Dubois County (2000) and Richmond (2002). He established career-highs in home runs (14, 2001) and RBI (81, 2002).
PERSONAL: Francis Peter Riordan (pronounced REAR-den). Fran, 45, resides in Buffalo, N.Y. The Virginia Beach, Virginia native attended Canisius High School in Buffalo and played college baseball at Allegheny College in Pennsylvania. Fran and his wife, Cassie, have three children: Brooke, Sadie and Trent.
Tommy Everidge - Hitting Coach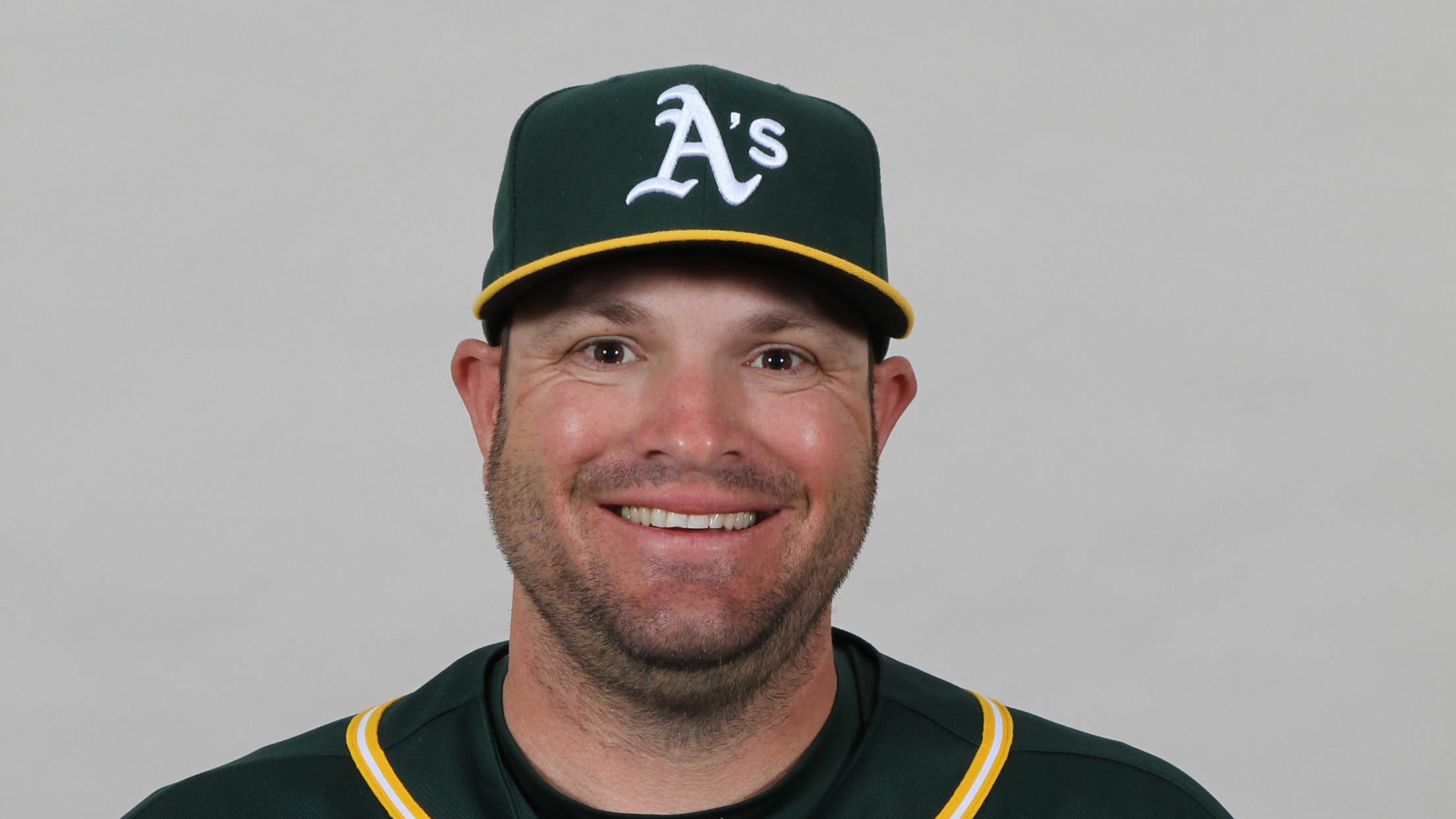 BORN: 4/20/83 - Glen Ellen, CA
CAREER SUMMARY: Everidge begins his eighth season overall in the Oakland Athletics organization. He spent the previous three seasons as hitting coach with Double-A Midland of the Texas League (2018-20).
MINOR LEAGUE COACHING CAREER: He has spent seven seasons in the Athletics organization. He began his career as hitting coach with Short-Season Single-A Vermont of the New York-Penn League and served for two seasons (2014-15); hitting coach for two seasons with Single-A Stockton of the California League (2016-17) and hitting coach for three seasons with Double-A Midland of the Texas League (2018-20).
PROFESSIONAL PLAYING CAREER: Everidge was selected by Oakland in the 10th round of June 2004 First-Year Player Draft. He enjoyed a nine-year playing career (2004-12), including more than six years in the A's system. He made his Major League debut with the A's in 2009 and appeared in 24 career Major League games and batted .224 (19-for-85) with six doubles, two home runs and 7 RBI. In 2008, he led the Texas League and the A's organization with 115 RBI (34 doubles, 22 home runs), including a three-home run, 10-RBI game vs. Tulsa on May 26. In 2011, he was named the Atlantic League Player of the Year while playing for Lancaster, setting a league record with 69 extra-base hits (.319, 41 doubles, 28 home runs, 94 RBI).
PERSONAL: Thomas James Everidge. A Bay Area native, he graduated from Sonoma Valley High School and played collegiately at Sonoma State University. He resides in Glen Allen, Calif., with his wife Kellie, daughter Allison, two sons, Camden and Jackson, dogs, Maddie and Wyatt, and cat, Sadie.
Rick Rodriguez - Pitching Coach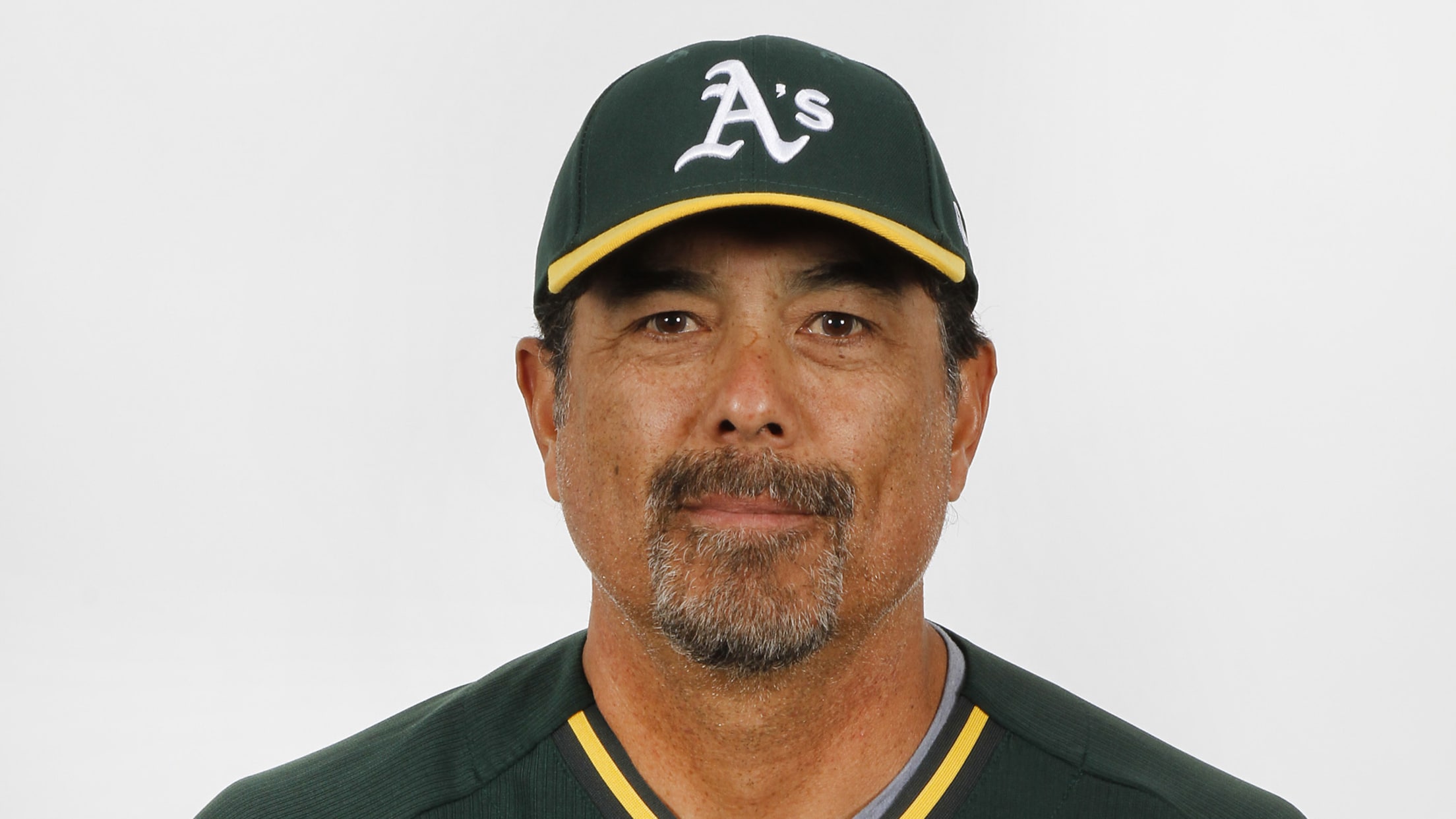 BORN: 9/21/60 - Oakland, CA
CAREER SUMMARY: Rodriguez has enjoyed a long-time professional career and will enter his 37th year in the Oakland Athletics organization, including seven seasons as a player and 28 as a minor league coach. In 2021, he will also enter his sixth straight season as pitching coach for the A's Triple-A affiliate (Nashville, 2016-18; Las Vegas 2019-20). He served as the A's bullpen coach from 2011-12.
MINOR LEAGUE COACHING CAREER: Rodriguez returns for his fourth season (2016 - present) of his fourth stint as pitching coach of the A's top affiliate after previously serving in that capacity from 2000-02, 2004-10 and 2013-14 (Triple-A Sacramento's pitching coach in 12 of the previous 21 seasons, 2000-20). He was a member of two Pacific Coast League championship teams in 2004 and 2007. He also served as pitching coach for Single-A Stockton of the California League in 2015, as the A's bullpen coach from 2011-12 and as the manager of Single-A Modesto in 2003. Prior to becoming pitching coach for Sacramento in 2000, he coached for rookie-level Arizona League A's (1992), Short-Season Southern Oregon (1993-94) and Single-A Modesto (1995-99).
MAJOR LEAGUE PLAYING CAREER: He was selected by Oakland in the second round of the June 1981 First-Year Player Draft. He played four seasons in the Major Leagues with Oakland (1986-87), Cleveland (1988) and San Francisco (1990). The right-hander appeared in 31 career games (started eight) and posted a 3-4 record with a 5.73 ERA. He struck out 22 batters in 77.0 innings pitched. His playing career concluded in 1991 when he made three appearances for Triple-A Phoenix in the Giants organization. He appeared in 190 career minor league games (started 134) and posted a 52-41 record with a 3.89 ERA. He struck out 495 batters in 942.2 innings pitched.
PERSONAL: Ricardo Rodriguez. The East Bay, California native was born in Oakland and graduated from Castro Valley High School in 1978. He attended Chabot Junior College in Hayward and the University of California, Riverside (1981, 11-3 record) and was named to the Castro Valley Sports Hall of Fame in 2011. Rick, 60, resides in Folsom, Calif., with his wife, Dana, and have two children: Rachel and Ryan.
Brian McArn - Assistant Hitting Coach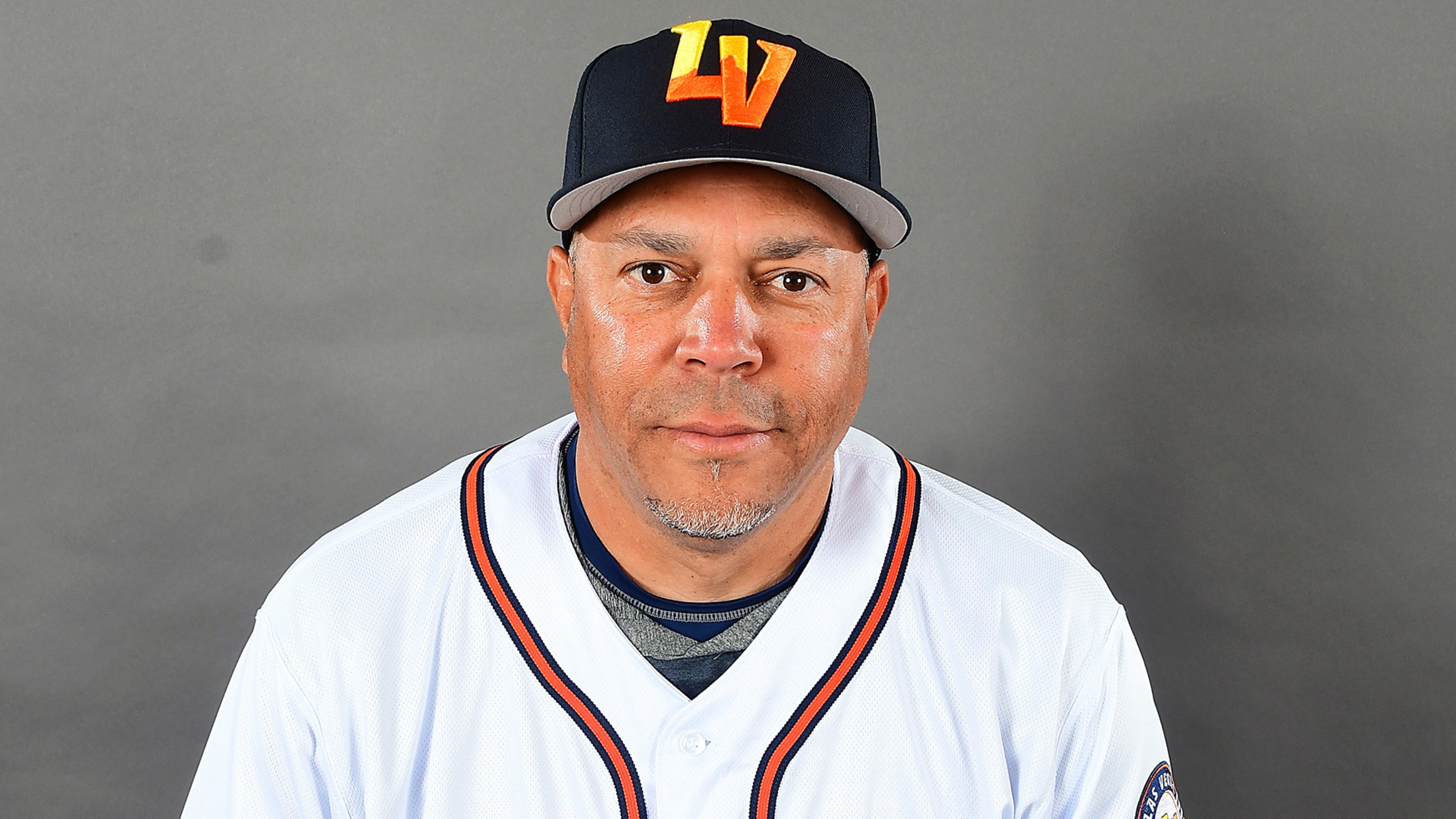 BORN: 9/19/68 - Davis, California
CAREER SUMMARY: Brian begins his 24th season overall in the Oakland Athletics organization. He joins the Triple-A Las Vegas staff as assistant hitting coach after spending the previous three seasons as hitting coach (2018-2020) for Single-A Stockton of the California League.
MINOR LEAGUE COACHING CAREER: He had three stints as hitting coach for Single-A Stockton of the California League for a total of seven seasons (2011-12, 2014-15, 2018-2020), Double-A Midland of the Texas League hitting coach for four seasons (2004, 2013, 2016-17), Triple-A Sacramento of the Pacific Coast League for six seasons (2005-10), Single-A Modesto of the California League hitting coach for six seasons (1998-2003). Prior to joining the A's organization, McArn spent one season as the hitting coach for Single-A Vermont of the New York-Penn League. He has been a minor league coach for a total of 24 seasons. He began his coaching career at American River Junior College in Sacramento, where he served as assistant coach.
PROFESSIONAL PLAYING CAREER: McArn was selected by the Athletics in the 26th round of June 1991 First-Year Player Draft. He spent two seasons in the A's organization before injuries ended his career in 1992.
PERSONAL: Brian D. McArn. He is a graduate of Davis High School (CA) and attended the University of Nebraska and Sacramento City College. He makes his offseason home in Elk Grove, Calif., with his wife, Cancy, and four children: Brian, Bryson, Brevon and Braydon.
Shane Zdebiak - Athletic Trainer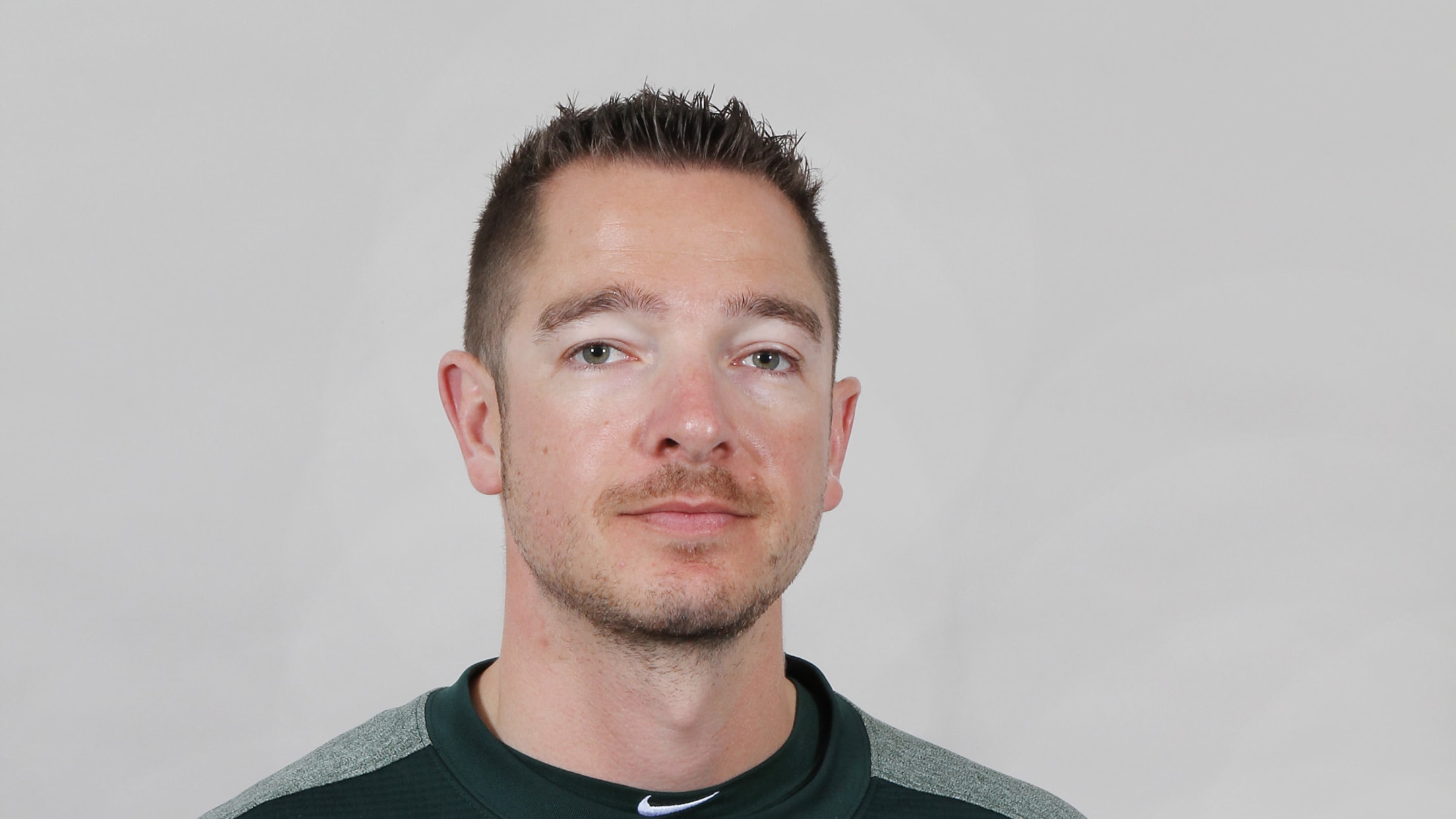 Shane Zdebiak enters his first season as athletic trainer for Triple-A Las Vegas after spending three years in the same role with Single-A Stockton. Prior to that, he was athletic trainer for Single-A Clinton in the Seattle Mariners organization in 2016 after serving as athletic trainer for Short-Season Everett from 2014-15, also in the Seattle system.
Prior to joining the Mariners, he worked as the athletic trainer of the Winnipeg Goldeyes of the independent American Association from 2010-13 and two seasons with the Steinbach Pistons of the Manitoba Junior Hockey League.
Zdebiak graduated from the University of Manitoba in 2009 with a B.A. in kinesiology and is certified as an athletic therapist through the Canadian Athletic Therapists' Association and as an athletic trainer through the National Athletic Trainers' Association Board of Certification.
A native of Gimli, Manitoba, Canada, the 35-year-old currently resides in Scottsdale, Ariz.
Omar Hamed - Sport Performance Coach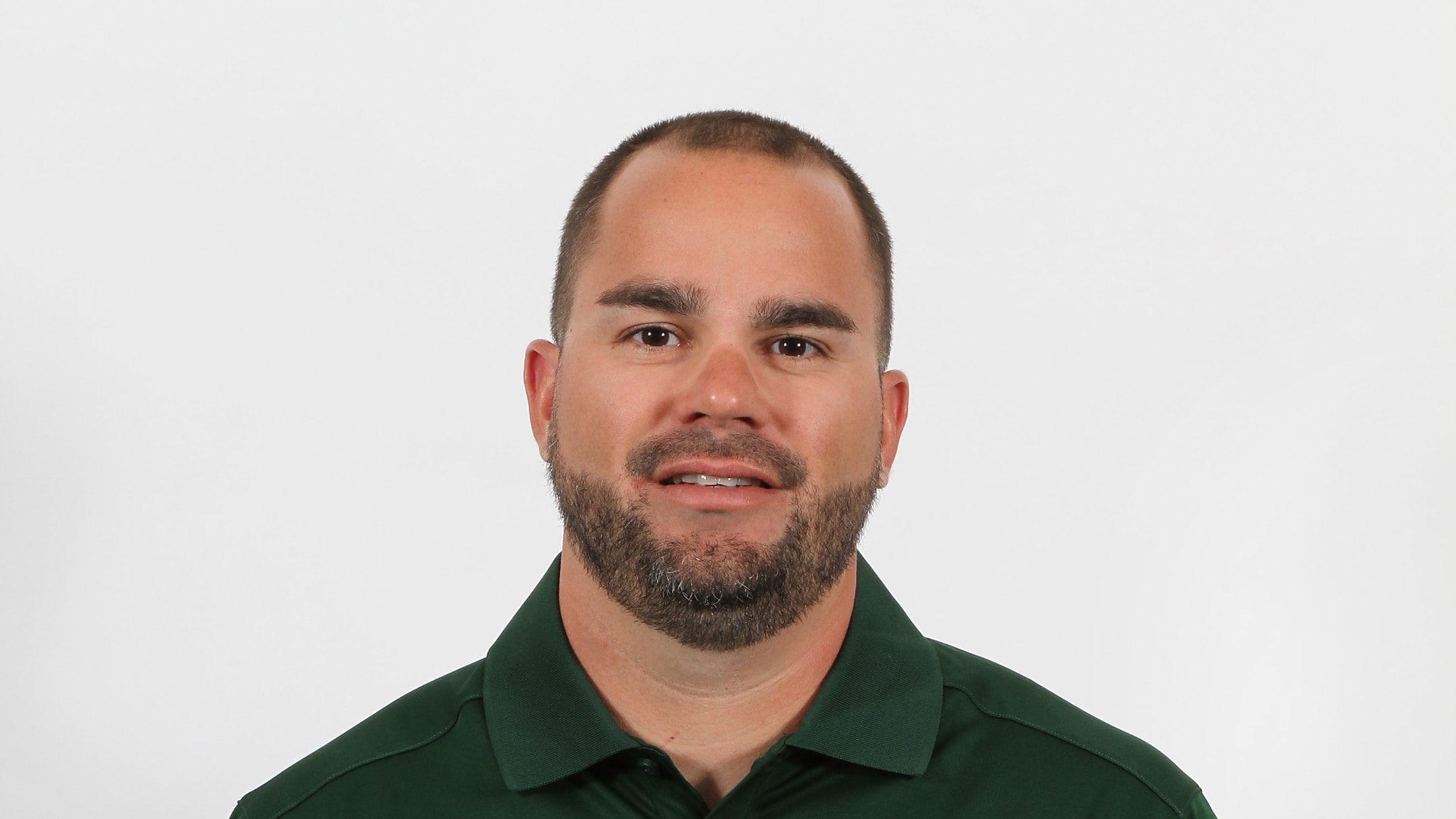 Omar enters his eighth season in the Oakland Athletics organization and his first season with Triple-A Las Vegas as sport performance coach. He spent the 2020 season serving as assistant minor league strength and conditioning coordinator.
During the offseason, Hamed helps MLB develop its strength & conditioning programs around the world. Prior to joining the Athletics, he spent one season in the Los Angeles Dodgers organization in 2009.
Hamed graduated Magna Cum Laude from Inter-American University in Puerto Rico before earning his master's in Nutrition and Human Performance from Logan University in Chesterfield, Mo. Hamed resides in Gilbert, Ariz., with his wife, Coraliz, their sons, Yadier and Ocean, and their dog, Malia.