Former Loons Top List of Dodgers Homegrown Talent
Five former Loons make top ten prospects list for '14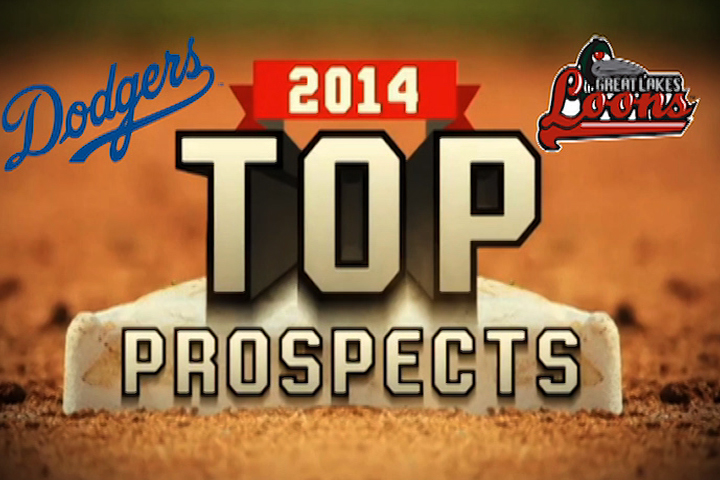 By Bruce Gunther / Great Lakes Loons | January 21, 2014 11:08 AM ET
The cream of the crop pushes it over the top.
That may best describe a Los Angeles Dodgers farm system which is laden with good prospects - including past and future Great Lakes Loons - but distinctive because of an elite group of players who are on the rise.
Baseball America recently came out with its list of Top 10 prospects for each MLB team, and the Dodgers' list includes five former Loons (the highest-ranked five, at that) and a 'Big Four' that rivals any.
"When you look at the Dodgers, in terms of their elite prospects it stacks up with most teams - especially the top four," said Baseball America's Ben Badler. "The kind of upside that those four bring to the table is really pretty hard to beat."
Badler's Fab Four are - with Baseball America ranking order in parentheses - Joc Pederson (1), Corey Seager (2), Julio Urias (3) and Zach Lee (4). All spent time at Dow Diamond, and all appear to be on a fast track to the big leagues.
Pederson, in fact, could end up there sooner than later, Badler said.
"I think, as a No. 1 prospect, he's maybe a little underrated nationally," said Badler. "He doesn't have that one tool that just jumps right out at you, but he does so many things well."
Only 21, Pederson played 16 games for the Loons in 2011 after tearing up the Pioneer (Rookie) League most of that summer. He hit .278 with 22 home runs last season at Double-A Chattanooga and Badler thinks he's not far from being big-league ready.
The only problem is, the Dodgers outfield (Pederson has played center field in the minors) is currently crowded with the likes of Yasiel Puig, Andre Ethier, Matt Kemp and Carl Crawford.
"If they had an opening , I think you could stick him out there in any (outfield ) spot and you would be comfortable with it," said Badler.
Perhaps even more intriguing is the future of Urias, who made his professional debut with the Loons last summer at an age (16) when others were getting their first driver's license. He not only held his own, but showed that he could've pitched at an even higher level.
"Teams liked him, but I don't think anyone thought he would move this quickly. It's unbelievable," said Badler. "It's tricky because there's not much precedent for what he has done. There are not many guys who've followed his career path."
Seager,19, hit .309 in 74 games with the Loons last summer before being called up to High-A Rancho Cucamonga. The Dodgers then sent him to the Arizona Fall League, where he was one of its youngest players. The primary question concerning Seager's future is his size (he's 6-4) and whether it's suited for his position (shortstop).
"He has the hands and arm strength, but maybe not the range you need at shortstop," said Badler. "I think there's a high probability he ends up at third base. But no one questions his ability to hit."
Lee, who made 24 starts for the Loons in 2011, was 10-10 with a 3.22 ERA with Double-A Chattanooga last season. Like Pederson, he may be on the doorstep of making his big league debut in 2014.
"He doesn't necessarily do anything that jumps out and wow you, but he has four very good pitches," Badler said. "He has solid stuff across the board. Last season he really gained an understanding of command and how to attack hitters.
"I think he's right there where you can pencil him into a back-end (MLB) rotation spot."
The fifth player on Badler's Top 10 list is Chris Anderson, who debuted impressively with the Loons last summer. The 18th overall pick in the 2013 draft, Anderson had a 1.96 ERA with Great Lakes and held Midwest League batters to a .201 average.
"He has pretty solid stuff," said Badler. "When that command comes he's going to be good. I don't necessarily see him moving along at the same pace as Zach Lee, but he could be a guy to keep an eye on in a couple of years."
Rounding out Badler's Top 10 are pitcher Chris Withrow (6), second baseman Alexander Guerrero (7), and pitchers Chris Reed (8), Onelki Garcia (9) and Ross Stripling (10).
Withrow, a one-time minor league starter, was moved to the bullpen made it to L.A. last season. The Dodgers have no shortage of bullpen candidates, but the power-armed Withrow has a good shot at returning to the MLB in 2014.
Guerrero, a former Cuban national team member, is expected to be the Dodgers starting second baseman next season. Garcia, meanwhile, earned a September call-up to Los Angeles.
"As far as 1 through 10, (the Dodgers) might not have the overall depth of teams like the Pirates, Cubs and Red Sox," Badler said. "But it matches up very well when you talk about those guys at the top."
This story was not subject to the approval of the National Association of Professional Baseball Leagues or its clubs.
View More