Chapman, Barreto top A's system in 2016
Slugger, speedster leading charge to Oakland after strong campaigns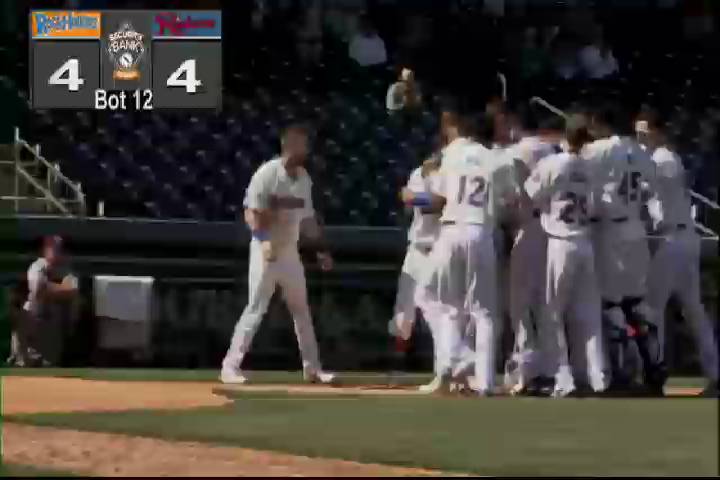 By Kelsie Heneghan / MiLB.com | November 23, 2016 10:15 AM
This offseason, MiLB.com will be honoring the players -- regardless of age or prospect status -- who had the best seasons in their organizations. We're taking a look at each team to determine the outstanding seasons in Minor League baseball.
Help is on the way to the Bay Area.
The A's are developing a solid crop of talented prospects, and many are at the upper levels. Triple-A Nashville and Double-A Midland both reached the playoffs in 2016 with the RockHounds securing their third straight Texas League title. Many of the prospects who contributed to that success are beginning to assist in Oakland as 11 players made their Major League debut this season.
As prospects move up, so have their coaches. While working as a scout, current Sounds hitting coach Eric Martins signed A's No. 4 prospect Matt Chapman in 2014 before working with the slugger at Double-A and now Triple-A. At the helm in Midland for the past two years, Ryan Christenson earned a promotion of his own and will manage Nashville in 2017.
Both coaches have enjoyed watching the likes of Chapman, Franklin Barreto, Chad Pinder, Matt Olson, Ryon Healy and others develop on and off the field, potentially setting up a special 2017 Sounds squad that will be ready to answer the call from Oakland.
"They're a special group -- they win together, they've won together, they're coming up to the big leagues together now and collectively it's a good bond of teammates who really pick each other up," Martins said. "They love to win, they all know their role, they play the game the right way, they work hard and they hold each other accountable for it. It's really fun to watch these guys grow."
A's Organization All-Stars
Catcher -- Bruce Maxwell, Nashville (60 games), Oakland (33 games): Maxwell got back to his college swing of going the other way, and the adjustment led to one of his best seasons as a pro. The German-born backstop notched a career-best .321 average and led A's Minor League catchers with 10 homers before getting his first call to The Show in July. During his time in the Minors, Maxwell threw out a career-high 39 percent of would-be basestealers.
"He made some adjustments during Spring Training this year," Martins said. "He worked on a newer setup in his load and just continued working balls to left-center field and then really working on the ball in with the correct path and something just clicked."
First baseman -- Ryon Healy, Midland, (36 games), Nashville (49 games), Oakland (72 games): Always a doubles hitter, Healy got stronger in the offseason and found his power stroke with 27 combined home runs between the Majors and Minors.
"A lot of these balls that he was hitting off the walls in Midland or anywhere else were starting to carry and get that lift," Martins said. "I think once he saw that, he was able to stick with his approach and be the hitter he wants because now he knows those balls are going to leave the yard."
Healy posted a career-best .326 average in 85 games before making his debut with the Athletics in July.
Honorable mention: In his first full season, Chris Iriart ranked third in the system with 22 long balls across three levels.
Second baseman -- Joey Wendle, Nashville (125 games), Oakland (28 games): Wendle's "excellent hand-eye coordination" can be a blessing and a curse, according to Martins, who worked with the 26-year-old on pitch selection this season. While Wendle started the year hitting .236 in 62 games, he finished with a .314 average over his final 63 contests en route to his first September callup.
"The biggest thing for him was struggling a little bit early and finding a way to get himself out of it," Martins said. "He took off from that point and I think he's having a really good winter down in Mexico. So we're looking for some good things for Joe."
Third baseman -- Matt Chapman, Midland (117 games), Nashville (18 games): After hitting 23 roundtrippers in an injury-shortened 2015 campaign, Chapman showed what he can really do when he's healthy. The 23-year-old led the organization with career highs of 36 homers and 96 RBIs. Chapman also set personal bests with 26 doubles and five triples as he continues to quickly climb the system.
"I'd say he has the most power in our organization. It's quite electric when he barrels the ball," Christenson said. "He is working to find a little more consistent contact right now. I think he understands that he doesn't have to try to hit the ball out of the ballpark. [He can] stay within his approach, which is gap-to-gap line-drive hitter."
Honorable mention: Renato Nunez ranked among the top five hitters in the system with 23 homers and 75 RBIs before making his debut in Oakland.
Shortstop -- Franklin Barreto, Midland (119 games), Nashville (four games): While scouts grade Barreto's speed as average, the A's top prospect contradicted that notion by stealing 30 bases to lead Oakland Minor Leaguers. But after also being caught stealing 17 times, Christenson sees plenty of room for improvement.
"He definitely has above-average speed. I think he's a daring baserunner. He's trying to figure out when is the best times for him to run," the manager said. "I think that's the main thing he needs to work on, picking better spots and reading slide steps and understanding when he has a better chance to be called safe when he does attempt to steal bases."
After a slow first half, Barreto became more patient at the plate, working a career-best 36 walks with a .284 average across the two levels.
Outfielders
James Harris, Stockton (119 games), Midland (11 games): Five years after the Rays selected him in the compensation round, Harris busted out during his second season in the A's system. The Oakland native shined in every spot of the lineup in which Class A Advanced Stockton manager Rick Magnante put him. Harris reached career highs with a .297 average -- which led all non-complex A's farmhands -- seven homers, 58 RBIs and 56 walks.
"He just did a very good job, made some big strides," Magnante said. "I think most of all, it would have to be timing. A readiness and a selective, aggressive approach at the plate truly served him this year and allowed him to accelerate his progress through the system."
Jaycob Brugman, Midland (38 games), Nashville (94 games): A "student of the game," Brugman continued his quick climb through the system. From predominantly the top of the order, the left-handed hitter drove in a career-high 87 RBIs and notched a personal-best .285 average across two levels.
"He's one of those guys where he may be 0-for-6 that day, but five or six of those at-bats are going to be quality at-bats," Martins said. "He's going to work a count, he's going to foul some pitches off, he's going to battle from 0-2 and battle back and give you a quality at-bat every time he's up there."
Tyler Marincov, Stockton (36 games), Midland (101 games): On both sides of the ball, Marincov had a breakout season in 2016. The 25-year-old hit .265 with career highs of 19 long balls, 88 RBIs and 55 walks. Spending most of his time in right, but also going to left, Marincov made just five errors for the two teams.
"I saw an above-average outfielder that impressed me with the way he played right field for us," Christenson said. "He's got some strength. I think there is room for him to clean up his swing just a little bit to drive the ball in the air a little bit more. He's a line drive hitter right now with a little speed to the ball, but I think he understands that."
Utility player -- Joe Bennie, Stockton (111 games), Midland (21 games): With "an innate ability to hit," Bennie had his best statistical season with 13 jacks and 76 RBIs. The 25-year-old kept his offense up while moving around the field. Bennie saw time at second, third, left and right this season.
"Joe's an exceptional individual in terms of his work ethic, his dedication, his commitment to the game and his willingness to basically adapt and try to make adjustments and real change in how he plays the game," Magnante said. "And that was reflected this year in terms of the growth and development that he showed. He was definitely a hard worker."
Right-handed starter -- Daniel Gossett, Stockton (nine games), Midland (16 games), Nashville (two games): In his third season since the A's selected him in the second round of the 2014 Draft, Gossett rocketed through the system. The 24-year-old posted a 2.69 ERA and led the organization with 151 strikeouts while walking 41 over 153 2/3 innings.
"I think he has electric stuff. Obviously the velocity is there on his fastball -- he's got a nice little cutter that comes out on the same plane as his fastball with late action in the zone," Christenson said. "And he is able to command his two offspeed pitches as well, so he was tough."
Left-handed starter -- Evan Manarino, Beloit (22 games), Stockton (six games): Manarino dominated across the two levels in just his first full season. The UC Irvine product's 1.98 ERA bested the system while he collected 121 strikeouts and issued just 28 free passes.
"He's a soft-tossing lefty that has to locate, that has to change speeds and he doesn't allow himself to alter his course in terms of how he goes out and competes," Magnante said. "He continues to do that and he can live on the edges and pitch to contact, which he does. He shows a lot of poise on the mound, a lot of composure."
Manarino consistently kept the ball in the yard, allowing just one home run all season.
Honorable mention: Dillon Overton led A's Minor Leaguers with 13 wins for Nashville before making his big league debut.
Relief pitcher -- Cody Stull, Stockton (39 games), Midland (one game), Nashville (two games): While Stull wasn't in many save situations, he certainly knew how to hold onto a lead. The southpaw notched a 1.61 ERA with 65 strikeouts and 14 walks over 61 2/3 innings. When called upon to secure the tight win, Stull tallied six saves in nine opportunities.
"I think his out-pitch truly is his change -- he can throw it to righties or lefties -- but the ability this year for him to develop the breaking ball, the slider, really helped his arsenal again and gave him that third pitch," Magnante said. "[He is] a strike thrower. Who is he down the road? I would say situational lefty type of guy."
Kelsie Heneghan is a contributor to MiLB.com. Follow her on Twitter @Kelsie_Heneghan. This story was not subject to the approval of the National Association of Professional Baseball Leagues or its clubs.
View More