Cubs' Null sets tone in All-Star shutout
6-foot-7 right-hander fans three in first inning, earns MVP honors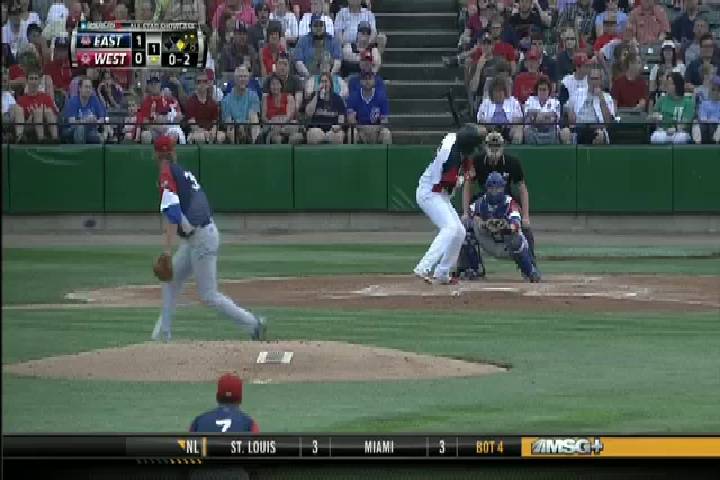 By David Allen / Special to MiLB.com | June 24, 2015 1:03 AM
PEORIA, Ill. -- Home run-hitting competitions can play havoc with swings. That was especially true Tuesday night at the Midwest League All-Star Home Run Derby, which featured hittings taking cuts from center field and aiming toward the crowd.
"It was different. I'd never done anything like that before," said Lansing's Ryan McBroom, the Eastern Division's designated hitter in the All-Star Game that followed. "I just tried to pull everything. I just wanted to have fun with it."
McBroom won the contest and maintained his normal swing when he came to bat in the first inning at Dozer Park in downtown Peoria. He came through with two outs when he lined a single that scored Lugnuts teammate Anthony Alford, who drew a leadoff walk and stole second.
That run was the only one the East pitching staff needed in a 5-0 victory before a crowed of 5,858.
"Home run derbies can be fun, but sometimes they can get in the player's head and they can change their swings," said East manager Shaun Larkin of the Lake County Captains. "But he got a good swing on it and drove it and got us a lead."
"I wasn't too worried about it hurting my swing," McBroom said. "I knew it was something different, but I was able to come right back and get into the game."
The first inning hit came off Peoria starter Luis Perdomo, who ranks fifth in the league with a 2.55 ERA.
"I wanted to try to get a good swing, especially with a chance to drive in a run, and I was able to do that," McBroom said. "I was just looking for a pitch I could drive, especially with a guy at second, and was able to do that."
McBroom hit .330 with 42 RBIs in the first half.
"My teammates have given me a lot of chances to drive in runs," he said. "I've been seeing a lot of fastballs because of them being on base. I'm just going out every day and having fun. So this was just like another day to come out, have fun and let things happen. It was a great time. It was fun to play with so much talent. We have a lot of great teams in the East, and we showed that."
The East used all 14 pitchers, limiting the West to three hits while recording 16 strikeouts. No one pitched more than one inning for either side.
South Bend Cubs right-hander Jeremy Null started the East's parade of zeros by striking out the side around a single in the first inning.
"I was a little nervous at first, but they got me a lead and that was good," said the 6-foot-7 Null, whose coaching staff got an email from Larkin a week ago with the word that he would start. "It was a good environment to play in. I pitched to the guys the same way I would in a regular game."
Null was a 2014 15th-round Draft pick whose prospect status is rising after a first half in which he compiled a 2.33 ERA and notched 48 strikeouts against four walks over 65 2/3 innings.
"I take a lot of pride in the [lack of] walks," Null said. "I've kept my team in games and given them a chance to win. I've been very excited about the season."
Null was named the MiLB.com Star of the Game and got an engraved bat as a reward.
"I don't know what a pitcher is going to do with a bat," he joked. "But it's really cool looking. I'll take it."
"He throws strikes all the time," West manager Joe Kruzel of the Peoria Chiefs said. "He's big and has that downhill motion. It can be tough for the hitters to pick up at times. His ball jumps on you. You can see why he's a prospect."
The East All-Stars scored an unearned run in the fourth on an RBI grounder by South Bend's Charcer Burks that followed a double by Bowling Green's Jace Conrad. They broke open the game in the ninth as Bowling Green's Grant Kay and Great Lakes' Mike Ahmed picked up RBIs.
South Bend shortstop Gleyber Torres made two key defensive plays, ranging deep in the hole in the third, then diving to his right to catch a soft liner in the fifth after he was shaded up the middle.
David Allen is a contributor to MiLB.com. This story was not subject to the approval of the National Association of Professional Baseball Leagues or its clubs.
View More