D-backs' top prospects make strides in '16
Brito, Banda ascend to top of list; Haniger enjoys breakout campaign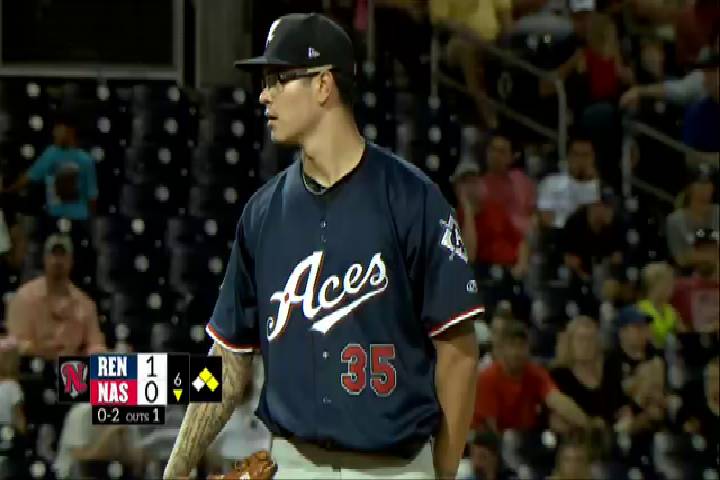 By Tyler Maun / MiLB.com | October 3, 2016 11:00 AM
This offseason, MiLB.com will be honoring the players -- regardless of age or prospect status -- who had the best seasons in their organizations. We're taking a look at each team to determine the outstanding seasons in Minor League baseball.
The season began with massive expectations for the D-backs, who shelled out big money to nab Zack Greinke in the free agent market and packaged a group of top prospects -- including 2015 first-round pick Dansby Swanson -- to acquire Shelby Miller. Things did not go according to plan.
While Arizona wrapped up the big league campaign in fourth place in the National League West, there are signs that a brighter future might be closer than many think. The D-backs saw a host of high-level prospects, including right-handers Archie Bradley and Braden Shipley, take steps toward -- and to -- the Majors this year.
An organization that has long emphasized winning at the Minor League level, the D-backs had two affiliates chase championships. Class A Advanced Visalia fell in the California League Finals, while Class A Short Season Hillsboro came up short in its pursuit of a third straight Northwest League title. Overall, Arizona's farm clubs finished 460-446 (.508).
D-backs Organization All-Stars
Catcher -- Ryan January , Missoula (51 games): The D-backs selected January in the eighth round of the 2016 Draft out of San Jacinto Junior College in Texas, and he justified the pick in his rookie season. January batted .273/.376/.470 in 51 games with Rookie-level Missoula, bashing 10 homers and driving in 26 runs. The 19-year-old posted the fourth-best home run-to-at-bat ratio in the Pioneer League, clubbing a jack every 18.30 ABs. January also held his own defensively, throwing out 14 of 54 runners (25.9 percent) who tried to steal.
First baseman -- Marty Herum , Visalia (96 games): As he told Benjamin Hill in August, Herum could sum up his season as "pretty good" and that might not even cover it. He was part of the backbone on a Visalia team that finished with the California League's second-best overall record at 81-59 and reached the Championship Series.
"He hit third, fourth or fifth for us every day and just held it down in the top of the lineup right there, did a great job," Rawhide manager J.R. House said. "He could've benefited from me giving him a little bit more time off, but I just couldn't. I loved putting him out there, and we needed him."
Herum played primarily first base but also saw considerable time across the diamond at third. In total, the Minnesota native batted .294/.336/.411 with eight homers and 46 RBIs and was the only Rawhide player named to the Cal League's end-of-season All-Star squad. Beyond his on-field work, Herum has established a reputation as a clubhouse leader and well-rounded presence.
"He's definitely earned that reputation where everybody loves him because he has a great heart and plays as hard as he can," House said. "He's the type of kid that you would want your daughter to marry. He's just a genuinely nice person and would do anything for you."
Second baseman -- Ildemaro Vargas , Visalia (1 game), Mobile (83 games), Reno (49 games): The D-backs struck gold when they signed David Peralta out of independent ball in 2013 and watched him become a Major League regular one year later. They're hoping for similar success with another former Cardinals farmhand.
Across three levels (with all but one of his games played at the Minors' two highest), Vargas put together a .305/.360/.400 slash line while playing second base and shortstop.
"Sometimes guys just slip through the cracks," Triple-A Reno manager Phil Nevin said. "'Vargy' is as impressive a competitor as you're going to find up the middle. His hands, where he stands, his footwork, the way he moves the ball, it doesn't stay in his glove too long. It's very impressive."
Vargas hit .354 in 49 games for Nevin, drawing 20 walks while striking out 13 times and stealing 13 bases in 14 tries.
"He understands his game," Nevin said. "He doesn't strike out a lot. He puts the ball in play and he's just a smart baseball player. You can tell he's been around the right people."
Third baseman -- Dawel Lugo , Visalia (79 games), Mobile (48 games): While Leyba handled the middle of the infield, Lugo made his primary shift over on the left side. A third baseman in 2016 after spending most of his career at shortstop, he slashed .314/.348/.518 in 79 games with Visalia to get a call to Mobile.
"This year, he was healthy and determined and worked hard, did a great job getting himself in shape, losing some weight, and played hard every day," House said. "We just made sure that he stayed focused, and he did it. The kid can hit."
Lugo committed six errors in 60 games at third base for Visalia while making three in 41 games with Mobile.
"Third base is a tough position and he handled it really well, being able to go over there in his first year," House said."
Shortstop -- Domingo Leyba , Visalia (86 games), Mobile (44 games): Playing in the California League for a second straight season, Leyba responded in a big way. The 21-year-old boosted his average nearly 60 points and his OPS by almost 200 to earn a promotion to Double-A.
"He was really young in the Cal League last year, and we knew going into it that we were pushing him," House said. "We wanted him to grow with being pushed, and he did."
After making the jump to Mobile, Leyba was even better, batting .301/.374/.436. He saw most of his time at shortstop but also handled second base duties at both stops.
"It just shows how he handled that situation of having to go back to Visalia and overcome it and do what he had to do as a baseball player to prove to everybody that he's worth of being in Double-A," House added.
Outfielders -- Mitch Haniger , Mobile (55 games), Reno (74 games), Arizona (34 games): Haniger's season may be the biggest breakout effort of any D-backs prospect. The 25-year-old stormed through Double-A and Triple-A with a .321/.419/.581 slash line, 25 homers and 94 RBIs in 129 games before making his big league debut on Aug. 16.
"His passion for the game is one that is immeasurable," Nevin said. "Ability-wise, mentally, the ability to make adjustments on his own is the first thing that I noticed."
The D-backs acquired Haniger at the 2014 Trade Deadline, and it took a step backward the following year for him to start making his climb.
"I don't think Mitch is anybody who's lacked confidence," Nevin said. "He went to our farm director (Mike Bell) a year ago and asked to go back to High-A ball. He was like, 'I just want to show you guys that I can play,' and it was obviously something that's not forgotten by us. He went down, he impressed there. He went back to Double-A and impressed and obviously the year he had combined between Double-A and with us and up here in the big leagues, it's been very impressive."
Victor Reyes , Visalia (124 games): The diversities in Reyes' line stand out, like how the 21-year-old hit six homers, 12 triples and 11 doubles while playing wire-to-wire with the Rawhide.
"Just to see him grow from hitting in the nine-hole at the beginning of the season to essentially [being] our three-hole hitter -- I put him second -- he was the only guy to hit over .300 and did an outstanding job for us," House said. "He became the stud of our team, someone that we really, really depended on."
The Venezuelan switch-hitter surged in the second half, batting .333/.374/.472 compared to .269/.322/.354 in the first, and providing House options with his ability to play all three outfield positions.
"I think the more he did it, the more he gets a chance to play center field, the better he's going to get," House said. "He's plenty athletic enough to be able to handle it and he works hard."
Socrates Brito , AZL D-backs (2 games), Visalia (2 games), Reno (73 games), Arizona (40 games): The D-backs' new top prospect looks Major League-ready after batting .285/.312/.433 in 77 games in the Minors. Brito saw time in 40 big league contests this season but hasn't quite secured a starting job with Arizona. Nevin believes he will.
"He's a big-time talent," the Aces manager said. "His top-end speed when he's flying around the bases is very impressive for a big guy. It's disappointing he didn't get the amount of at-bats we would've like this year, just due to the Major League need for one and the injury -- he broke his foot, fouled a ball off his foot. But he's somebody that we're very high on. He's got a chance to be an elite outfielder, in my opinion."
Brito overcame the injury and hit .309 in 20 games in August before returning to Chase Field. Like Reyes, he can play anywhere in the outfield.
Utility player -- Eudy Ramos , Missoula (52 games): In his previous two seasons, Ramos batted .191 in 35 Dominican Summer League games in 2013 and .194 in 28 Arizona League contests in 2015. This year, something clicked. The 20-year-old played first base and third for the Osprey and mashed .318/.373/.507 with 13 homers -- 10 more than his career total entering 2016 -- and 34 RBIs. During a six-game span in July, Ramos totaled five homers and 12 RBIs.
Right-handed starter -- Taylor Clarke , Kane County (6 games/6 starts), Visalia (4 games, 4 starts), Mobile (17 games/17 starts): Clarke started his season at Class A and rocketed through the ranks. The College of Charleston product pounded the zone, going 12-9 with a 3.31 ERA over 149 1/3 innings in his first full season since being drafted in the third round last year.
"He has the mentality that you want in a starting pitcher," House said. "He has the strength and the durability. You don't worry about it when he's out there, stamina and innings. A lot of guys, you worry about being a little bit fragile or getting tired, but he's kind of a workhorse."
Left-handed starter -- Anthony Banda , Mobile (13 games/13 starts), Reno (13 games): A season after acquitting himself well in the hitter-friendly California League, Banda did it at the Minors' highest level. After going 6-2 with a 2.12 ERA to start the year with Mobile, he went 4-4 with a 3.67 ERA for Reno. If you take away the nine earned runs he surrendered in his first two Pacific Coast League starts, Banda posted a 2.92 mark for the Aces.
"The guys who have trouble when they come into our ballpark in Reno, they're afraid to throw strikes, afraid to go after hitters because of the balls that sometime get caught up in the wind and just fly out of there to right field," Nevin said. "He didn't change his game. He didn't change anything he did. He kept attacking hitters."
Like Clarke, Banda received plaudits for his attitude and composure. He also struck out 152 over 150 innings between the two levels.
"He has a presence about him on the mound when things are going well for him," Nevin said. "You know it's Anthony's day when he's on and is throwing the ball well."
Relief pitcher -- Nick Baker , Visalia (41 games/3 starts), Reno (1 game, 1 start): One of Visalia's most valuable and reliable players, Baker went 4-2 with two saves and a 2.24 ERA; as a reliever, he was 4-1 with a 1.74 ERA over 67 1/3 innings, striking out 64 while walking 13 and limiting opponents to a .222 average.
"He is good," House said. "His velo is increasing. He has natural movement on his ball, a lot of cut to it, and a nice breaking ball to go off of that."
Tyler Maun is a contributor to MiLB.com. Follow him on Twitter @TylerMaun. This story was not subject to the approval of the National Association of Professional Baseball Leagues or its clubs.
View More