Lamet on a Mission to post six zeros
San Diego's No. 18 prospect allows two hits while striking out nine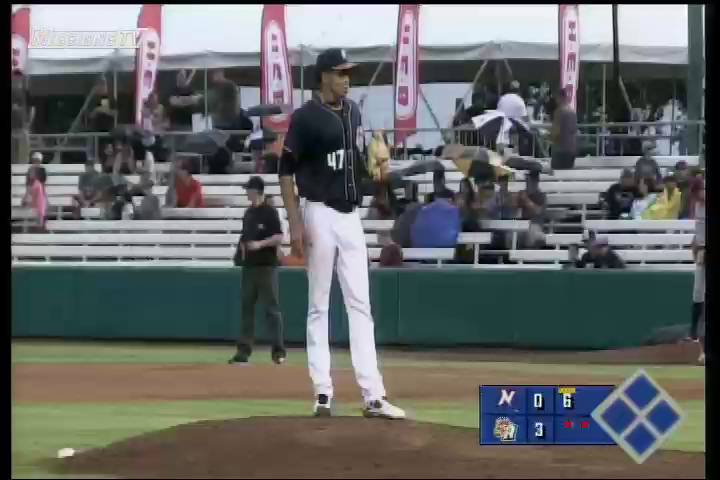 By Michael Leboff / MiLB.com | August 14, 2016 11:27 PM
Improved command, an uptick in confidence and the development of a new pitch have Dinelson Lamet reaching new heights.
San Diego's No. 18 prospect allowed two hits and struck out nine over six innings to lead Double-A San Antonio to a 4-0 win over Northwest Arkansas on Sunday.
"Right now, it seems like he's been more consistent and has been focused on being aggressive and repeating his timing. That's turned into better command," Missions pitching coach Jimmy Jones said. "He's begun to mix his slider a little bit and made a little curveball. He'll throw that curveball early in the count and then use the slider later in the account. That's been a big reason why he's had success lately."
After yielding a one-out single to Alfredo Escalera in the first inning, Lamet got Frank Schwindel to hit a ground ball back to the mound. The Dominican Republic native couldn't field the ball cleanly and was unable to get the out. But instead of getting flustered by the error, Lamet escaped with a swinging strikeout of Mauricio Ramos. And then he victimized Zane Evans and Logan Moon in the same manner to start the second.
"His stuff is able to get him over and makes him capable of getting out of tough situations," Jones said. "He's getting into a groove lately. Early on, it seemed like he would try to force pitches, maybe take something off here or add something there."
Things got interesting for Lamet in the sixth. The 24-year-old struck out Escalera to start the inning, but the third strike got by catcher Rocky Gale. Once again, he was unfazed, getting Royals' No. 8 prospect Ryan O'Hearn to ground into a double play before striking out Schwindel to cap his outing.
"I've never really seen him back down or cave into a difficult situation," Jones said. "He has a high confidence level, so after he made that error, it didn't really bother him at all."
The Padres promoted Lamet (5-6) from Class A Advanced Lake Elsinore on June 6 after he posted a 7-1 record and 2.35 ERA in 65 innings pitched for the Storm.
Since his promotion, the 6-foot-4 right-hander has struck out 84 batters in 69 innings. He sports a 3.52 ERA and a 1.19 WHIP over 13 starts. Perhaps more impressively, Lamet has only yielded just one homer.
"He's been keeping the ball down well," Jones said. "He's been able to throw down when he needs to, and when he needs to elevate a fastball, he's changing eye level very well. Nobody is really getting very good at-bats against him. I never really see a guy just be real comfortable in the box about what pitch is coming and that makes a difference in how the hitter is swinging and keeps them from getting a barrel on the ball."
Righty T.J. Weir took over to begin the seventh. He struck out one and walking a pair in 1 2/3 frames. Lefty Kyle McGrath completed the shutout with four strikeouts over the final 1 1/3 innings.
Yender Caramo (3-7) allowed three runs on four hits and struck out two in five innings for Northwest Arkansas.
Michael Leboff is a contributor to MiLB.com. This story was not subject to the approval of the National Association of Professional Baseball Leagues or its clubs.
View More