Newcomb brings Halos' spotlight to Minors
Top prospect leads host of Angels who lit up the system at every level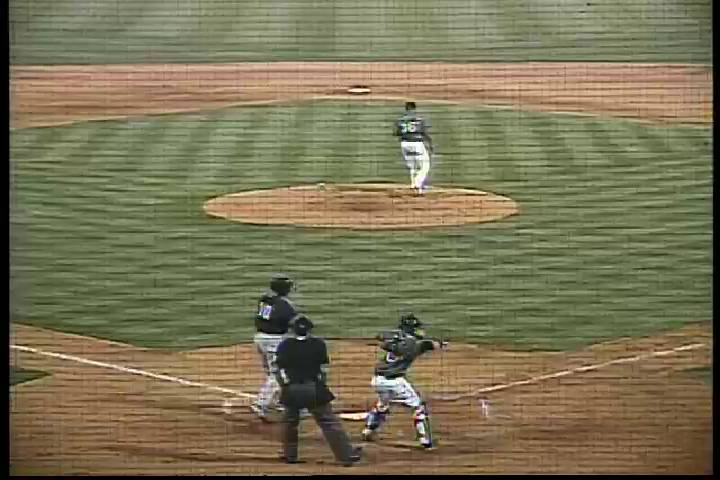 By Kelsie Heneghan / MiLB.com | October 26, 2015 10:00 AM
This offseason, MiLB.com will be honoring the players -- regardless of age or prospect status -- who had the best seasons in their organizations. We're taking a look at each team to determine the outstanding seasons in Minor League baseball.
While the Minor Leagues are more about development than winning, the Angels system still puts a premium on success. And although only Double-A Arkansas and Rookie-level Orem made the playoffs, the organization found plenty of reasons to smile.
"Sometimes the wins and losses don't tally up the way you'd like them to, but as a whole, we did some good things across our system this year. We were sixth in runs scored, we did a lot of good things and I'm proud of that," said Bobby Scales, the Angels' director of player development. "So all-in-all, 2015 wasnt the greatest year, but we made some small victories and victories that will allow us to keep going forward."
With Los Angeles plagued with injuries, seven players got the opportunity to make their debuts as a new wave of Angels are ready to light up the "Big A."
Angels Organization All-Stars
Catcher -- Jett Bandy, Salt Lake (87 games), Los Angeles (two games): After spending the last two seasons in Double-A, Bandy made a successful transition to Triple-A. With the Bees, the 25-year-old hit .291 with a career-high 60 RBIs -- including a stretch in which he plated 14 runs in five May games. After handling a veteran pitching staff in the Pacific Coast League, Bandy got the call to join the Angels for his Major League debut, where he homered in his second at-bat.
"Jett made some tremendous strides in terms of game-calling. We knew he could block, we knew he could throw, we're confident that his game-calling will jump another level and it did," Scales said. "Jett Bandy proved that he could be a piece to a Major League club."
First baseman -- Eric Aguilera, Inland Empire (119 games), Arkansas (nine games): In his third season, Aguilera finished with an organization-leading 17 homers and 94 RBIs. The Illinois State product also improved his defense. Drafted as an outfielder, the Angels found more room for Aguilera at first in the Minor Leagues. Since there is a logjam at first in Los Angeles with Albert Pujols and C.J. Cron, he also returned to the outfield this season, where he has yet to make an error in his pro career.
"He really dug in and started to embrace the fact that all his at-bats going forward may come at first base, at least in the short term," Scales said. "He really progressed defensively to where he's a good first baseman now. That's only going to give him options going forward."
Aguilera was sent to the Arizona Fall League to spend more time at first, but his bat will also be used in the designated hitter role for the Mesa Solar Sox.
Second baseman -- Kody Eaves, Inland Empire (134 games): After shining in his first full season, Eaves was asked by the Angels to make some changes to his swing. While Scales has seen that as a challenge with players in the past, 22-year-old was willing to work and the results showed. Eaves reached career highs in home runs (11), RBIs (71) and walks (45) while also cutting his errors down from 30 in 2014 to 17 this year.
"It takes a tremendous amount of trust on the player's part to believe the things we are telling him and that's what he did," Scales said. "He made some changes, made some adjustments and he's still making adjustments as we speak. He did some good things offensively, he did some good things defensively."
Third baseman -- Kaleb Cowart, Inland Empire (51 games), Salt Lake (51 games), Los Angeles (34 games): A first-round pick in 2010, Cowart was quickly on the rise until he stalled in Double-A for two seasons. The Angels decided to have him start the year in Class A Advanced and while the results didn't show his progress, Scales and the front office decided to give him a shot to fill a hole in Triple-A.
Finally with the Bees, the 23-year-old took off, hitting .323 with six homers and 45 RBIs while making just one error. With David Freese on the disabled list for all of August, Cowart got the chance to show off his defense at a Major League hot corner. Like Bandy, he went yard for his first big league hit.
"To play the way he played, the last '13 and '14 in Arkansas and then swallow his pride and realize he needed to take a step back and go to Inland Empire and sort some things out and regain some confidence," Scales said. "You talk about moxie and belief in yourself and he has it."
Shortstop -- David Fletcher, Orem (37 games), Burlington (32 games): After the Angels selected him in the sixth round of this year's Draft, Fletcher jumped right into Rookie ball, hitting .331 with 33 RBIs and 11 stolen bases before it was time for his first promotion. The 21-year-old returned to Orem at the end of the year to get in more at-bats in the playoffs where he collected four hits and three walks in three games.
"He's a baseball player. That gets thrown out a lot and overused, but the kid is just always in the right spot, he does the right things," Scales said. "He just doesn't make a lot of mistakes. He has a very good internal clock [and] he's got a very, very advanced feel for the game… He's got 'it,' the 'it' factor."
Outfielders
Roger Kieschnick, Salt Lake (108 games): With the Giants and D-backs, Kieschnick bounced between Triple-A and the Majors, but in his first season in the Angels system, it was all Minor Leagues. That ended up working out for Kieschnick, however, because he posted his best season statistically in recent years. The 28-year-old ranked second in the organization with 15 homers while making just one error.
"He's a veteran player, he knows what he's doing. He's a blue collar guy, he comes to work with a lunch pail…He's going to do his work early and you put him in a lineup and let him go," Scales said. "We were a little outfield-heavy, so it didn't work out for him in terms of getting to the big leagues, but he's a good player, he's a professional player."
Caleb Adams, Burlington (65 games), Inland Empire (51 games): With a high leg kick and a drift in his swing out of the University of Louisiana at Lafayette last year, Adams was eager to work with the Angels coaches. Scales said every step of the way, the 22-year-old was ready for the next aspect he needed to work on. Now with a simplified swing, Adams cruised through two levels in his first full season before making a final stop in the AFL.
"He was fantastic. Caleb's a spark plug. He's Collin Cowgill-like in the way they go about it. He plays with a fervor and a joy that's been fun to watch," Scales said. "[He] did a nice job in Burlington and there was really no need for him to stay there any longer and went to Inland Empire and continued doing exactly what he was doing."
Bo Way, Inland Empire (135 games): Along with a Moniker Madness run, Way broke out in his first pro season in 2014. Following the debut was tough at first as the 23-year-old hit .183 in April, but Way ended up finding his path to avoid a sophomore slump. With the encouragement of the Angels, the Kennesaw product also improved his basestealing, swiping 27 bags for the 66ers.
"Bo's a grinder; he's a hard grinder. And at times, he grinds on himself to where he wants to do so well, so bad that it gets counterproductive," Scales said. "I think what he found in the second half of the season is, 'OK, I want to do well, but I got to give myself some air.' I think a lot of that comes with maturity, and going through a full season like that can really make you grow up."
Utility player -- Andrew Daniel, Burlington (69 games), Inland Empire (53 games): Bouncing between second base and third, Daniel showed off his versatility while also showing potential to move to the outfield in the future. While flashing leather in his first full season, the University of San Diego product also showed off his bat with nine homers and 71 RBIs -- including a game in which he plated seven runs.
"Guys like that can be very beneficial to a manager because you can fill a bunch of different roles and on top of that, he can flat out hit," Scales said. "He's not going to get in there and wait around; he doesn't chase a lot of balls, but if he gets a pitch he wants early, he's going to be put a good swing on it and generally speaking hit it hard."
Right-handed starting pitcher -- Albert Suarez, Arkansas (27 games): After the Angels picked Suarez up as a free agent in the offseason, the 26-year-old led the Travelers on and off the field. Suarez posted a Texas League-leading 2.98 ERA with a career-high 121 strikeouts.
"He took the ball in Arkansas and he ran with it and it was fantastic to see," Scales said. "He had a tremendous year and I think there's still a lot of upside. He's not old by any stretch of the imagination; I think there's still upside in Albert and hopefully he'll be able to come back for us next year."
Left-handed starting pitcher -- Sean Newcomb, Burlington (seven games), Inland Empire (13 games), Arkansas (seven games): In just his second season, Newcomb broke out as the Angels' top prospect. The southpaw led the organization with a 2.38 ERA and 168 punchouts, all while advancing three levels. Scales said that at 6-foot-5, 245 pounds, Newcomb is built like a big league, front-of-rotation hurler and his potential is "sky's the limit."
"[He can throw] mid- to upper-nineties when he needs it, [has] a curveball that when it's right, it's very, very good and a feel for a changeup," Scales said. "With time and innings, the strikes are going to become more consistent, the delivery is going to become more consistent and he's going to become a force to be reckoned with in the Major Leagues in the not-too-distant future."
Relief pitcher -- Greg Mahle, Inland Empire (21 games), Arkansas (31 games): Moving to the closer's role was perfect for Mahle, who is "uber competitive." In his first full season, the 22-year-old worked his way to the Texas League where he continued to own the ninth inning. Mahle finished the year with an organization-leading 25 saves and put a bow on the campaign with 2 1/3 perfect innings in the playoffs.
"The delivery's not pretty, it's not conventional, but at the end of the day, more guys make a right turn to go to the dugout than they do go left. And that's what you're looking for," Scales said. "Once we refine the actual pitching things, sequence choices and usage of different arm angles, when to use them, how to use them, I think we're going to have something really special that has potential to be a good Major League piece in the bullpen."
Kelsie Heneghan is a contributor to MiLB.com. Follow her on Twitter @Kelsie_Heneghan. This story was not subject to the approval of the National Association of Professional Baseball Leagues or its clubs.
View More