O'Neill muscles way atop Seattle's All-Stars
Mariners' 2015 Draft selections paying dividends in low Minors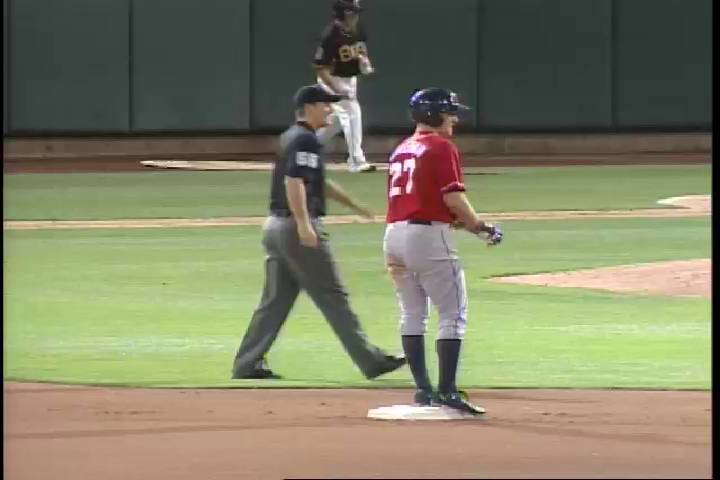 By Tyler Maun / MiLB.com | December 11, 2015 10:45 AM
This offseason, MiLB.com will be honoring the players -- regardless of age or prospect status -- who had the best seasons in their organizations. We're taking a look at each team to determine the outstanding seasons in Minor League baseball.
Though Seattle hasn't been afraid to throw around money to acquire Major League talent such as Robinson Cano or Nelson Cruz, the Mariners showed just how committed they are to the future when they overhauled their player development staff after the 2015 season. Andy McKay, who previously served as a mental skills coach in the Colorado system, was hired to spearhead their farm system and he inherited an organization in transition at the Minor League level.
The gem of the Mariners' 2015 Minor League season was the big step forward taken with the power bat of slugging outfielder Tyler O'Neill. The Canadian power hitter bashed 32 homers in his first full professional season, slugging .558 for Class A Advanced Bakersfield.
With a host of talented pieces already in place at the big-league level, the Mariners are aiming to contend in a tough division in 2016 with key contributions from those ready to take the final step from their Minor League ranks, joining young stars in the making such as Ketel Marte.
Mariners Organization All-Stars
Catcher -- John Hicks, Tacoma (83 games), Seattle (17 games): A fourth-round pick in 2011, Hicks graduated to the big leagues for the first time in 2015 and shined in his second go-round with the Rainiers. The Virginia product batted .245/.282/.362 with six homers and 35 RBIs, but his work behind the plate was even better.
"Hicks has always thrown runners out everywhere he's been," Tacoma manager Pat Listach said of the man who nailed 33 of 75 would-be base stealers, a 44 percent rate. "He's always done a great job of controlling the running game, and you have to tip your hat to [pitching coach] Jaime Navarro with the pitchers, mixing up their moves and giving him a chance. He really did a nice job."
Hicks did his best work with the bat later in the season, batting .345/.393/.436 in 15 August games.
First baseman -- Jesus Montero, Tacoma (98 games), Seattle (38 games): The 2014 season came to a rough end for Montero when he was involved in an altercation with a scout and suspended for the remainder of the campaign in late August. The slugger used the opportunity to turn his career around.
"He decided to make some changes in his lifestyle with the weight loss and the workout regimen," Listach said of Montero, who lost 45 pounds ahead of 2015. "From the first day that I met Jesus, he was unbelievable. He was always the first guy on the field, last guy off the field. He went about his business like he had an agenda, and I think he showed a lot of maturity this year by doing everything that he did. He was a joy to be around the whole year."
Montero raked throughout the season for the Rainiers, getting better as the year went on. After batting .277 in 30 games in May, Montero posted a .342 mark in June and a .493 average in 17 July games to earn a call to Seattle.
"He was focused all year," Listach said. "He knew what he wanted to do. He wants to play in the big leagues. He doesn't want to play in Triple-A, and he went about his business accordingly to make sure that he was a prospect again. People think that he's a veteran guy, but the thing about it is that he's only [26] years old."
Second baseman -- Tim Lopes, Bakersfield (123 games): Returned to the Class A Advanced level for the second straight full season and third time in four professional years, Lopes put it all together in 2015. The Huntington Beach native's .276/.340/.362 slash line was the best of his career in full-season ball, and Lopes posted career highs in runs scored (69), hits (132), total bases (173) and more.
"I think the biggest thing for him was the ability to slow things down," Bakersfield manager Eddie Manchaca said. "He was a young kid playing in a higher level and always being the young kid. I think he was finally playing with kids his age. He's 21. He's in a league with guys at 21, 22, 23, and before he was playing in this league as an 18-, 19-year-old. A lot of people don't see that. That comes into play a lot with the mental aspect and him growing into his body."
Shortstop -- Drew Jackson, Everett (59 games): One of several gems the Mariners netted in the early rounds of June's First-Year Player Draft, Jackson announced his arrival in an impressive manner. The Stanford product wasn't much of an offensive threat in college, but flashed a promising profile at the plate in his professional bow.
"His approach was consistent all year, using the whole field, battling with two strikes," AquaSox manager Rob Mummau said. "Mentally, he's just very mature and obviously very talented tools also. He uses the whole field offensively and can run really well which helps."
Jackson lifted his OPS from .739 in 11 June games to .915 in 21 July contests and 1.041 in 23 August showings. Jackson, who didn't bat over .300 until his final collegiate season, was also the Northwest League's most dynamic basepaths threat, leading the circuit with 47 steals.
"Our hitting coach, Brian Hunter, I think he did a great job with Drew letting him be who he is," Mummau said. "He got him to where he felt comfortable. Once he got to that point, he just really took off probably about the third, fourth week of the season. That's when he really started to take off offensively. It seemed like he was barreling up three balls a game."
The fifth-rounder made all but one of his 59 starts at shortstop, where he flashed the arm strength that netted him a 70 grade from MLB Pipeline.
Third baseman -- Jordy Lara, Jackson (123 games): Alternating work at the corner infield positions with D.J. Peterson, Lara was at his best while at the hot corner. While he batted .242/.308/.377 with seven homers and 56 RBIs over the season, the infielder out of the Dominican Republic posted a .284/.352/.429 line with four jacks and 35 RBIs when playing third. A free agent after the season, Lara signed with the Braves last month for the 2016 season.
Outfielders
Tyler O'Neill, Bakersfield (106 games): O'Neill bashed 13 homers in just 61 games in 2014, giving an inkling of big things to come the following season. He didn't disappoint with 32 long balls in 106 contests -- having missed the majority of July while winning gold with Team Canada in the 2015 Pan Am Games.
"He's definitely a guy who you want in the clubhouse," Menchaca said. "Aside from everything that he brings on the field, he's a high energy guy. He's a great clubhouse guy. He cares about the team. He's definitely a leader, and obviously his play. He started kind of slow, and then he and [Blaze hitting coach] Max Venable put a routine together. He put it upon himself to say, 'You know what? I can do this.'"
The Maple Ridge, British Columbia native batted .240/.278/.476 in 57 first-half games, but busted out after returning from his gold-medal run. O'Neill bashed 18 homers after the All-Star break and posted a .286/.361/.659 line in just 49 games.
"To me, his work ethic, his determination, his will to get better and applying it from a young age and then seeing the progress as the year went on was an eye-opener," Menchaca said. "This kid is the real deal. In my eyes, he established a great relationship, he's trusted me. That's a guy I would put on any team as I go on in my career as well, a guy who I would want in my lineup."
Braden Bishop, Everett (56 games): Like Jackson, Bishop filled the mold of a Pac-12 product from the 2015 Draft who surged into professional ball.
"We knew he had a ton of tools, was really, really good at center field and could really grow," Mummau said. "The bat, it just got better and better as the year went on."
The University of Washington product roared to the finish line in his debut campaign, posting a .408 average and .997 OPS in 18 games in August. Playing primarily in center field, Bishop alternated between first and second in the order. The 22-year-old handled lefties well, hitting .351/.359/.749, but his OPS was actually higher against right-handers (.765) with a .303/.371/.394 line.
"He did a good job with battling with two strikes and never giving up," Mummau said. "He's a good athlete, and a lot of times, good athletes make those adjustments really quick."
Stefen Romero, Tacoma (116 games): Tacoma's primary right fielder was a model of consistency for his team. The Tucson native played at least 25 games in the season's final three full months and posted an OPS of .790 or higher in all but one month.
"He made some adjustments later in the year, and it's really rare to see a guy make adjustments with a swing in July and August," Listach said. "He did it, and he had success with it. You've got to tip your cap to a guy to go out there and try to work on some things in the middle of a season where he's got to produce as well."
Utility player -- Pat Kivlehan, Tacoma (123 games): Since departed to Texas via trade, Rutgers product Kivlehan was one of the most versatile players in the Pacific Coast League, playing both corner infield positions and all three outfield spots while batting .256/.313/.453.
"He's still learning," Listach said. "I know he's 25, going to be 26 in 2016, but he played college football. He's probably behind a little bit in baseball as far as reps and at-bats and repetition, but he was a luxury to have. It was probably an injustice to put him at so many different positions day in and day out. I would like to have kept him at one position. He may have even had a better year, but he still hit 20-plus homers and did a nice job everywhere we put him."
Left-handed starter -- Tyler Pike, Bakersfield (25 games, 25 starts): Bakersfield is as tough as any ballpark gets in the Minor Leagues, but that didn't faze Pike in the least. The southpaw went 4-2 with a 3.05 ERA in 12 home starts, limiting opponents to a .239 average at the hitters' haven of Sam Lynn Ballpark.
"I think he understood what pitching was about," Menchaca said. "He's a left-handed pitcher, good arm, but I think he started to understand how to pitch -- executing pitches, understanding what hitters are trying to do, using the field for the day as far as what hitters he was going to face, what hitters weren't going to beat him. Just the whole part of pitching, which you use as you go to higher levels, I think he understood that."
Right-handed starter -- Andrew Moore, Everett (14 games, eight starts): Taken with the 72nd overall selection in June out of Oregon State, Moore alternated starts and piggyback appearances through his first pro summer and finished strong, not allowing a run over his final three outings. In total, the righty went 1-1 with a 2.08 ERA, fanning 43 while walking just two batters in his first 39 professional innings.
"I would say mentally, he's very advanced," Mummau said. "Just his ability to throw strikes and compete and have confidence, he doesn't really care what anyone else thinks. He has a lot of confidence in himself.
"The most important pitch in baseball is strike one and getting ahead, and he's able to do that. His ability to exploit hitters' weaknesses, whatever they may be on any given batter, he's an intelligent kid. He recognizes that very early. He attacks those weaknesses and gets either a strikeout or weak contact."
Reliever -- Kody Kerski, Clinton (40 games): Kerski saw the majority of his work in the final frame of his games and posted eight saves for the LumberKings. Over the final 33 1/3 innings of his season, the right-hander allowed just three earned runs. Following the Midwest League All-Star break, Kerski went 3-1 with a 0.76 ERA in 21 appearances, striking out 38 batters while walking four in 35 2/3 innings.
Tyler Maun is a contributor to MiLB.com. Follow him on Twitter @TylerMaun. This story was not subject to the approval of the National Association of Professional Baseball Leagues or its clubs.
View More