O'Neill riding high at front of M's system
Top All-Star led way to Southern League crown on rise toward Seattle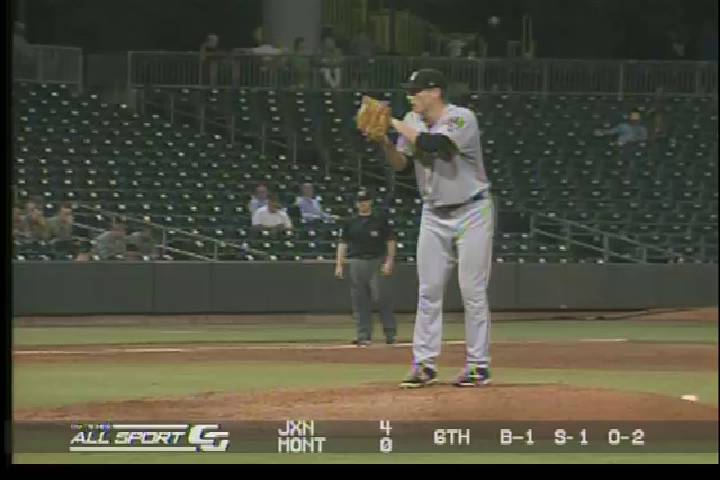 By Tyler Maun / MiLB.com | December 9, 2016 10:00 AM
This offseason, MiLB.com will be honoring the players -- regardless of age or prospect status -- who had the best seasons in their organizations. We're taking a look at each team to determine the outstanding seasons in Minor League Baseball.
It's been three years since the Mariners shelled out $240 million over 10 years to sign Robinson Cano as the centerpiece of what they hoped would be a return to prominence in the American League West. It hasn't panned out that way yet. Though the Mariners were in the postseason hunt until late in 2016, Seattle has gone without a playoff berth since 2001.
But a wealth of talent has taken root in the Mariners' Minor League ranks, and their collective impact is nearing the Emerald City. After finishing the 2015 season with the sixth-worst record among Minor League systems (392-444, .469), the Mariners cleaned house in the front office and saw things change quickly. Headed by new player development director Andy McKay, Seattle's system posted the top winning percentage of any organization this year (451-314, .590).
With an infusion of young talent at the lowest levels and a cluster of top prospects nearing the Majors, the Mariners may be on the cusp of finding the right combination to end their 15-year-old postseason drought.
Mariners Organization All-Stars
Catcher -- Tyler Marlette, Bakersfield (83 games), Jackson (15 games): In his third season split between Class A Advanced and Double-A, Marlette may have discovered the key to the next level. After batting a combined .239/.291/.380 in 89 games between the two levels in 2015, the backstop bumped his showing to a .277/.225/.463 line in 98 games this year. The 2011 fifth-round pick also threw out 35.7 percent (30 of 84) of potential basestealers during his 64 starts behind the plate for Bakersfield, in line with his career rate of 36 percent.
First baseman -- D.J. Peterson, Jackson (73 games), Tacoma (46 games): Following an injury-shortened 2015 season, Peterson bounced back in his first extended taste of Triple-A. Having posted a .271/.340/.466 line with 11 homers and 43 RBIs with Double-A Jackson, Peterson jumped to the Pacific Coast League, where he hit .253/.307/.438 with eight blasts and 35 RBIs in Tacoma.
"We gave him some very clear expectations and guidelines, and he was very much involved in that process and really, really had a great season in Double-A, then we moved him to Triple-A," Mariners director of player development Andy McKay said.
After the season, the 2013 first-rounder was rewarded for his campaign by being added to the Mariners' 40-man roster.
"We couldn't be happier with where he is right now heading into his first Spring Training on the 40-man," McKay added.
Second baseman -- Chris Mariscal, Clinton (97 games): Mariscal also stalled in 2015, but rebounded with a strong season at the same level. In 97 Midwest League games, the Fresno State product raked at a .301/.372/.408 rate, improving his batting average 65 points and his OPS over 150.
"We set some key parameters, and one of those parameters is you're not leaving a level until you earn your way out," McKay said. "We did not feel that he earned his way out of Clinton in 2015 and so we sent him back. That's not a personal thing. It's pretty black and white. He went right back there and obviously made massive improvements in really all aspects of his game."
Mariscal helped lead Class A Clinton to an 86-54 overall mark and a Midwest League Finals appearance.
Third baseman -- Nick Zammarelli, Everett (65 games): The Elon product joined the Mariners system in the eighth round of June's Draft and hit the ground running with a .329/.391/.467 slash line, five homers and 43 RBIs in his professional bow. In addition to 43 starts at third base, Zammarelli got 10 nods in the outfield.
"It could not have gone any better based on what he accomplished his first year out," McKay said. "He was really exactly what was advertised, which was a guy that could really come in and swing the bat from the left side and provide some maturity, some consistency."
Shortstop -- Benji Gonzalez, Jackson (129 games): The well-traveled Gonzalez has played in the Pirates, Padres and Mariners systems but proved to be an anchor for the Generals in 2016. Batting primarily out of the top two spots in the lineup, Gonzalez matched a career-best .271 average in full-season ball and set personal bests with a .342 on-base percentage, a .386 slugging percentage, four home runs and 59 RBIs. Gonzalez also scored 78 times for the Southern League's third-highest offense.
Outfielders -- Tyler O'Neill, Jackson (130 games): A California League home run title signaled O'Neill's coming-out party in 2015, and this summer, he proved the breakout was no fluke.
"Everybody knew, if you looked at his numbers the last couple of years, some things he needed to work on," Jackson manager Daren Brown said. "I felt like he made a conscious effort to try to work on those things, one of them obviously being controlling the strike zone, getting better pitches to hit. We know what he's capable of. If he makes the pitcher throw strikes, he's got a chance to hurt you."
O'Neill led the Generals to a Southern League title, batting a full-season career-high .293 with a .374 on-base percentage and a .508 slugging percentage. The Canadian clubbed 24 homers and drove in 104, earning a host of accolades including Southern League MVP, league Championship Series MVP, midseason and end-of-season All-Star honors, an Arizona Fall League selection and Seattle's Minor League Hitter of the Year honors. In the playoffs, he was at his best, hitting .448/.515/.828 with three homers and nine RBIs in seven games.
"There might have been a two-week stretch where he got out of his approach and swung at some pitches for a couple of weeks that he normally didn't, but to stay locked in for pretty much the whole year and not only to be having success on a personal level but having success as a team, I just think it's the best of both worlds," Brown said.
Chantz Mack, Bakersfield (124 games), Jackson (five games): Mack was as consistent as any hitter in the Mariners system, batting .286/.389/.433 with 14 homers and 89 RBIs, both personal bests. The Miami product hit for the cycle in June, posting his first professional five-hit game. With the exception of a July swoon, Mack hit at least .276 each month of the season and held down both corner outfield positions.
Eric Filia, Everett (68 games), Tacoma (one game): Like teammate Zammarelli, Filia took to pro ball quickly and consistently in his debut season. Capturing a Northwest League batting title, the UCLA product batted .362/.450/.496 with four homers and 46 RBIs to help the AquaSox make a trip to the Northwest League Finals. Just as impressively as Filia's ability to hit was his ability to be patient. The 20th-round pick garnered 40 walks while striking out 19 times.
"I remember talking to [UCLA head coach] John Savage early, and John's someone who I have tremendous respect for," McKay said. "He was very confident in this kid's ability to hit professional pitching, which he obviously was. His ability to control the strike zone is almost unparalleled in Minor League Baseball this year in terms of walks and strikeouts. He's a kid who obviously was a later pick than Zammarelli, but he's at the point now where where you're picked stopped mattering a long time ago."
Utility player -- Jay Baum, Bakersfield (131 games): Baum gets the nod here because of his nearly unparalleled versatility in the system. The Clemson alumnus started 33 games at first base, 14 at second, 31 at third, eight at shortstop and 43 in the outfield. The constant movement in the field didn't affect Baum at the plate. After hitting .213/.282/.290 for Bakersfield in 2015, the 24-year-old bumped those numbers to .252/.328/.368 this year.
Right-handed starter -- Andrew Moore, Bakersfield (nine games/nine starts), Jackson (19 games/19 starts): Taken in the 2015 competitive balance round, the former Oregon State hurler has impressed since debuting last summer. In his first exposure to full-season ball, the 6-foot, 185-pound righty stayed true to his formula for success and went a combined 12-4 with a 2.65 ERA.
"He understands who he is," Brown said. "I think that's the biggest thing that he has going for him. He doesn't try to be anybody else. He knows his stuff and he knows what it takes to get guys out with his stuff. He throws strikes. He commands the strike zone. He comes right at hitters."
Moore struck out 133 while walking just 31 in 163 innings. Opponents batted .247 against him
"He never beat himself," Brown added. "The other club's going to have to beat him. He's going to throw strikes. He's going to make them swing the bat."
Left-handed starter -- Ryan Yarbrough, Jackson (25 games/25 starts): The southpaw complement to Moore, Yarbrough was an anchor for the Generals, putting up a 12-4 record and a 2.95 ERA. The Old Dominion product won six straight starts from April 30 through May 29, kicking off that streak with a seven-inning shutout of Mobile. He wrapped his season with five wins in his final six decisions and a 1.13 ERA in four August starts, capturing midseason and postseason All-Star honors and the Southern League Most Outstanding Pitcher award.
Relief pitcher -- Dan Altavilla, Jackson (43 games), Seattle (15 games): The Generals started their season with six starts and 10 relief appearances by Edwin Diaz before the flamethrower made the jump to Seattle, never to be seen again in the Minors in 2016. Altavilla picked up the slack behind him in Jackson's bullpen, going 7-3 with a 1.91 ERA and 16 saves in 20 chances from 43 relief outings.
"Danny could pitch anywhere," Brown said. "He could give us the sixth and seventh inning. He could pitch the seventh and eighth. Then we knew he was capable of pitching the ninth. Putting him in those situations and letting him have that experience, it's not always going to go great, but they learn things from them and move on."
After his successful stay in Jackson, Altavilla followed Diaz to Seattle, where he was even better, posting a 0.73 ERA in 15 relief appearances.
Tyler Maun is a contributor to MiLB.com. Follow him on Twitter @TylerMaun. This story was not subject to the approval of the National Association of Professional Baseball Leagues or its clubs.
View More