Renfroe, Margot ready to spark San Diego
Padres can look forward to jolt from a quickly improving farm system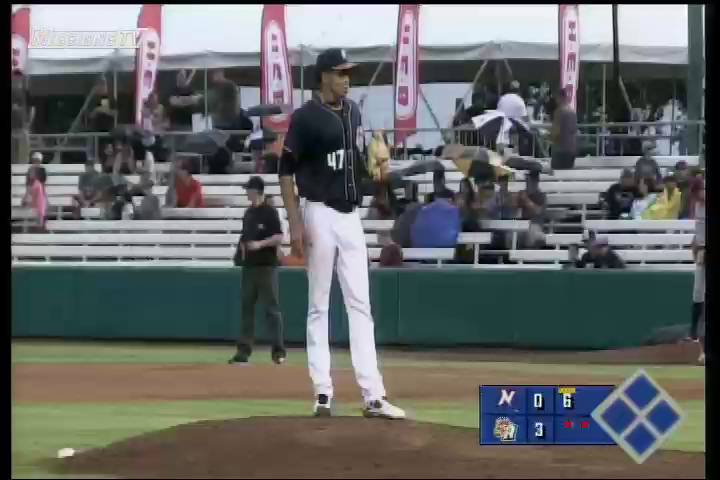 By Michael Avallone / MiLB.com | December 5, 2016 10:00 AM
This offseason, MiLB.com is honoring the players -- regardless of age or prospect status -- who had the best seasons in their organization. We're taking a look at each team to determine the outstanding seasons in Minor League Baseball.
Looking to end a streak of four consecutive losing seasons and six in seven years, San Diego turned heads with a bevy of high-profile acquisitions. But despite a 77-win campaign in 2014, the moves hadn't really paid off and the organization changed course, dealing a number of notable players to rebuild within.
Unloading so much talent led to a last-place finish in the National League West, but the Padres restocked a farm system that hadn't produced many impact players in recent years. Those fortunes soon may be reversed. Top prospects Hunter Renfroe, Manny Margot and Carlos Asuaje reached the Majors in 2016, giving San Diego a glimpse at a brighter future.
Padres Organization All-Stars
Catcher -- Austin Hedges, El Paso (82 games), San Diego (eight games): Even after missing more than six weeks with a broken bone in his left hand, the 24-year-old delivered an almost surreal 2016 campaign. Hedges hit .326/.353/.597 with 21 homers and 82 RBIs in 82 games, setting career highs across the board for the Triple-A Pacific Coast League champions. Hedges homered in five straight games and drove in eight runs against Salt Lake on July 10, capping a 21-game stretch in which he batted over .400 with 14 jacks and 42 RBIs.
First baseman -- Ty France, Lake Elsinore (60 games), Fort Wayne (68 games): San Diego's 34th-round pick in the 2015 Draft followed up a successful short-season debut with an impressive full year. Splitting his time between the Class A Midwest League and Class A Advanced California League, France hit .271 with 14 homers and 73 RBIs over 128 games. The 22-year-old sports a .400 on-base percentage in his first 194 professional contests.
"He's shown consistency, night in and night out with some of the best quality at-bats in the entire organization," Padres director of player development Sam Geaney said. "Ty is someone we can rely on competing, battling and being a tough out while consistently putting the ball in play. He takes his walks and his versatility on defense is an added bonus. Being able to play both third and first base well is a big plus. He's just a well-rounded player."
Second baseman -- Carlos Asuaje, El Paso (134 games), San Diego (seven games): Part of the deal that sent All-Star closer Craig Kimbrel to Boston last winter, Asuaje made a huge splash in his first year with his new organization. A lefty-hitting second baseman with pop, the Padres' No. 20 prospect slashed .321/.378/.473 and collected 52 extra-base hits, 98 runs and 69 RBIs in 134 games for the Chihuahuas. The 24-year-old's 172 hits ranked third in the Minors and his year ended with a promotion to San Diego.
"It was our first year being around him, and obviously, it turned out great," Geaney said. "When we acquired him from the Red Sox, he was already a really advanced offensive player. He's not very large in stature, but he has a very quick bat, quick hands and sneaky pop with a gap swing. His defense continued to improve up the middle and he also played some left field and third base. That versatility will only help him more because the bat is already there."
Video: El Paso's Asuaje goes yard
Third baseman -- Josh VanMeter, San Antonio (29 games), Lake Elsinore (86 games): A fifth-round pick in 2013, the 21-year-old posted steady and solid numbers in his first three professional seasons. VanMeter started the year in the California League, where he hit .267 with 34 extra-base hits, including 12 homers, while driving in 51 runs in 95 games. His strong summer earned him a promotion to the Double-A Missions on July 29. Although he didn't find the same success in the Texas League, his final numbers dwarfed anything he had done in his first three seasons.
Shortstop -- Chris Baker, Fort Wayne (17 games), Tri-City (54 games): San Diego's 17th-round pick this year consistently flashed the strong defense he was known for at the University of Washington. But Baker also drew rave reviews with his performance at the plate, batting .299/.384/.432 with 38 RBIs, 30 walks and 14 stolen bases in his first 71 pro games. The California native recorded 22 multi-hit games and collected 25 extra-base hits in 264 at-bats.
Outfielders
Hunter Renfroe, El Paso (133 games), San Diego (11 games): One of the organization's crown jewels turned his steady progress from 2014 and 2015 into an MVP award this past season. San Diego's third-ranked prospect slugged his way through the PCL, slashing .306/.336/.557 with 30 homers, 105 RBIs and 95 runs in 133 games. MLB.com's No. 40 overall prospect topped the circuit with 69 extra-base hits and was tied for league lead in homers while finishing second in RBIs and slugging, third in runs and eighth in batting average. Renfroe didn't let up with the bat upon reaching the Majors, hitting .371 with four home runs and 14 RBIs in 11 games.
"Hunter truly had a great year," Geaney said. "It was the third straight year where he's gotten a taste of the next level up. It's good for him to see those levels in a brief sneak peek and then follow that up with a full season of production. He made some nice adjustments, fixed a few things mechanically and was helped by seeing some of the advanced pitching the PCL had to offer. Just a terrific year that ended with a trip to the Majors."
Video: Renfroe pounds a homer for El Paso
Manny Margot, El Paso (124 games), San Diego (10 games): The other top prospect obtained from Boston in the Kimbrel trade used a sensational year with the Chihuahuas as a springboard to the Majors along with teammates Renfroe and Asuaje. MLB.com's No. 26 overall prospect batted .304/351/.426 with 30 stolen bases and 98 runs scored in 124 Triple-A games while playing strong defense in center field.
"Similar to Asuaje, we got to enjoy our first year of watching him in our organization," Geaney said. "He had a very nice year and is a guy that checks all the boxes as a player. He's a strong defender, hard to strike out and he puts the ball in play and is a well above-average runner. He impressed everyone from the big league staff on down this year."
Franchy Cordero, El Paso (four games), San Antonio (59 games), Fort Wayne (74 games): Beginning the year in Class A Advanced and reaching Triple-A is no small feat, but that's exactly what Cordero did in 2016. The 22-year-old hit .290/.344/.450 with 51 extra-base hits -- including a Minors-leading 16 triples -- and 23 stolen bases in 137 games across three levels. His strong year convinced San Diego to add him to the 40-man roster on Nov. 18, putting him on track for a big league debut in 2017.
Utility player -- Michael Gettys, Lake Elsinore (60 games), Fort Wayne (68 games): Gettys put together the best season of his three-year career, cementing his status as San Diego's No. 10 prospect. After batting .231 in 2015, the 21-year-old rebounded to hit .305/.363/.442 with 12 home runs, 60 RBIs and 33 stolen bases in 128 games between Class A and Class A Advanced this year.
"He's a very toolsy and athletic player," Geaney said. "We challenged him with an aggressive assignment in 2015 and sent him back to Fort Wayne to start this year after a strong offseason. He performed very well and it was quite clear that he had done all he needed to in the Midwest League. He dealt with some minor injuries during the year but finished up in the Arizona Fall League as another one of our talented guys we're excited to see ascend the ladder."
Right-handed starter -- Dinelson Lamet, El Paso (two games), Lake Elsinore (12 games), San Antonio (14 games): Lamet made good on his arm's immense promise this season. Following a strong 2015 campaign in Class A, San Diego's No. 18 prospect enjoyed a career year. The 24-year-old won 12 games and posted a 3.00 ERA while holding opposing hitters to 126 hits in 150 innings. His 158 strikeouts led the organization and were sixth-most in the Minor Leagues.
"Dinelson never played in the United States before 2015," Geaney said. "He's got a great arm, a sound delivery with a mid- to upper-90s fastball. His second-best pitch is a slider, and he continues to develop a change and curve. This was a really special year and he's very close to making an impact for us."
Left-handed starter -- Eric Lauer, Fort Wayne (one game), AZL Padres (two games), Tri-City (seven games): One of San Diego's three first-round picks this year, Lauer made a fine pro debut after his selection with the 25th overall pick. The Padres' ninth-ranked prospect sported a 2.03 ERA between three levels, striking out 37 in 31 innings while holding the opposition to a .211 average.
"Eric came as advertised," Geaney said. "He's got a loose arm, a good fastball with solid secondary stuff. He has the makings of a four-pitch pitcher who will continue to develop now that he's turned pro. It was a long year for him pitching in [Kent State], so we're looking forward to seeing him in Spring Training after a full offseason. We think he'll move quickly."
Relief pitcher -- Kyle McGrath, El Paso (one game), Lake Elsinore (11 games), San Antonio (33 games): The fans' MiLBY selection as Top Relief Pitcher blazed through three levels, dominating every step of the way. McGrath finished the year with a 0.93 ERA, a 0.75 WHIP and 78 strikeouts in 67 innings. Opponents hit just .174 against the Louisville product, who has a 1.45 ERA and a strikeout rate of better than 10 per nine innings in 100 career appearances.
Michael Avallone is a contributor to MiLB.com. Follow him on Twitter @MavalloneMiLB. This story was not subject to the approval of the National Association of Professional Baseball Leagues or its clubs.
View More