TinCaps' Gore headed to DL again
San Diego's No. 2 prospect dealing with fingernail issue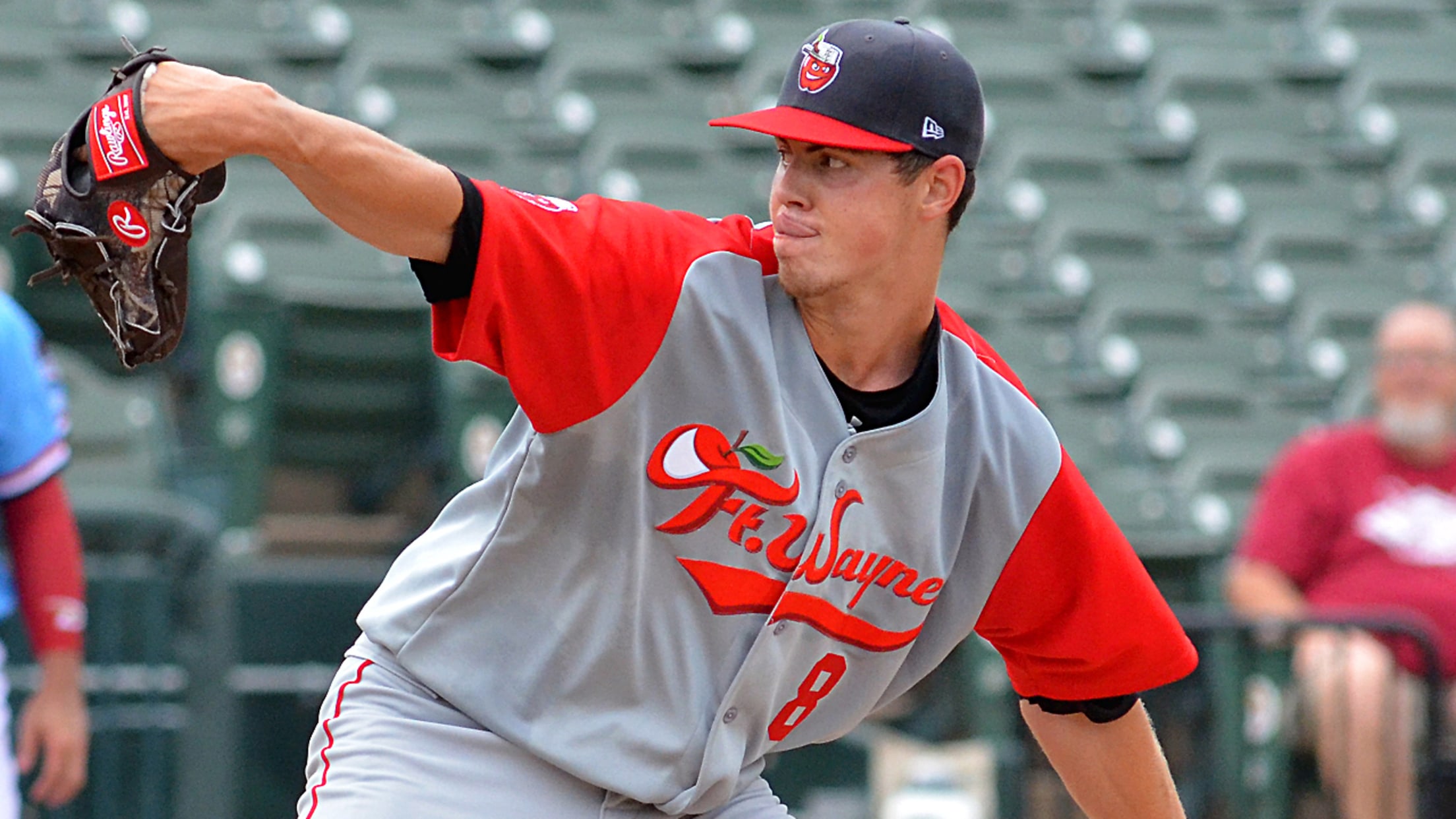 MacKenzie Gore posted a 2.83 ERA in nine combined starts for Class A Fort Wayne between June and July. (Paul R. Gierhart/MiLB.com)
MacKenzie Gore has shown flashes of brilliance in his first full pro season, but also has been beset by a series of challenges. He hit another road block this week.Baseball's No. 11 overall prospect was placed on the Class A Fort Wayne disabled list for the third time this season
MacKenzie Gore has shown flashes of brilliance in his first full pro season, but also has been beset by a series of challenges. He hit another road block this week.
Baseball's No. 11 overall prospect was placed on the Class A Fort Wayne disabled list for the third time this season Wednesday. The move, to address a fingernail issue, came with less than two weeks remaining until the end of the regular season.
Gore left Monday's start after 3 2/3 innings, allowing four runs on six hits -- including two homers -- with four strikeouts and two walks against Lansing. That followed one of his best outings of the year in which San Diego's No. 2 prospect surrendered just one run while scattering six hits over six innings. It marked just the second time this season that the 19-year-old went six innings in a start.
Two outings earlier, Gore spun five shutout innings and fanned eight in a Fort Wayne win over Dayton on Aug. 2.
"It was nice to go up there and throw zeros," the 19-year-old said that night. "The starts before, I pitched well, but I made a mistake here or there, kind of lost focus and they came back and got me. Tonight I stayed locked in and made good pitches when I needed to and put up some zeros."
That came almost two months after Gore's second DL stay of the season and was his fifth outing of five innings or more over a six-start stretch.
"I'm good," he said. "I'm healthy.
"I haven't thrown as much as I could have if I hadn't got hurt. I'm here now. I can't look back and be 'What if? What if?' I'll go pitch until they take the ball from me."
In nine combined starts between June and July, Gore posted a 2.83 ERA over 35 innings pitched, striking out 46 batters while walking just 12. He didn't fare as well in August. Monday's outing pushed his ERA in four outings for the month to 5.09 with a .310 opponents' average and a 1.47 WHIP.
Gore's previous two disabled list stints were for left middle finger blister issues. In total, the 2017 third overall pick has spent 44 days on the DL this year.
Tyler Maun is a contributor to MiLB.com. Follow him on Twitter @TylerMaun.