51s' Flores slugs fifth homer in three days
Mets infield prospect goes yard in both games of PCL doubleheader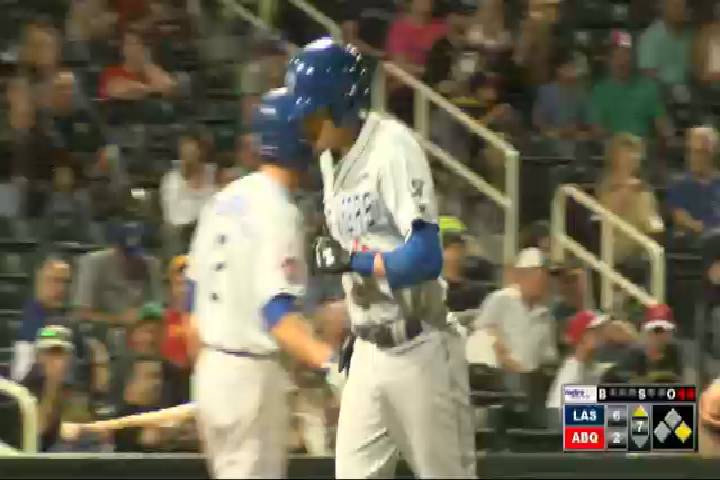 By Josh Jackson / MiLB.com | July 6, 2014 2:48 AM
In Wally Backman's eyes, one thing ensures Wilmer Flores a bright future in baseball.
"For me, it's Flo's bat that plays," the Las Vegas 51s manager said.
By homering in both games of Saturday's doubleheader at Albuquerque, Flores has totaled five long balls since Thursday. His three-run blast in the seventh and final inning in the nightcap gave the 51s a 6-3 win over the Isotopes and a split of the twinbill.
"Tonight in the seventh inning, he turned around on a 95 mph fastball and he hit it well out of the park," Backman said. "That was a big one for us, because they ended up scoring in the bottom of the inning."
The 22-year-old infielder had five Pacific Coast League homers between April 6-May 6, after which he was promoted to the Mets. He had one homer and a .225 batting average over 25 big league games, but he saw only 80 at-bats in that span.
"It's a tough situation in New York, where when he went up, Ruben [Tejada] got hot," Backman said. "His playing time was very limited. I've had him a few years now and I think the more at-bats he gets, the more consistent he becomes."
Flores returned to the 51s on June 26 and went 0-for-5. He's hit safely in his last 10 games, batting .405 with nine extra-base hits and 17 RBIs.
"When he first got back from the bigs, he struggled a lot in his first two games," Backman said. "To come back was a good thing, for his age. He needed to get at-bats so that he could develop. They did the right thing to send him back for the development part."
Right thing or not, Backman believes Flores' drive to return to the Majors is a big factor in his recent tear.
"I think it's very big. He wants to be back up there," said Backman, a veteran of 14 Major League seasons. "He wants to play up there and he knows to do that he's got to put up big numbers in Triple-A."
Backman doesn't see that as much of an obstacle for Flores.
"Until he went to the bigs last season, he had 86 RBIs. Then, the last [two months], he was gone. He was going to drive in way over 100 runs for me," the skipper said. "And I know people talk about it being the Pacific Coast League, but these home runs over these last few days, they are the kind of home runs that are home runs anywhere."
The native of Venezuela has been adding defensive versatility, which may increase the likelihood that he'll find a spot on the big league roster sooner rather than later.
"Flo is a young kid that has improved defensively this year," Backman said. "I've played him everywhere, all through the field -- short, second base, third base, first. And he's played all of them adequately. But for me, the bat really plays."
Andrew Brown also homered and doubled in the nightcap for the 51s.
The Isotopes' Jamie Romak went yard twice and collected five RBIs in the opener, an 11-3 romp.
Josh Jackson is a contributor to MiLB.com. This story was not subject to the approval of the National Association of Professional Baseball Leagues or its clubs.
View More