Aberdeen arms combine to toss no-hitter
Van Loon, Lloyd, Moore team up to shut down Jersey Shore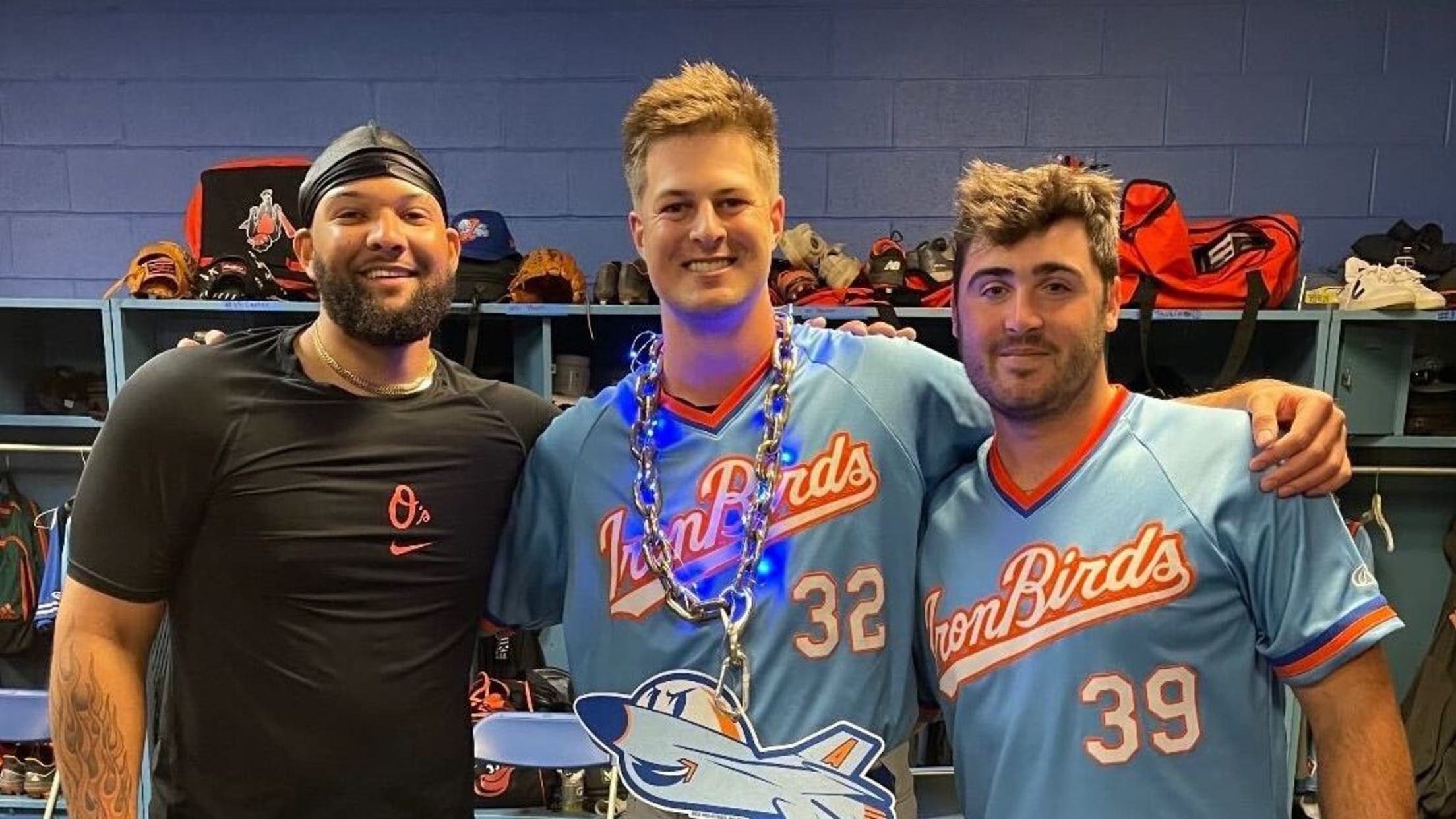 (L to R) Xavier Moore, Peter Van Loon, and Daniel Lloyd made history for Aberdeen. (Roberto Mercado/Aberdeen IronBirds)
High-A Aberdeen had already clinched the South Atlantic League North Division first-half title, but that didn't stop them from pressing down the gas and making some more history. Three IronBirds pitchers -- Peter Van Loon, Daniel Lloyd and Xavier Moore -- combined to toss a no-hitter in the Orioles affiliate's
High-A Aberdeen had already clinched the South Atlantic League North Division first-half title, but that didn't stop them from pressing down the gas and making some more history.
Three IronBirds pitchers -- Peter Van Loon, Daniel Lloyd and Xavier Moore -- combined to toss a no-hitter in the Orioles affiliate's 6-0 win over the Jersey Shore BlueClaws in Lakewood, N.J., on Saturday.
Van Loon struck out six batters over five innings before giving way to Lloyd for the sixth through eighth innings. He was followed by Moore, who worked around a hit batsman to shut the door in the ninth. The trio of arms etched their names in Aberdeen baseball lore by contributing to the second no-no in franchise history.
"I haven't done anything like that in my life," Van Loon said. "But all games like this are a team effort. [Coby] Mayo and Billy Cook made great plays, Ramon [Rodriguez] called a great game behind the plate and Lloyd and Xavier really came in and shoved. It was just really special and great to be a part of."
Van Loon, Baltimore's 16th-round pick last year out of UC Irvine, retired 15 of the 18 batters he faced to lower his ERA to 2.66 through 13 outings (six starts). He encountered slight trouble in the third inning, walking one and hitting another with two outs. Van Loon regrouped and set down his final seven hitters of the night.
"It was really just establishing the fastball and getting ahead of guys," he said. "That's always been something I've focused on, not allowing two-out walks. Getting my slider back -- I was missing away with it -- and getting my stuff back together, that's what was most important."
Though Van Loon had never been a part of a no-hitter before -- "One time I came close when I was 13," he said -- it wasn't exactly unfamiliar territory. Earlier this season, on May 8 against Brooklyn, he inherited a no-hit bid from Aberdeen starter Carlos Tavera but let it slip on his second pitch out of the bullpen.
"With this pitching staff, we've been in a similar spot. It just went our way tonight," Van Loon said.
That pitching staff has been at the top of the SAL all season long, making a game like this one the culmination of a group-wide effort. IronBirds pitchers lead the league in strikeouts, WHIP, opponent batting average and rank fourth in ERA.
"As the pitching coach, you get to see the collective group go about their business day in and day out," Aberdeen's Forrest Herrmann said. "It's been an awesome opportunity with the guys on this staff throughout the year, putting in a lot of work on their development. Whoever had the ball tonight was going to be able to get the job done."
Though this exact group might not still be together by the time the IronBirds embark on their postseason run in September, the success to this point speaks to an overall team philosophy, with the goal of carrying it over to whoever takes the mound in an Aberdeen uniform.
"The entire group has a growth mindset and they haven't gotten comfortable with where they're at," Herrmann said. "They try to win the game in front of them and develop the skills it'll take to compete on the biggest stage."
While that stage -- Camden Yards for these Orioles prospects -- is a few years away, they've already proven they can thrive under exciting and pressure-filled situations like this one.
Jacob Resnick is a contributor for MiLB.com.