Alvarez goes 5-for-6 in Baysox's romp
Orioles prospect has hit safely in 18 of 19 games this season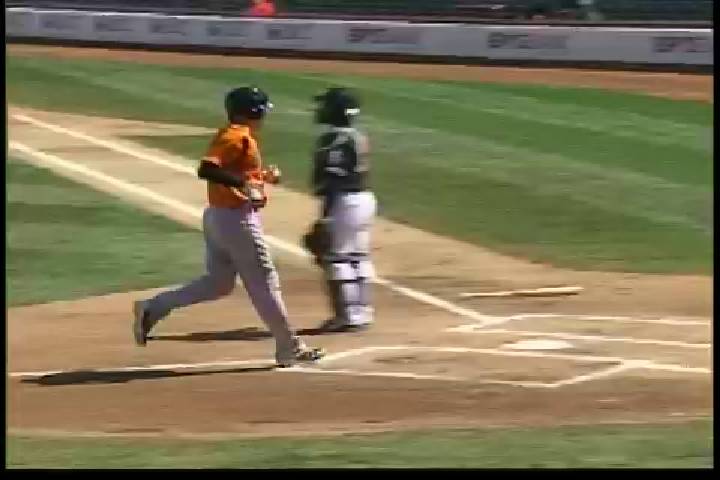 By Josh Jackson / MiLB.com | April 26, 2014 1:35 AM ET
Dariel Alvarez hasn't been in affliated ball long, but he's already made mistakes, learned from those mistakes and improved because of them.
"I see a gradual improvement each night," said his manager, Gary Kendall.
Alvarez, who defected from Cuba in 2012 and signed with the Orioles last July, went 5-for-6 with a pair of doubles, four runs scored and an RBI on Friday night in Double-A Bowie's 14-2 thrashing of Harrisburg.
The 25-year-old outfielder has hit safely in 18 of 19 games this year and is batting .350. Last season, he played at three levels, batted .436 in 10 games with Class A Advanced Frederick and struggled to a .194 mark in nine games with the Baysox. He wrapped things up with with a stint in the Arizona Fall League.
"Dariel's been playing pro baseball for not even a full year [in the States]. With each step he took, it really helped him," Kendall said. "There were some things we identified in the Arizona Fall League that [Bowie hitting coach] Butch Davis is working with him on now to make adjustments -- being a little more selective, going deeper into at-bats."
Against Harrisburg, Alvarez saw six pitches in his second-inning at-bat that resulted in a single, then smacked the fifth offering he saw in the fifth into center field for a double.
"He's working on not getting himself out as much, which he did in the Fall League a lot. He doesn't strike out a lot -- he's always had a good contact bat -- but it's about the quality of outs," Kendall said. "He has really good straightaway power. It's just trusting the quickness of his bat. He was really a turn-and-burn type hitter. We're working with him to allow the ball get a little deeper, so he's not reaching for it."
Alvarez whacked another double to plate a run in the seventh, tying him for second in the Eastern League with 16 RBIs. The hit pleased Kendall for other reasons.
"What I really liked about that was, there was a man on second with no outs and it was the type of ballgame at that point where you want to see him try to work [from the] middle to the right side to advance the runner," the manager said. "We preach to these guys to get a pitch to drive the other way or to center.
"The first pitch, he fouled off and it was a chopper down by me at third base. Then he made the adjustment. It was a good piece of hitting because he waited for a pitch he didn't have to carve the other way; he waited for one he could drive the other way."
Alvarez batted twice in Bowie's seven-run ninth, and he singled up the middle both times.
"He has the bat speed and the ability to hit the breaking ball if he allows it to travel. His biggest problem in Bowie and in the Fall League last year was that he didn't trust himself to work around pitches. He'd hit the ball sharp to third or sharp to shortstop," Kendall said.
"Now, instead of a groundout, he's working on letting the ball get deeper, so he has a chance to drive it to the middle of the field. And if he lets it get deeper, he has better balance; and if he has better balance, he'll have better vision."
Christian Walker, the Orioles' 15th-ranked prospect, missed the cycle by a triple and drove in four runs.
"He had a good night," Kendall said of the 2012 fourth-round pick, who had three hits, including a grand slam, on Tuesday. "He's been very productive for us. There are things to address each night. Sometimes he gets in pull-mode, but when he stays in the middle of the field, he has good alley power."
Fourth-ranked Nationals prospect Michael Taylor doubled and scored a run for the Senators.
Josh Jackson is a contributor to MiLB.com. This story was not subject to the approval of the National Association of Professional Baseball Leagues or its clubs.
View More