Baez on fire with four-hit night for Iowa
Top Cubs prospect homers, doubles twice to extend hitting streak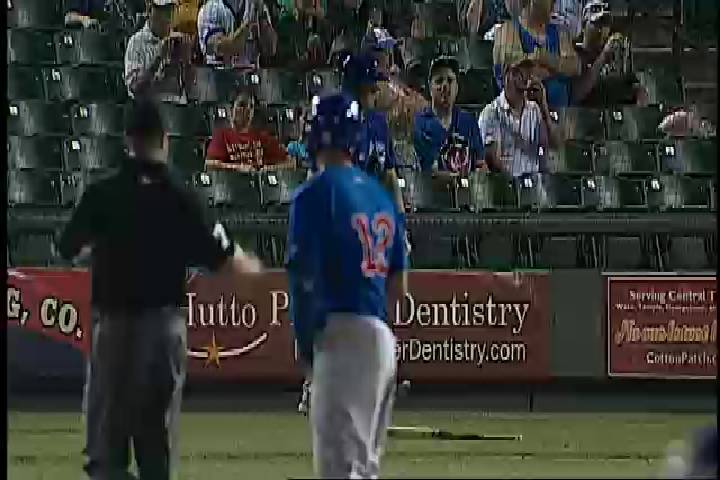 By Josh Jackson / MiLB.com | May 23, 2014 1:42 AM ET
Javier Baez is slowing down his approach at the plate and that's speeding up his batting average following a slow start to his first crack at Triple-A.
"There are adjustments you have to make at every level, and he's making them now," said Brian Harper, hitting coach of the Iowa Cubs.
The top Cubs prospect went 4-for-5 with a homer, two doubles, two RBIs and two runs scored in the I-Cubs' 7-2 win over the Express at Round Rock's Dell Diamond on Thursday.
"He had a great night," Harper said. "Hitting at the higher levels is really all about preparation and trying to figure out what guys are trying to do to get you out. At the lower levels, you can go on ability, but not in Triple-A. Javi's just starting to get a good handle on that."
The 21-year-old shortstop struggled through his first six weeks in the Pacific Coast League, batting .142 through May 15.
However, Baez has hit safely in each of his last seven games. In that span, he has batted .464 (13-for-28) with five doubles, three homers and six RBIs. His season average now sits at .201, and Thursday was his second straight game with a roundtripper.
"He started off slow, and then just when he was heating up, he twisted his ankle and missed eight games," said Harper. "It's almost like he was trying to catch up in some of those at-bats after that. It got him overswinging a bit. Recently, he's been slowing down."
On Thursday, Baez doubled in a four-pitch at-bat in the first inning, hit a home run down the left-field line in a five-pitch at-bat in the fifth and saw five pitches in a seventh-inning at-bat that resulted in a broken-bat RBI single. He was retired on the first pitch of his final at-bat in the ninth.
"About the last week, he's been having better at-bats. He's been more patient, and he's swinging at better pitches," Harper said. "He's been slowing his approach down. He was a little jumpy, overswinging. He's worked very hard at calming down, getting better swings on the ball.
"Javier [always] takes a very healthy swing. It's not like we can say he's swinging easy now. But his tempo is a lot better. Some of it too is learning the pitchers. Triple-A pitchers can pitch, and they're smart. The level doesn't get the respect it should, because guys know how to pitch here -- there are guys who have been around."
Baez's home run was the subject of discussion on the field as Express manager Steve Buechele asked the umpire crew to conference about whether or not the ball had gone foul.
"I had a pretty good view of it from the third-base dugout, and it definitely looked fair to me. If they had reversed it, we would have had a possible ejection of our manager," Harper said. "It went out of the stadium. It went at least 500 feet. He hits them like that in batting practice, but this was one of the longest he's hit in a game."
But baseball's No. 6 prospect never appeared too discouraged by his early slumps, acording to Harper.
"I know he was starting to press, but he didn't ever lose confidence. He's a really confident guy. I'm very proud of the way he handled not succeeding. He worked harder and harder every day," said the veteran of 16 Major League seasons.
"It shows a lot when a ballplayer handles failure the correct way. You coudn't tell a whole lot of difference" in Baez's demeanor between when he was slumping and when he was hitting, Harper added.
Dallas Beeler allowed one run on three hits and a walk over seven innings, striking out six, to improve to 2-0 for Iowa.
Round Rock's Brad Snyder homered for the third consecutive game. His 13 dingers rank third in the PCL.
Josh Jackson is a contributor to MiLB.com. This story was not subject to the approval of the National Association of Professional Baseball Leagues or its clubs.
View More