Bandits, Bite set to battle for ABL title
Miami's Tissenbaum, Texas' Demeritte take different paths to Finals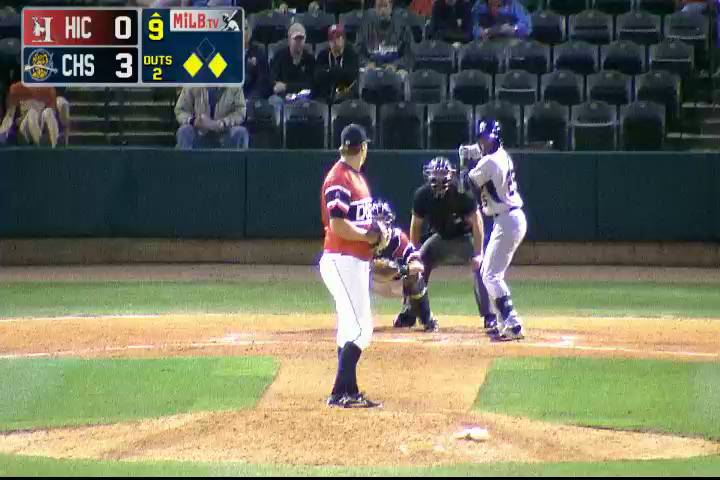 By Tyler Maun / MiLB.com | February 4, 2016 3:37 PM ET
Maxx Tissenbaum went to Australia as one aquatic creature and will return home another. In the middle, he's hoping to finish his second season Down Under with a souvenir unlike any other.

Sent to the Australian Baseball League for the second straight season by the Rays, Tissenbaum was just over a month into the Brisbane Bandits' historic season when he woke up -- literally -- to a new chapter in his career.
"It was pretty crazy right when it happened," said Tissenbaum, who was taken by the Marlins in the second round of the 2015 Rule 5 Draft's Triple-A phase on Dec. 10. "I woke up one morning, saw that my phone was just covered in messages, texts, tweets, Facebook, all congratulating me and asking me what the next step was with the Marlins. I really didn't have an answer, so it was kind of that first little rush of trying to figure out what's going on."
To sleep a Ray, awake a Marlin, Tissenbaum's immediate focus was on the Bandits. Having not made the ABL playoffs once in the league's first five years, Brisbane caught fire after the season's first month in the 2015-16 fixture. A 12-12 team as November closed, the Bandits went 25-7 the rest of the way to capture the league's regular season title and the right to host this weekend's 2016 ABL Championship Series, which begins Friday against the Adelaide Bite at AFA Stadium at Holloway Field.
The Bandits have excelled in close games and with their relief corps. Brisbane is an astonishing 30-0 when leading after five innings this season and a combined 18-7 in games decided by one or two runs.
"We've talked about it a lot," Tissenbaum said. "We remember last year, we were on the wrong end of all of these comebacks. This year we find ourselves down a couple runs early, and we find a way to scratch our way back. Or a pitcher doesn't have a great start, and our bullpen manages to hold us in there for long enough to give us a chance. It's just being able to turn those one-run games in our favor."
Last season, Tissenbaum batted .340/.410/.562 with nine homers and 29 RBIs in 42 games, but the Bandits went just 21-25. This season his numbers tailed a bit -- a .295/.376/.403 line with two homers and 21 driven in over 41 games -- but his team's success has been the focal point.
Tissenbaum's 2015-16 season was put on pause last month when the Marlins invited him to a Minor League mini-camp in Florida. The trans-Pacific journey forced the catcher/corner infielder to miss Round 13 and all but one game of Round 14 but gave the Toronto native a chance to both see his real family and meet his new baseball one.
"It was tough leaving [Brisbane]," said Tissenbaum, who spent 159 games combined with Class A Advanced Charlotte over the last two Minor League seasons. "The jetlag caught me a little bit, so I caught myself waking up at 5 in the morning and watching the end of the Bandits' games which was really tough because I wanted to be out there with the guys. But it was good to see my family. It was really good to be able to meet the coaches, the coordinators, the staff and everything in Jupiter because I think that'll make the transition in Spring Training a lot easier."
With just weeks to go before springtime in America's Sunshine State (Queensland, home of the Bandits, claims that moniker in Australia), Tissenbaum and his team have one more test before them. The ABL's playoff format puts all three games of the best-of-3 Championship Series at the home grounds of the league's regular season champions. That's great news for the Bandits, who went a dominant 23-5 in Queensland and took six of eight from the Bite in their two meetings, including a four-game sweep in Brisbane.
"It's awesome playing at home. There's no better fans in this league that I've seen, especially not the last few weeks when it was completely packed out and we've got all the different cheering groups. It's loud. The fans are right on top of us which is awesome. I think our team plays well in this ballpark because of the way that it's set up. We have a lot of guys who are smart hitters, who are not going to try to hit the ball out of here because we know that it'll happen. Our pitchers understand that as long as they can give us five or six innings, our bullpen can lock it down for the last three and keep the game right where it is."
Back on track
While Tissenbaum will return to a new organization in the States, Adelaide's Travis Demeritte hopes to get a new lease on his baseball life. The 2013 first-round pick of the Rangers flourished toward the end of the ABL season after serving an 80-game suspension for a banned substance last year.
Texas' No. 14 prospect made up for lost time by playing in a league-high 56 games this season for the Bite, and he closed the Australian campaign with his best series. In Round 14, the second baseman went 5-for-18 with four home runs and six RBIs en route to league Player of the Week honors. He followed that power display with another in Adelaide's Preliminary Final series victory over Canberra by batting .455 (5-for-11) with four more homers and six RBIs.
"It's given me some extra at-bats and some more time to see some live pitching again and prepare myself going into Spring Training," said Demeritte. "I've just been seeing the ball well. It's really no change in anything. I'm getting pitches to hit, and I'm hitting them. It's as simple as that."
The 30th overall pick in the 2013 Draft, Demeritte was in the midst of his second tour with Class A Hickory when he was suspended on June 4 after testing positive for Furosemide, labeled a performance-enhancing substance by MLB. Following the suspension, Demeritte returned to Class A Short Season, where he finished the season with five games for Spokane. The ABL has afforded him new lessons.
"[It's shown me] kind of what it takes to be a good hitter," he said. It's a day-in and day-out grind. You've really got to focus and channel all your energy into it. You can't take any days off."
Unlike Tissenbaum, Demeritte wasn't in the ABL last season, but his Bite team was in the league's 2015 Championship Series. After falling in a decisive third game to Perth last February, Adelaide's goal is to finish what it left undone a year ago.
"It seems like everything to these guys," Demeritte said. "They went out with a bitter taste last year, and we're not trying to have that repeated this year."
Title droughts
No matter who comes away with the Claxton Shield as the ABL's champion this weekend, the victor will end one of Australian baseball's longest dry spells. Brisbane has not captured the Shield since Queensland's state team won it during the 2006 Claxton Shield national tournament that preceded the ABL. Adelaide has not brought a title to South Australia since 1980 and fell a win short a year ago.
Championship chase
The 2016 ABL Championship Series will be carried live on MLB Network. The best-of-3 set begins with Game 1 at 6 p.m. local time -- that's 3 a.m. ET Friday morning for viewers in the States embracing a late night or an early morning. Games 2 and (if necessary) 3 are set for the same time on Saturday and Sunday.
Tyler Maun is a contributor to MiLB.com. Follow him on Twitter @TylerMaun. This story was not subject to the approval of the National Association of Professional Baseball Leagues or its clubs.
View More