Bees' Jimenez crushes two more homers
Angels prospect has gone yard in three straight, is on 7-for-13 tear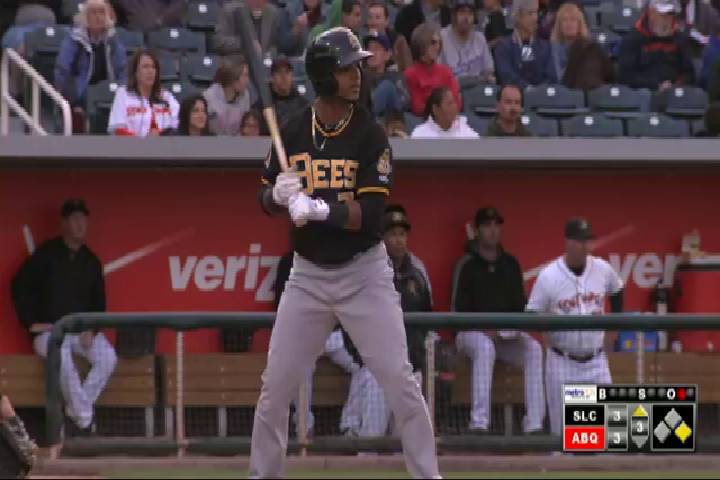 By Josh Jackson / MiLB.com | May 3, 2014 2:05 AM ET
Luis Jimenez and Triple-A Salt Lake hitting coach Frankie Matos have a system worked out. For three straight days, they've done a newly designed pregame drill. For three straight nights, Jimenez has homered.
"We'll keep doing the drill and, hopefully, he'll keep hitting home runs," Matos said.
Jimenez went yard twice and drove in three runs in the Bees' 14-5 romp over visiting Reno on Friday, giving him seven hits -- including four homers -- and six RBIs in his last three games.
The 26-year-old third baseman went 0-for-4 on Tuesday as his batting average dipped to a season-low .266. Matos, who's worked with Jimenez for parts of three seasons in the Pacific Coast League, knew an adjustment was required.
"He was pulling off a little too much, so I came up with a drill for him," the coach said. "We were working with him to be more square with the plate. Basically, I'm just trying to get him to stay close. From really close, I [lob] balls almost to his bat and he has to stay square to the plate."
Rather than believing he's "in the zone," Jimenez said his success is the result of the extra work he's been putting in.
"The game never slows down [for you]. You make adjustments to the game," he said. "I've been working really hard with the hitting coach in the cage and with [manager] Keith Johnson."
His first home run on Friday came with a man on second in the opening inning. He launched a 3-2 breaking ball from Aces starter Bo Schultz over the left-field fence.
"Coming from [Thursday's] game, when I hit another one, and then to hit [a third] in that first at-bat, it's like, 'OK, I'm hitting pretty good,'" Jimenez said. "But sometimes in a game, you hit that first home run, you get excited and you go 1-for-4. I tried to stay calm and see the ball and make good contact with it."
Facing reliever Alex Sanabia to start the sixth inning, Jimenez lined a 2-0 offering out of the park, again clearing the fence in left.
"I faced [Sanabia] before, so I knew he had a pretty good sinker. I was trying to use my hands and make a good swing on it," he said. "That's the best feeling, when you hit a home run. That's the most fun."
Matos knew both of Jimenez's hits were destined to leave the yard right off the bat.
"It's great to see what he's been doing the last few days," he said. "He's doing a good job, he's looking good."
Taylor Lindsey and C.J. Cron -- the Angels' second- and third-ranked prospects, respectively -- also enjoyed big nights. Lindsey tripled, doubled, knocked in two runs and scored once, while Cron went 3-for-4 with a homer, two RBIs and a career-high four runs scored.
"C.J.'s been doing a good job the whole year. For a guy who's in his first year in Triple-A, he's adjusting pitch-to-pitch really well. It's nice to see that from a young player. I'm really pleased," Matos said. "Lindsey is the same way. I am really pleased by what we were able to do [Friday]."
The Bees collected 16 hits, which were more than enough for Matt Shoemaker (1-0). The 27-year-old right-hander went 6 2/3 innings and allowed four runs on 10 hits, striking out six without walking a batter.
Reno second baseman Didi Gregorius went 3-for-5 and missed the cycle by a triple. He drove in two runs and scored twice.
Josh Jackson is a contributor to MiLB.com. This story was not subject to the approval of the National Association of Professional Baseball Leagues or its clubs.
View More