Before the Broncos, Elway eyed the Bronx
QB starred in Oneonta prior to becoming top NFL draft pick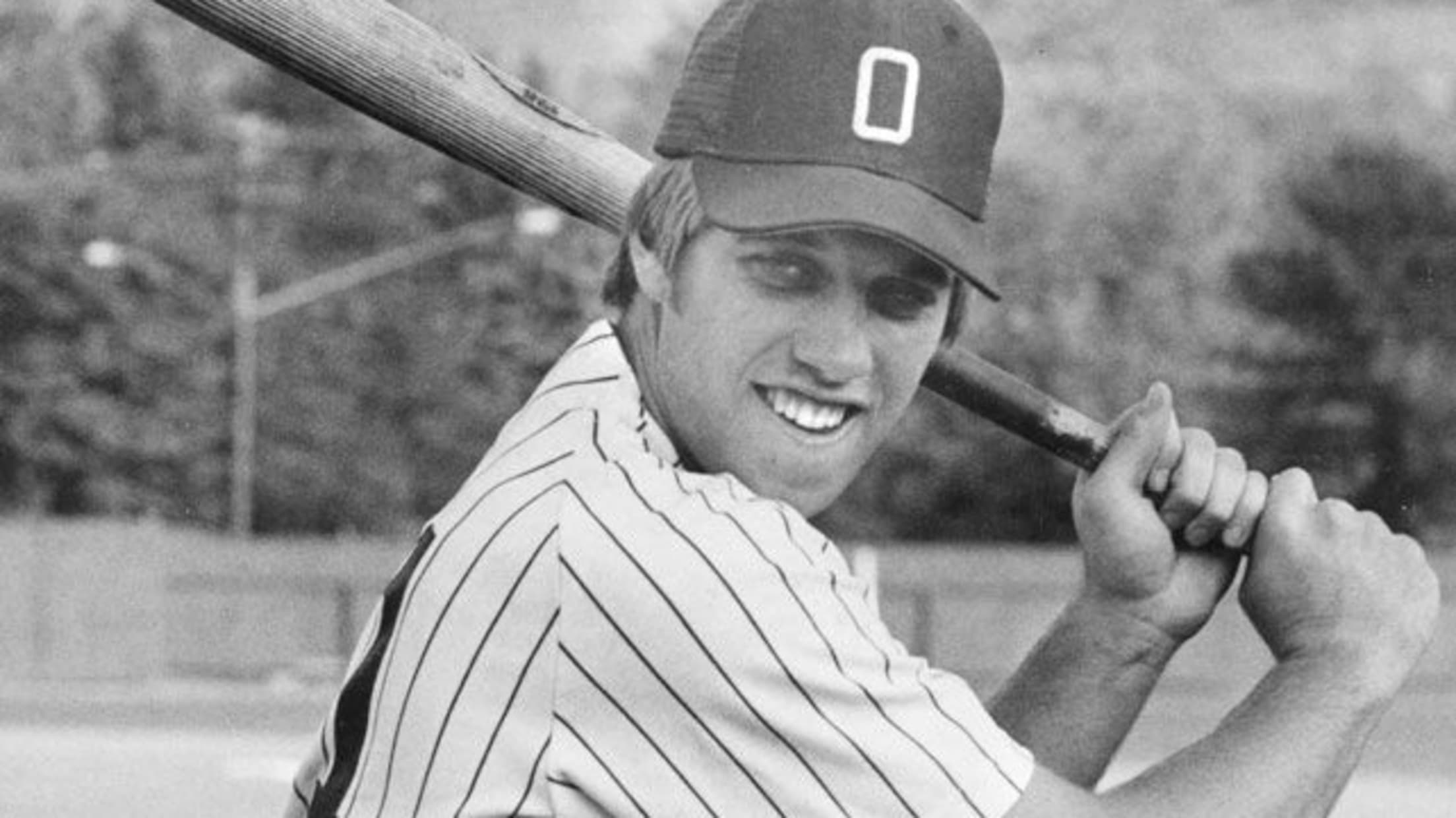 After starting 2-for-22, John Elway finished his Minor League season with a .318 average. (New York-Penn League)
Mark Marquess has seen virtually everything baseball has to offer. A two-sport star at Stanford, he played in the White Sox system from 1969-73 before embarking on a coaching career that's now in its 39th season at his alma mater. Along the way, he's won 12 conference titles and two
Mark Marquess has seen virtually everything baseball has to offer. A two-sport star at Stanford, he played in the White Sox system from 1969-73 before embarking on a coaching career that's now in its 39th season at his alma mater. Along the way, he's won 12 conference titles and two national championships, led the Cardinal to 14 College World Series appearances and won a gold medal with Team USA at the 1988 Olympics.
Still, not many things on a baseball field have compared to the fabled right arm of a blond kid from Granada Hills High School in the early '80s.
"The arm he had," Marquess marvels today, over 30 years after John Elway left Stanford, "is a gift from God."
John Albert Elway was born on June 28, 1960, and was destined for something big. An emblem of the "coach's son" designation, he excelled in virtually every athletic endeavor. As a high school senior, he missed five games of his final football season perhaps due in part, as United Press International reported in 1979, to his far-reaching sports prowess. "Elway injured his right knee playing varsity basketball and reinjured it playing baseball, which many scouts said is his best sport," reporter Rich Tosches wrote.
An 18th-round selection by the Royals in 1979 didn't sway Elway after high school, where he batted .551 and .491 in his last two seasons and won Los Angeles Player of the Year honors and a city championship. Instead, he made good on his commitment to Stanford.
Elway played in nine games behind center for the Cardinal during the 1979 football season and saw action in 46 on the diamond the following spring. As a freshman, the outfielder batted .269, walked more times (22) than he struck out (21) and accounted for 20 runs and 18 RBIs. It was a season with which most freshman would have been thrilled. Not Elway.
"He came in and said, 'Coach, I really don't want to waste my time playing baseball. I'm very disappointed in my average. It should've been better,'" Marquess recalled 35 years later. "I said, 'Hey, you're only a freshman. That's a good year for a freshman. I think you're going to be a better player.' I think he wanted to hear that. He was playing, but he wasn't playing up to the level he thought he should play.
"John at that time would rather be competing than going out and throwing the football around when there wasn't a game involved. He wanted to compete. He just wanted to make sure, after his freshman year, 'Am I wasting my time competing at this level? Can I be good enough to do that?'"
In 1981, he proved he was. Fresh off his first of two Pac-10 Football Player of the Year awards, Elway was a more mature and dynamic player in 49 games as a sophomore, batting .361 with nine homers, 15 doubles, 50 RBIs and 47 runs scored. And there was always that rocket arm, the stories of which feel like tall tales of a baseball Paul Bunyan. Like that one time in Tempe.
"We were playing at Arizona State and there's runners at first and second, no outs, we're up by three or four runs," Marquess remembered. "He's playing right field and there's a ball hit that he catches on the warning track in right-center, probably 360, 370 [feet] away. The Arizona State guy tags up on second base and is going to go over because there's no way. He throws the ball in the air and throws the guy out by five feet. I'll never forget, the Arizona State third base coach turned and threw his hands up in the air like 'Can you believe that?'"
Or the time in Austin.
"We're playing in Texas his sophomore year and they're all over Elway because it's football country," Marquess said. "He's taking infield and he backs up to the warning track on the Astroturf. He gets a standing ovation from the Texas crowd after he throws from right field in infield. I've coached a long time and I've seen a lot of great players. Nobody had that arm."
That year, his final college baseball season, Elway helped lead Stanford to the NCAA Regionals, where he batted .444.
"I remember he didn't play the last weekend of spring football because we were in regionals up in Washington," Marquess says. "He left. He said, 'I'm going to go play baseball.' It was important to him, but it was more important to compete."
Nearly 3,000 miles from Palo Alto, Elway's play caught the eye of baseball's master showman. George Steinbrenner and the Yankees were high on the California kid and selected him in the second round of the 1981 First-Year Player Draft, six spots ahead of an outfielder from San Diego State named Tony Gwynn.
"George was enamored with the idea of John," Yankees scout Gary Hughes told ESPN in 2013. "'We've got to have this guy. He's going to be great. He's going to be a Yankee.'"
Elway signed for $140,000, and although he didn't play summer ball in 1981 or for the Cardinal baseball team the following year, he reported to Class A Short Season Oneonta for the '82 New York-Penn League season.
"When he first came in, Time magazine, Sports Illustrated, everybody wanted to interview him, and they wanted my opinion," said former White Sox Gold Glove outfielder Ken Berry, Elway's manager for his lone Minor League campaign. "It was a little hectic, but he, being a professional and a class act, didn't have trouble handling it."
The attention that greeted the '82 Oneonta club was more New York City than New York-Penn, but Elway and his teammates embraced it, their skipped said.
"He was one of the guys," Berry recalled. "I think he roomed in a big old two- or three-story house with about six other guys. They hung out together and he never had any trouble. He handled the situation very professionally. If anything, I think it helped make my team better, more intense."
Elway started slowly. Like many Minor Leaguers before him, he turned to his father after picking up two hits in his first 22 at-bats.
"John felt that pressure of playing for money in Oneonta," Jack Elway told Sports Illustrated in 1983. "He slumped and he called me and said, 'Dad, I think my goal is to hit .100.' I told him to be aware of his mistakes but not to let them crush him."
The younger Elway heeded the advice. Despite being over a full calendar year away from baseball, Elway finished his Minor League season on a tear. He hit .356 in July to close his 42-game stay with a .318/.432/.896 slash line, 12 extra-base hits, 28 walks against 25 strikeouts and, of course, eight outfield assists.
"I didn't know he hadn't played for Stanford in the spring," Berry said. "I thought he probably had played and then came off a college season and then came right into Oneonta in June. I didn't realize he hadn't played, or [his performance] would have been quite a bit more shocking. When a guy picks up a ball 380 feet away and turns and doesn't take a running start and throws it to third base right on the money, and the guy's waiting for the runner to come in so he can tag him, that's pretty impressive."
"I love to take two steps into a fly ball and then hum it home, just let it fly and watch it move," Elway told _SI _in 1983. "There's no feeling like that."
With apologies to LeBron James, Elway's 1982 senior season on the football field set the stage for the original "Decision."
"After the season was over," Berry recalled, "Stanford played on TV about six times that fall, so I got a real good look at him. Obviously, he was going to end up in the NFL and not the American League, at least in my view from what I saw of him throwing the ball and the way he ran the team."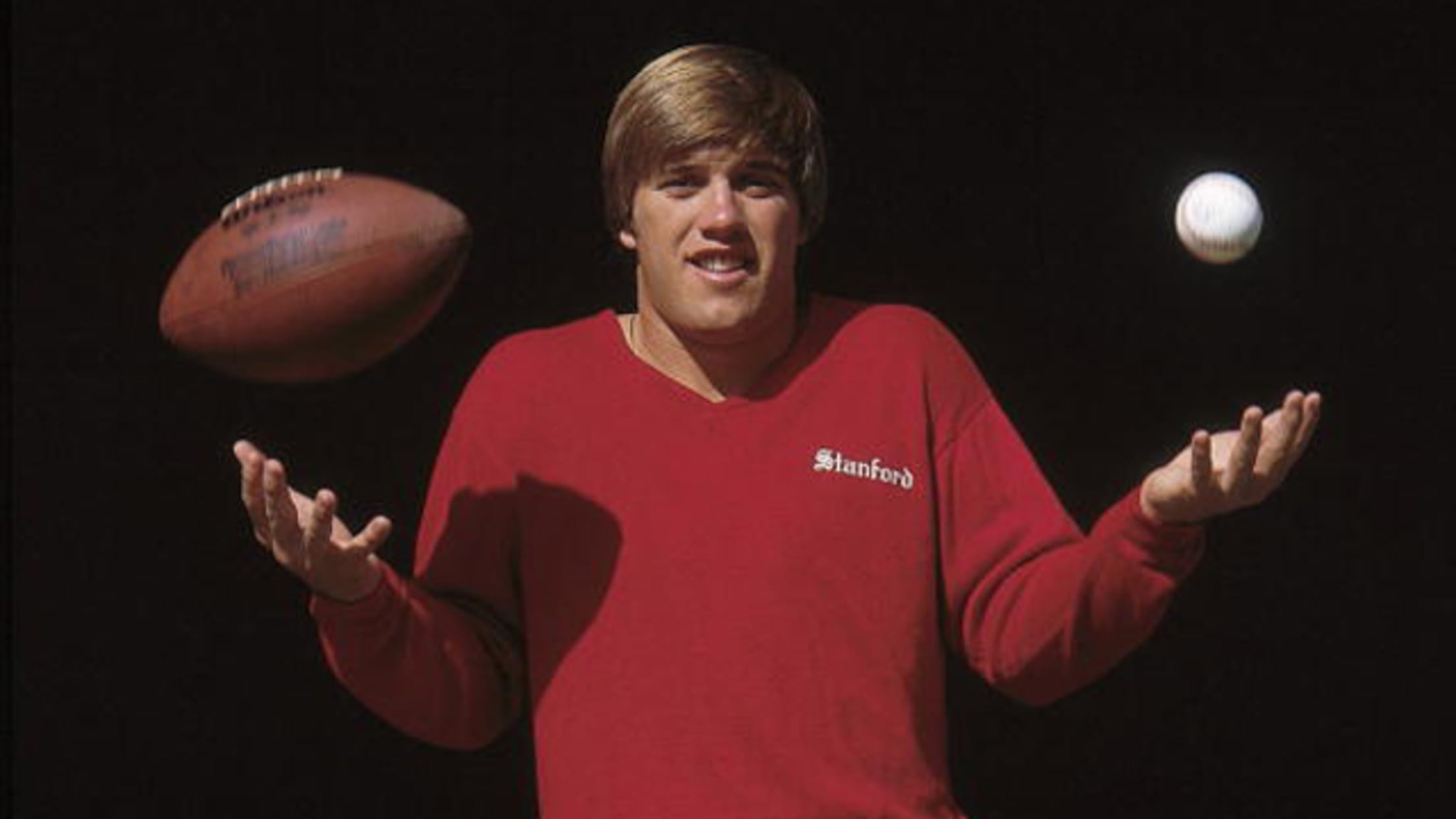 Shortly before the 1983 NFL Draft, Steinbrenner and the Bombers tried to make their relationship with Elway an exclusive one, courting him at Yankee Stadium. Elway's mother was given a gold "NY" necklace. Manager Billy Martin personally greeted the prospect and his family. New York proposed a speedy developmental timetable, with Yankees vice president of baseball operations Bill Bergesch saying Elway could reach Triple-A within a year and New York shortly thereafter. Elway absorbed it all, saying at the time, "I'm not looking at the Minors as being negative. That's part of baseball."
Nine days later, a different set of bright lights in New York beckoned.
"ELWAY THUNDERBOLT: I'LL PLAY FOR YANKEES," blared the New York Post on its back page of the April 26 afternoon edition, just hours after the Baltimore Colts selected Elway with the first overall pick of the NFL draft. The kid with the howitzer arm hadn't telegraphed many plays on the gridiron, but he and his father plainly laid out his biggest in the months leading up to the draft: Elway would not play for Baltimore due to concerns about the direction the organization was headed. If drafted No. 1 by the Colts, he had options -- and leverage -- in pinstripes.
The Colts didn't listen.
In the eight months between Oneonta and the draft, Elway led the nation with 24 touchdown passes, set an NCAA record with 774 career completions, finished second to Herschel Walker in Heisman Trophy voting and established himself as the NFL's clear-cut No. 1 draft pick.
When NFL commissioner Pete Rozelle read aloud the first selection of that draft, Elway's world was thrown into chaos. He and his father, then the head football coach at San Jose State, held a draft night news conference in which the quarterback stated, "As I stand here now, it's going to be baseball."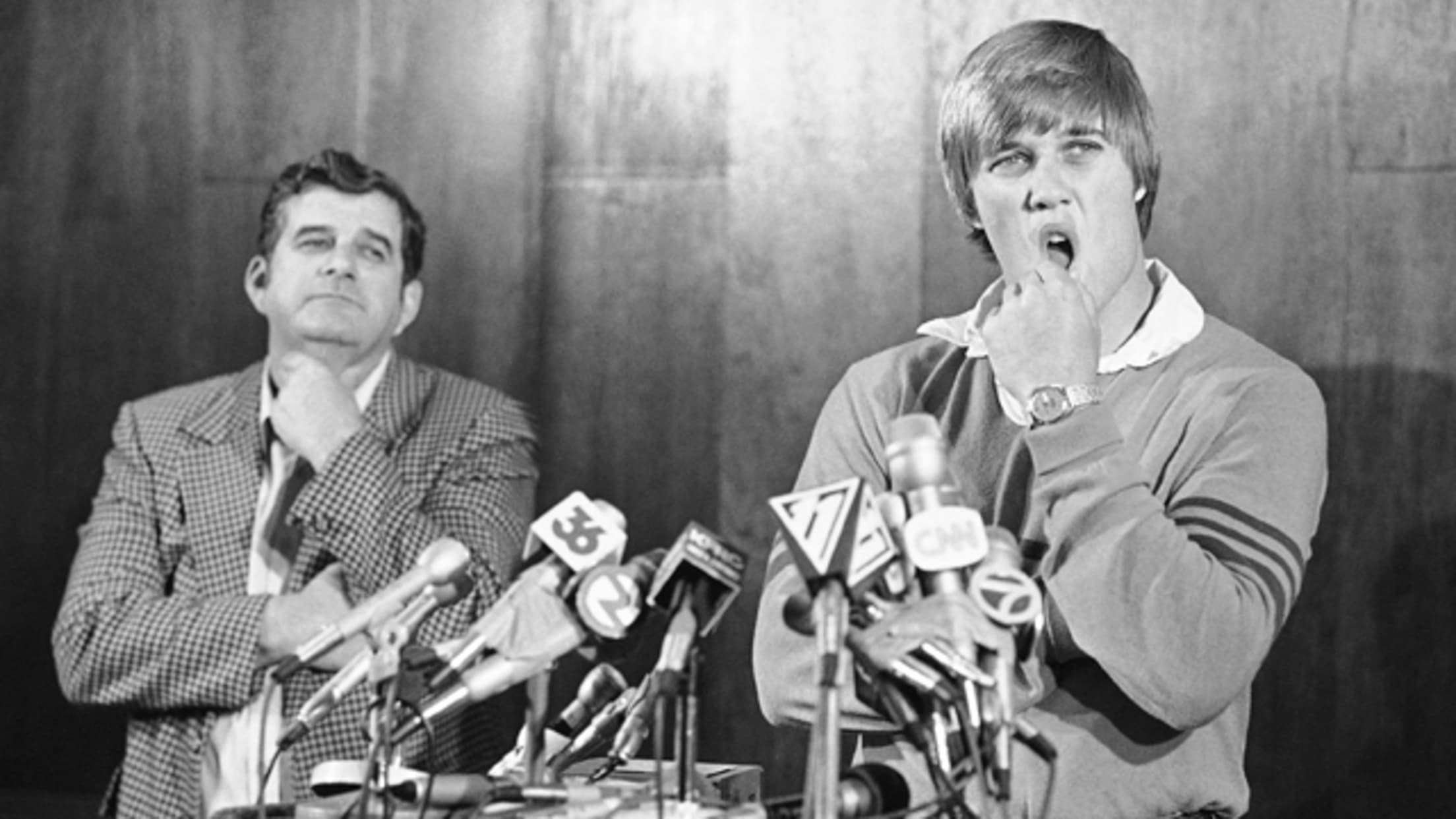 Elway's camp went to work drawing up a massive contract with the Yankees. "[The Colts] knew I held a royal flush," he said, "and still they called me on it."
Elway didn't cave. Eventually, the Colts did. After six days of waiting, the Denver Broncos came through with a trade package to land the man who would lead them to five Super Bowls, two titles and a place as one of the NFL's modern cornerstone franchises.
His brief baseball career was over.
John Elway never homered in Yankee Stadium or hosed a runner at Fenway Park, but while estimates of just how good a Major Leaguer he could have been vary, baseball observers believe unequivocally he would have been there.
"He will be a great outfielder for me, one in the great Yankee tradition of Mantle, Maris, DiMaggio and all the others," Steinbrenner said at the dawn of Elway's career.
"He had great power, left-handed pull power. Yankee Stadium, he was made for," Hughes, the scout, said. "The sky was the limit. If he would've turned around and concentrated just on baseball, I think it would have been off the charts."
Added Berry: "He probably would have been a 25- to 30-double guy with 10-15 home runs, drive in 60 or 70 runs and score 60 or 70 but not a superstar, I didn't feel. A solid player. You never know because it didn't happen, but that was the way I pictured him."
Marquess was unflinching when asked whether Elway had the potential for baseball stardom.
"There's no question," he said. "He could've been a Major League player. He's left-handed [as a hitter]. He's got power. He's athletic. He's got a cannon for an arm."
He pauses.
"I've never seen any athlete -- in football or baseball -- with that arm."
Tyler Maun is a contributor to MiLB.com. Follow him on Twitter @TylerMaun.