Betts stays hot, leads Sea Dogs in blowout
Portland second baseman goes 3-for-5, homers; Ramos nearly cycles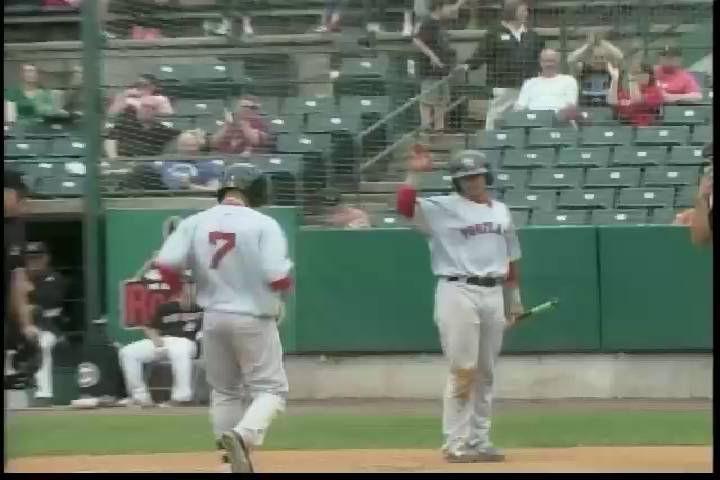 By Sam Dykstra / MiLB.com | May 15, 2014 7:16 PM ET
What did Mookie Betts do today? Is the on-base streak still on?
Those are the questions Red Sox fans and Minor League followers have asked when they've checked out the box score of every Double-A Portland game for about the past month.
Well, the answer -- as it has been since Opening Day, as it has been since Aug. 2 of last year actually -- is yes, the streak marches on.
The No. 5 Red Sox prospect went 3-for-5 with a homer, three RBIs, three runs scored, a walk and a stolen base in Double-A Portland's 13-5 drubbing of New Britain on Thursday. His on-base streak is up to 65 consecutive games dating back to last season, 70 if you include the Carolina League playoffs.
Still, if you think that was just another day at the office for the Minors' hottest hitter, Betts wants you to think again.
"I wouldn't say I'm in a groove right now," he said. "There are days I feel bad. I feel terrible some days. I actually feel terrible most days. But [Portland hitting coach Rich Gedman] always tells me those are the days you need to scratch something out and get even more focused. So on days I don't feel good, maybe I can scratch that out with a hit or by making a good defensive play. That's how I try to look at it."
While he's "scratched out" enough quality efforts to create his impressive streak, his overall numbers pop out even more.
The 22-year-old second baseman leads the Minor Leagues with a .401 average, 59 hits and 44 runs through his first 35 games. He leads the Eastern League in OBP (.467), slugging (.619), OPS (1.087) and stolen bases (18). He ranks seventh in homers (six) and RBIs (24), despite hitting exclusively from the top of the Portland lineup.
The story of Betts' 2014 campaign has been more than just a streak. It's been utter domination. And that was on full display Thursday.
The right-handed hitter smacked an RBI single in the second inning to give the Sea Dogs an early 2-0 lead. After walking and stealing second in the fifth, Betts returned to the plate in the seventh with the score tied, 4-4, and lifted a go-ahead two-run homer to left-center field that kick-started a six-run frame for Portland. He singled again in the ninth and came around to score the Sea Dogs' final tally on a two-run double by Deven Marrero.
Despite his current run, MLB.com's No. 53 overall prospect has managed to stay relatively humble.
"I always appreciate a three-hit game like today," he said. "I know I could 0-for-5 with a bunch of strikeouts tomorrow. That's always possible. You have to appreciate days you get one hit, never mind three."
Still, one would think given the way he's dominated the Double-A level that Triple-A Pawtucket may be shortly within his grasp. Of course, there's also the issue of a potential position change, given that the present and future of the Red Sox second-base position lies with former AL MVP and two-time World Series champ Dustin Pedroia. Betts has played shortstop professionally, although with less-than-spectacular results, and got time in center field back in high school in Tennessee. It's expected his future with the Red Sox might indeed lie in the outfield, where he practices some during batting practice and where his plus speed could be a big asset.
For now though, Betts seems content to chase No. 66 and beyond as a second baseman with Portland.
"I feel comfortable in the outfield, definitely," he said. "But I know there are more rules and things to learn out there that I'd still need to get. Right now, I'm just going out there as a second baseman here in Double-A, and I'm happy with that."
Betts wasn't the only Sea Dogs hitter to maintain his hot streak. Right fielder Henry Ramos went 3-for-5 with two runs scored and an RBI while falling a homer shy of the cycle in the win. After putting up a .276/.315/.345 slash line in April, the Puerto Rico native is batting .460/.500/.720 in 13 May contests.
"Ramos right now, it's ridiculous," Betts said. "I'm really happy for him because he's a really good player who is more than capable of doing this. It's good to see as a teammate."
First baseman Travis Shaw went 3-for-6 with a double and a run scored, and Shannon Wilkerson chipped in a 3-for-5 showing with three RBIs and two runs scored from the ninth spot in the Portland order.
Sam Dykstra is a contributor to MiLB.com. This story was not subject to the approval of the National Association of Professional Baseball Leagues or its clubs.
View More