Betts walks, then walks off for Sea Dogs
Red Sox's No. 5 prospect shows patience, hits game-winning triple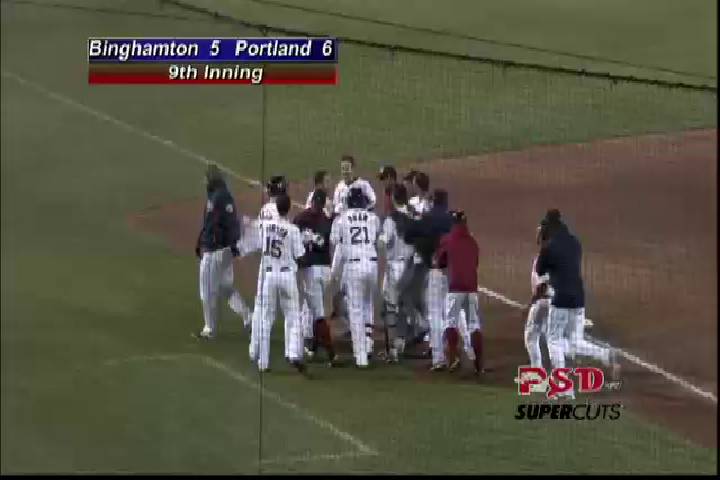 By Robert Emrich / MiLB.com | May 23, 2014 12:39 AM ET
Talk about waiting for your pitch.
Mookie Betts, Boston's No. 5 prospect drew four walks and then hit a walk-off triple as Double-A Portland rallied past Binghamton, 6-5, on Thursday at Hadlock Field.
Betts entered the ninth inning without an official at-bat because of the walks. After Peter Hissey walked and Shannon Wilkerson singled to open the bottom of the ninth, the 21-year-old second baseman lined an 0-2 pitch into right field, scoring Hissey with the tying run and Wilkerson with the winning run.
"Just drive the ball," Betts said of his approach in that at-bat. "I wasn't really trying to move them over. [Manager] Billy [McMillon] had confidence in me to drive them in. You gotta love a manager that has confidence in you."
Betts, who also scored a run and stole a base, reached base five times for the first time this season. It was the second time in his career that the Tennessee native walked four times, also accomplishing the feat on April 25, 2013 for Class A Greenville.
"I was seeing the ball pretty well tonight," MLB.com's No. 53 prospect said. "I mean, they just didn't throw a whole lot over the plate to hit. In the end, I am a leadoff hitter and all I want to do is affect the game with my legs. It wouldn't be smart for me to go out of my approach."
Betts has been one of the best, if not the best, player in the Eastern League this season. The 2011 fifth-round pick leads the league with a .371 average, 1.071 OPS, 48 runs scored and 20 stolen bases. As in the previous two years, Betts has more walks -- 27 -- than strikeouts --14. The numbers might make some think about a move to Triple-A Pawtucket, but not Betts.
"Nah, right now, here in Double-A, I'm enjoying my time here," he said. "I feel like we have a really great team and a really great brotherhood. I love being here with my team. When the time comes to call me, I'll be ready for that. Until then, I'm enjoying my time here."
Travis Shaw gave the Sea Dogs an early 3-0 lead with a three-run homer in the third. It was the sixth homer of the month for Boston's No. 19 prospect, who is third in the league with 35 RBIs. Having Shaw bat two spot lower in the lineup than Betts has proven a boon for him.
"It's great, because as a leadoff hitter, all I want to do is get on base," Betts said. "Knowing that Travis is going to hit me in pretty much every time, that's a great feeling to put up some runs and get him some RBIs. He's a great hitter, just to have him behind me is a really great feeling."
Hissey and Wilkerson scored a pair of runs apiece while Henry Ramos added three hits for the Sea Dogs.
Aaron Kurcz (1-1) earned the win in relief after allowing just a hit in the ninth.
Kevin Plawecki, the Mets' No. 7 prospect, slugged a two-run homer for Binghamton.
Cody Satterwhite fell to 2-1 after giving up two runs on two hits while recording one out.
Robert Emrich is a contributor to MiLB.com. Follow him on Twitter @RobertEmrich. This story was not subject to the approval of the National Association of Professional Baseball Leagues or its clubs.
View More