Biddle cruises in second Triple-A start
Philies' No. 8 prospect throws seven shutout frames for IronPigs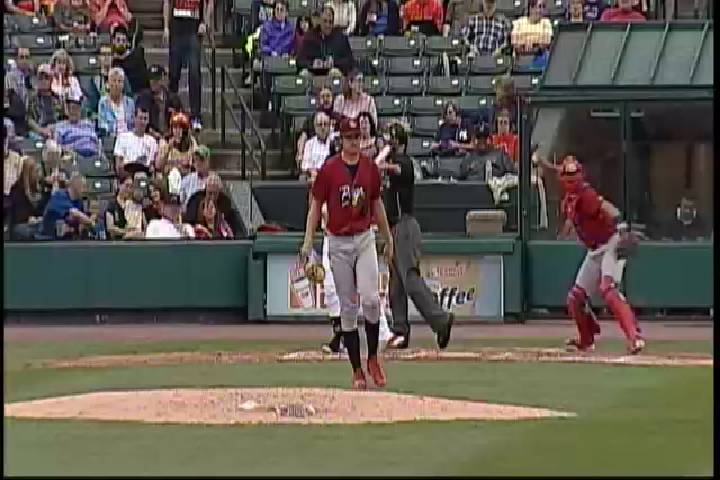 By Josh Jackson / MiLB.com | July 18, 2015 1:25 AM ET
On Friday night, Jesse Biddle's performance evoked a Charles Dickens classic in his manager's mind.
"It was his second Triple-A start and I've seen him good and I've seen him bad. It's a tale of two games," said Lehigh Valley manager Dave Brundage. "I saw him in his first Triple-A start, and being a young man, he had some nerves. He looked like a different man tonight."
The eighth-ranked Phillies prospect unfurled seven stellar innings, allowing three hits and striking out seven for his best start of the year in the IronPigs' 1-0 win over the Red Wings at Rochester. He mixed his fastball, curve, changeup and slider that's new this season.
"It was unique to watch, because tonight you watched how each inning, his stuff got better," Brundage said. "Everything started clicking. He was basically a four-pitch pitcher, incorporating all of them."
The 23-year-old left-hander moved up to the International League on July 8 after going 7-2 with a 4.24 ERA over 15 starts in the Double-A Eastern League. In his Triple-A debut, Pawtucket tagged him for seven runs on five hits and six walks over 2 1/3 innings.
"Confidence is everything. He's a young player, and he's made 58 [career] Double-A starts. That anticipation, he's watching different starters make the jump to Triple-A ... he sees Aaron Nola make 13 starts or whatever he made [at Double-A]. Guys are bypassing him," Brundage said. "Sometimes young pitchers put so much pressure on themselves, and when he did get the call, there was a lot on his plate.
"I think this was a good venue, coming to Rochester, away from home, to get off to a good start. He was noticeably better as the game went on. He was confident, in his body language and his bravada. Three soft singles, and that was it. He walked a guy in the first inning, and he didn't walk a guy after that. He walked six in the first outing. That tells you right there nerves play a role."
The manager took a direct approach in getting the Philadelphia native prepared for his next start.
"Throughout tonight, he was a pitcher. In his first start, he was just throwing, just trying to survive in Triple-A, hence the six walks in 2 1/3 innings," Brundage said. "That was one thing we talked about. We're not trying to survive Triple-A. We're trying to get to the Major Leagues, and maybe it's time to start acting like it."
Biddle (1-0) got three ground-ball outs in the opening frame, working around the one-out walk to Jose Martinez, and he struck out the side in order in the second. After a pair of singles in the third, he cruised into the sixth, when James Beresford reached on a one-out throwing error by Biddle and Martinez followed with a bloop hit. Biddle retired the next two in order to get out of trouble.
At that point, Brundage considered handing the game over to the bullpen.
"My first thought was after six scoreless innings, he's accomplished something and we've got ourselves a nice outing under our belt. But at the same time, I'm not up for babying guys," he said. "We need to go deep into the game, and we need to understand what it's like to go deep into the game, instead of sitting there and saying, 'OK, you did your job.' After six innings, I could have very easily said, 'Hey, way to go. Good game.'
"In certain outings, we [go by] that kind of thought process with young prospects. There's a right time and a right place. Tonight, Jesse Biddle needed to go out and pitch that seventh. He was at 92 pitches."
He went on to work a 1-2-3 frame.
"Seven shutout innings looks a lot better than six shutout innings," Brundage said.
Biddle wound up throwing 61 of 100 pitches for strikes and recorded eight outs on the ground with only three in the air. It was his third shutout start of the 2015 campaign, the previous two lasted just five innings.
This season is a rebound year for the 2010 first-rounder, who experienced concussion-like symptoms after being struck on the head in a freak hailstorm last year, was sent to the Phillies' facilities in Clearwater, Florida, for a mental-health break and suffered a sore elbow.
Adam Loewen recorded his sixth save for Lehigh Valley, getting a strikeout in a perfect ninth.
Aaron Altherr, the Phillies' No. 21 prospect, was 2-for-4 with a run scored. Blake Forsythe also logged two hits for the IronPigs.
Pat Dean gave up one run on seven hits and a walk over eight innings to fall to 6-8 for the Red Wings. He struck out seven.
Josh Jackson is a contributor to MiLB.com. This story was not subject to the approval of the National Association of Professional Baseball Leagues or its clubs.
View More