Biddle dominant in first win of '14
Phillies prospect records season-high 11 strikeouts in seven innings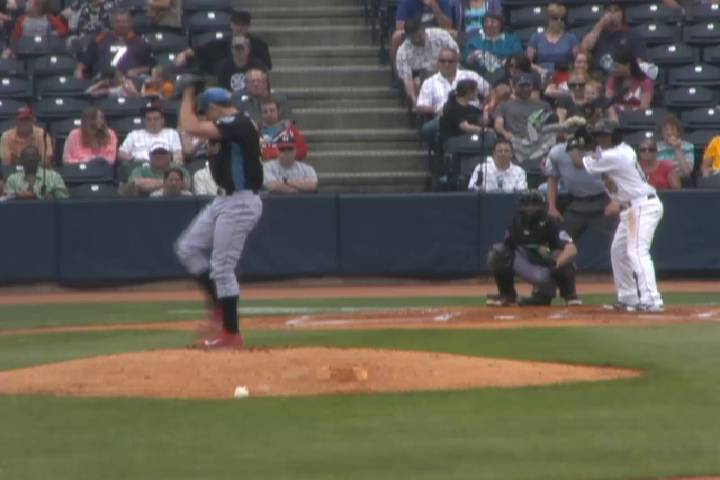 By Robert Emrich / MiLB.com | April 19, 2014 12:24 AM ET
To Jesse Biddle, his first win of the year wasn't a cause for celebration, it was just another night at the office.
The Phillies' No. 2 prospect recorded a season-high 11 strikeouts while allowing two runs -- one earned -- on two hits over seven innings on Friday as Double-A Reading defeated Harrisburg, 6-2.
Biddle (1-2) proved to be his own worst enemy in the second inning, walking Destin Hood with one out and making an errant pickoff attempt that advanced him to second base. Hood stole third and came home on catcher Tommy Joseph's throwing error, but Biddle did not allow a hit until Cutter Dykstra led off the fourth with his first Double-A home run.
"I was just establishing my fastball early, which set up the rest of my stuff," the 22-year-old left-hander said. "Me and my catcher had a really good game plan going into tonight.
"It all comes down to throwing my fastball for strikes down in the zone. You can't strike someone out without getting the first two strikes. Once I got to the point where I was able to locate to both sides, it really sets up the rest of my stuff."
Biddle got off to a rocky start this season, losing two of his first three starts and sporting a 5.02 ERA. The Eastern League was batting .311 against him entering Friday's contest, but those rough starts provided some teaching moments for the Pennsylvania native.
"I'm always working on stuff," Biddle said. "Even when I haven't had as much success, I'm always learning something for the failures. At the same time, it's one start, it's just another stepping stone from where I want to be."
While some pitchers might express relief after getting their first win of the season out of the way, the 6-foot-5 southpaw views it as part of his job.
"I want to be the ace of the team, the guy we depend on," Biddle said. "Getting a win is my job, it's my role on the team. It's not a big relief or a big surprise, it's what I'm paid for and what I'm supposed to do."
Cesar Hernandez went 3-for-4 with a homer and three RBIs to raise his batting average to .522 in six games since returning from the Major Leagues.
"Anytime you get a professional hitter like that, a guy who never wastes an at-bat, even when he gets out the guys still have to throw him six or seven pitches," Biddle noted. "Those are the fun guys to watch hit. He's been a really big force in the lineup and he's been able to help everyone else set the tone."
Tyler Knigge followed Biddle with a perfect inning and Nefi Ogando fanned two while allowing a hit in the ninth for the Fightin Phils.
Matt Purke, the Nationals' No. 6 prospect, fell to 0-3 after giving up five runs -- four earned -- on seven hits over 4 1/3 innings.
Robert Emrich is a contributor to MiLB.com. Follow him on Twitter @RobertEmrich. This story was not subject to the approval of the National Association of Professional Baseball Leagues or its clubs.
View More