Blue Jays Prospect Primer: Alford's all in
Former two-sport star looks to take baseball career to new heights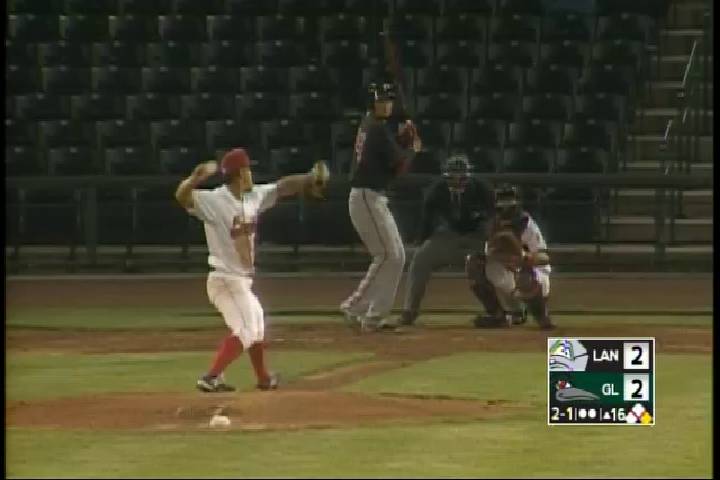 By Michael Peng / MiLB.com | April 4, 2016 10:30 AM
Some players are on the verge of stardom, others are entering a crucial phase of their development and still others are getting their first tastes of full-season ball. With the 2016 season approaching, MiLB.com takes a look at the most intriguing prospects from each MLB organization.
Shining Star: Anthony Alford, OF
When Alford, a former college football standout for Southern Mississippi and Ole Miss, opted to pursue a full-time baseball career last season, he showed signs of a polished player on the diamond by slashing .298/.398/.421 with 91 runs scored in 107 games across two Class A levels.
That type of production has the Blue Jays optimistic about Alford's potential to contribute at the next level. But given such a small sample size, the organization would like to see more of the same from its top prospect before rushing him up the ladder.
"The biggest thing for Anthony is still reps," said Blue Jays Minor League field coordinator Doug Davis. "He basically still has only about 500 plate appearances under his belt. Obviously, last year was a great year for him, so we're very excited about the talent and the ability he's shown trying to make a transformation from football to baseball."
Given his two-sport background, Alford is physically ready for the next stage, but it's his advanced and disciplined approach at the plate that has the Jays excited about the 2012 third-round pick. The 21-year-old drew 67 walks with Lansing and Dunedin in 2015 and used his 70-grade speed to steal 27 bases.
"He's just got to learn how to control all of that, and the only way he's going to do that is with reps," Davis said, "and reps at a level where he's being challenged a bit. So it's just trying to get him on the field consistently and letting him learn how to play this game and play it at a higher level than he's at."
MLB.com's No. 42 overall prospect is expected to spend most of the season with Double-A New Hampshire, but he'll start at Class A Advanced Dunedin. At any rate, the Jays are hoping it won't be long until he developes into the top-of-the-lineup big leaguer.
Loudest tool: Roemon Fields, OF
Fields has come a long way since working at a mall and carrying the mail for the U.S. Postal Service -- and his quick feet deserve much of the credit for his resurgence as a baseball player.
After going undrafted out of Bethany College (Kan.) in 2013, he began pursuing other employment options and almost gave up on the sport, but a strong showing at an amateur tournament in British Columbia -- one in which he was initially reluctant to participate -- caught the eyes of a Blue Jays scout before the organization signed him as a free agent. Once he recommitted to baseball, it didn't take long for Fields to take the system by storm with his 80-grade speed.
The 25-year-old outfielder set a team record with 48 steals for Class A Short Season Vancouver in his pro debut in 2014 and followed that up by hitting .262 with five triples, 13 doubles and 46 theft across three levels last season.
"He's got great insincts on the basepath," Davis said. "He gets good jumps. He's able to bunt, but he's got a little pull power in his bat that's surprising to some people that he really hasn't show much until this point, and I think that'll come out a little bit more with more at-bats at the higher levels. We're just going to try to continue doing what we've done to give him the opportunity to play multiple positions in the outfield for versatility and then also make sure he's also utilizing all of his tools by [getting] base hits, bunting, focusing on hitting the ball on the ground harder and using his feet."
Breakout prospect: Rowdy Tellez, 1B
After impressive showings in both the Florida State and Arizona Fall leagues last season, Tellez is steadily proving he could be a hidden gem. He signed with the club for $850,000 in 2013 after Toronto failed to reach agreement with first-round pick Phil Bickford.
At 6-foot-4 and 220 pounds, Tellez has a powerful yet compact swing that allowed him to slash .298/.347/.454 with 14 homers and 77 RBIs last season and .293/.352/.488 after recovering from a hamate injury in early August.
"The one thing Rowdy has is he has the hitting gene. He really does," Davis said. "If you look at him and watch him play, obviously, the power potential jumps right out at you, but Rowdy can flat-out hit. He's probably as close a hitting prospect that we've had to Adam Lind. He's so good with his swing position and being consistent with that. He's not a high-strikeout guy. He's very, very intelligent at the plate. He does a good job reading pitches and understanding what guys are trying to do to him."
Defense may remain a work-in-progress for Tellez, but the Jays like the work he's put in to improve that facet and he has the potential to open more eyes in Double-A this season.
At the crossroads: Max Pentecost, C
Toronto thought it had its catcher-in-waiting when it selected the 2013 Cape Cod League MVP with the 11th overall pick in the 2014 Draft. But Pentecost has struggled with shoulder injuries and missed the entire 2015 season.
When healthy, Pentecost hit .324 with a .749 OPS in 25 games between the Rookie-level Gulf Coast League and Class A Short Season Vancouver. Then he underwent his first surgery to repair a partially torn right labrum in October 2014. Four months later, Pentecost had another procedure on the same shoulder, only to go under the knife again in December to repair his rotator cuff.
"You certainly have to be concerned because the injuries have kept him off the field for a considerable amount of time," Davis said. "We are doing everything we can here to get him back on the field. No matter what it is, we'd love to be able get him back on the field. If nothing else, we can get his bat in the lineup, get his bat going, but it's just been a slow process for him."
The Blue Jays are in no rush to get Pentecost back but are hoping he'll be able to contribute in some fashion by the middle of the season, whether it's as a designated hitter or at another position.
Full-season debutant: Jon Harris, RHP
Drafted 29th overall last year, Harris was roughed up a bit in his pro debut, but the Blue Jays have reason to believe his best is yet to come.
"I think he was probably a bit overworked in college, so we were trying to be pretty careful with him last year," Davis said. "We really didn't pile too many innings on him and he has been really good here in Spring Training. I think we'll get a chance to finally see the true Jon Harris this year and we are very excited about getting him started at a full-season level in the starting rotation."
Harris went 0-5 with a 6.75 ERA in 11 starts for Vancouver, striking out 32 over 36 innings.
"He's got an arsenal of a lot of different pitches. He can really spin the ball and he's also trying to work with our pitching coordinator on just developing a little bit more movement on his fastball, which he has been able to do," Davis said.
Harris' repertoire includes a fastball in the mid-90s with a couple of hard breaking pitches. His changeup is a work-in-progress, but getting a full season to work out his mechanics could be key to his development. He'll begin with Lansing.
More to keep an eye on: Conner Greene saw his fastball velocity increase to the upper 90s this spring to complement a plus changeup and average curve ahead of a Double-A assignment. ... Sean Reid-Foley averaged nearly 11.7 strikeouts per nine innings in 25 starts last season for Lansing and Dunedin, but the Jays want to see fewer than the 67 walks he issued. ... Brady Dragmire looks to build off a successful Arizona Fall League stint in which he recorded a 0.82 ERA with 14 strikeouts over 11 innings. ... Ryan McBroom batted .315 with 12 homers and 90 RBIs to earn Midwest League MVP honors last season, but at 23, he'll have to prove he can produce at higher levels.
Michael Peng is a contributor to MiLB.com. This story was not subject to the approval of the National Association of Professional Baseball Leagues or its clubs.
View More