Borden throws no-no; Crabs turn triple play
Rays prospect hurls seven-inning gem in second Charlotte start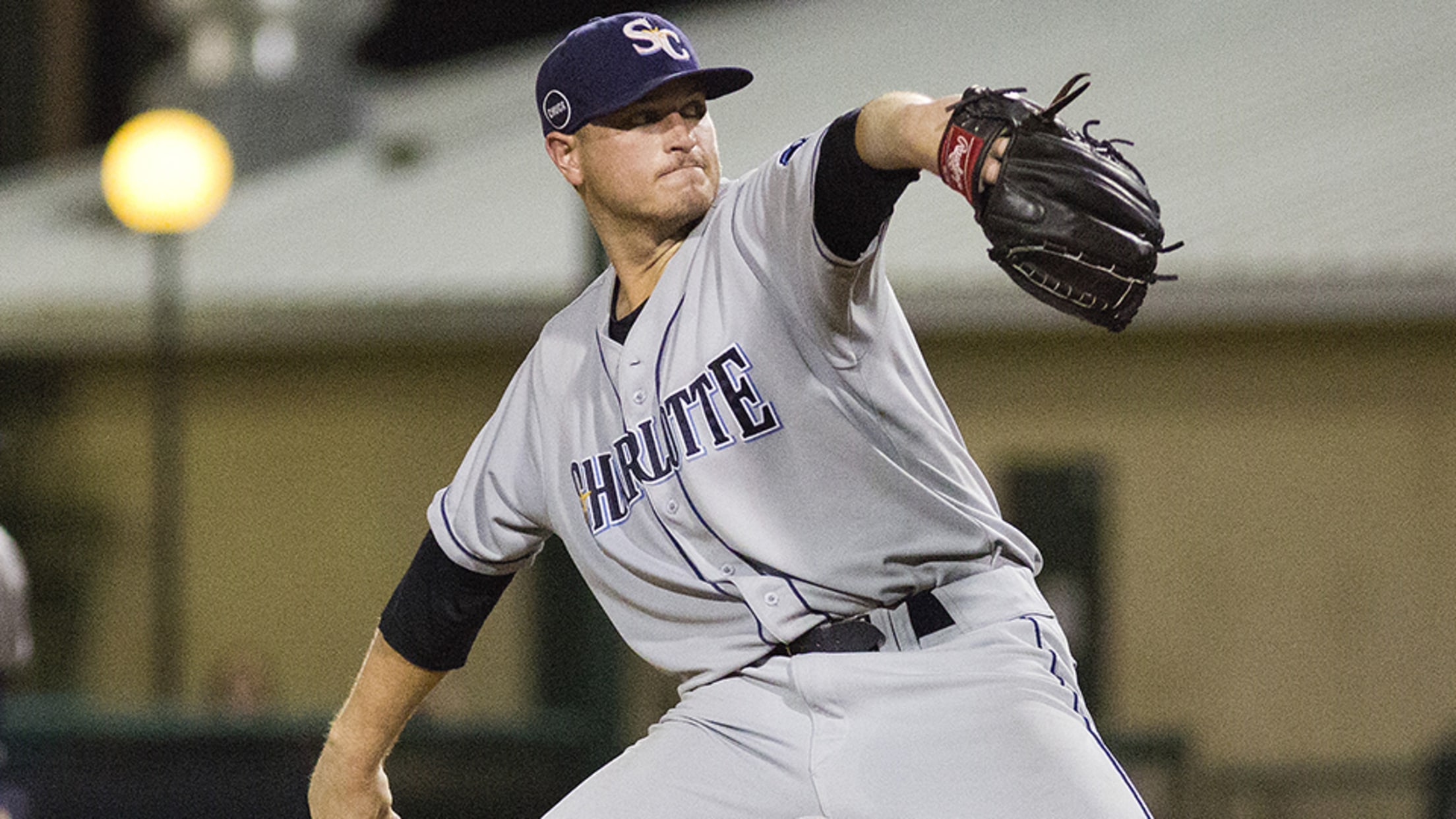 Buddy Borden's first six appearances for Charlotte came out of the bullpen. (Aldrin Capulong)
At the beginning of the season, Buddy Borden -- playing his first season in the Rays organization -- and ninth-ranked Tampa Bay prospect Blake Snell were roommates with Class A Advanced Charlotte. A month and a half into the season, they can claim to be the best pair of pitching
At the beginning of the season, Buddy Borden -- playing his first season in the Rays organization -- and ninth-ranked Tampa Bay prospect Blake Snell were roommates with Class A Advanced Charlotte. A month and a half into the season, they can claim to be the best pair of pitching roommates the Stone Crabs have ever seen. Snell, now with Double-A Montgomery, has started the season with 40 consecutive scoreless innings, while Borden was on the mound for one of the most interesting games of the young Minor League season.
Borden threw a seven-inning no-hitter Wednesday as Class A Advanced Charlotte turned a triple play en route to a 5-0 victory over Clearwater in the opener of a doubleheader at Bright House Field.
Playing in the first game of a doubleheader after Monday's series opener was postponed due to a team-wide Threshers' illness and the second game of Tuesday's twinbill was postponed due to rain, the 23-year-old right-hander walked two and faced one batter over the minimum.
"It was kind of a weird, messed-up day as far as all that goes," Borden said. "Last night's game got postponed right when I was in the middle of stretching. And then today, you're not necessarily used to getting going that early [for a 10:30 a.m. start]. But after that, it was a pretty normal day."
A "normal day" that included a triple play in the fourth inning.
After Andrew Pullin reached on an error by shortstop Willy Adames and Andrew Knapp walked on four pitches to start the frame, Adames made up for his mistake by snagging a line drive off the bat of Dylan Cozens, stepping on second to get Pullin and throwing to first base to get Knapp.
"He picked me up there," Borden said of Adames. "The last thing you want to do is walk guys and put the defense on its heels like I did there. So when he turned that and got us out, it was huge and really awesome to see. It was the first triple play I've ever been a part of, I can say that."
Borden retired all nine batters he faced from the fifth inning on to complete the no-hitter and was met by hugs on the mound from his teammates, who had to turn around and play Game 2 of the twinbill in a matter of minutes. He said the end of the game was "different than just a normal handshake but something really special."
By the Stone Crabs starter's own admission, the Threshers -- who rank second in the Florida State League with a .258 team batting average -- played right into Borden's hands on Wednesday.
"It's a really, really good team, hitting-wise, and they were really aggressive today," said Borden, whose heater typically sits in the low-90s. "That meant a lot of early-count fastballs and I was lucky enough to get a lot of them in play for some soft contact. They didn't take too many deep counts, and that meant I didn't have to use too much off-speed stuff.
"I have the most confidence in my fastball. It's no secret I like to throw it. I think the hardest pitch to hit in baseball is a well-located fastball. I showed some other stuff to keep them from sitting dead-red, but that was mostly it today."
It was the fifth no-hitter of the Minor League season and the second in Stone Crabs history. The first came on Aug. 2, 2014, when Snell kept the zeros coming in a rain-shortened 5 1/3-inning affair. The triple play, meanwhile, was the fourth in the Minors this year.
A 2013 seventh-round pick by the Pirates, Borden came to the Rays organization in December as the player-to-be-named in the deal that sent utilityman Sean Rodriguez to Pittsburgh. He was 7-9 with a 3.16 ERA, 1.18 WHIP, 122 strikeouts and 48 walks over 128 innings last season with Class A West Virginia.
The UNLV product started his Rays career in the bullpen for Charlotte, making his first six appearances as a reliever. When Snell moved up to Double-A, Borden moved into the rotation, making his first FSL start last week at Jupiter, where he gave up one run on three hits over five innings.
After Wednesday's feat, Borden is 4-1 with a 2.54 ERA, 24 strikeouts and seven walks over 28 1/3 frames in eight games this season. His 0.92 WHIP ranks third in the FSL behind Fort Myers' Chih-Wei Hu (0.79) and St. Lucie's Robert Gsellman (0.86). So far, Borden's transition from the Pirates organization to the Rays has been mostly seamless.
"Obviously, there are a lot of different things, but overall, they have pretty similar philosophies," he said. "Neither is in a spot to sign really big free agents, so they really invest in their Minor League systems and put a big emphasis on developing young talent. For me, it's a new city, new coaches, new coordinators and teammates, but I loved being with the Pirates and right now I love being with the Rays."
The Stone Crabs' pitching dominance didn't end after Game 1 of the doubleheader. Jordan Harrison (three innings), Kyle McKenzie (three innings) and Brad Schneider (one inning) combined on a seven-inning one-hitter in a 1-0 win in the nightcap. Clearwater's lone hit of the day was a bunt single in the second frame by Aaron Brown, and Charlotte got the game's only run when top Phillies prospect and shortstop J.P. Crawford committed a throwing error with two outs in the seventh that allowed Marty Gantt to score from second.
With the two wins, the Stone Crabs have won seven straight and improved to 23-10, six games ahead of Bradenton and Palm Beach in the South Division.
"The staff just did a great job of continuing to get weak contact," Borden said. "I mean, the only hit was a push bunt to second. They took what happened in the first game and did a great job of carrying it over. There's something about this team that it just finds ways to win. Today was a great day to be on this team, and I'm really grateful for it."
Sam Dykstra is a contributor to MiLB.com. Follow and interact with him on Twitter, @SamDykstraMiLB.