Bryant hits fifth homer in sixth Triple-A start
I-Cubs third baseman cracks three-run shot in first to help beat 'Topes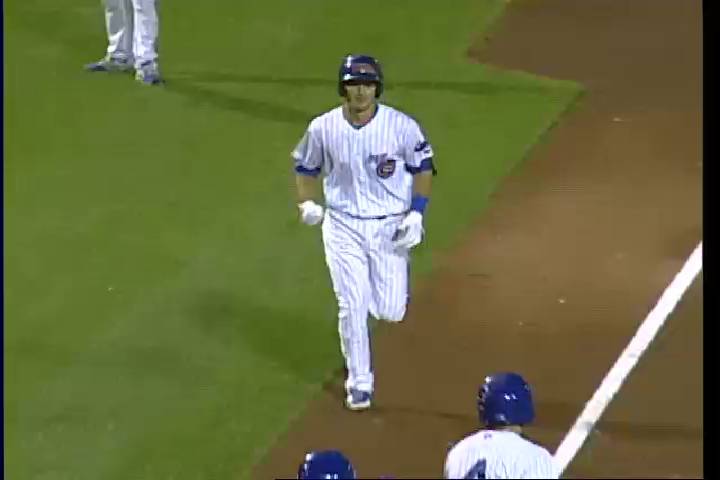 By Danny Wild / MiLB.com | June 24, 2014 8:05 PM ET
From the strange-but-true department -- all of Kris Bryant's Triple-A hits have been homers. He went yard for the fifth time in six Triple-A games, launching a three-run shot in the first inning of Iowa's 6-2 win over Albuquerque on Tuesday afternoon.
The Cubs' No. 2 prospect took an 0-1 pitch the opposite way to right off Zach Lee, the Dodgers' No. 4 prospect. After the game, he learned he'd be heading to Minnesota next month as part of the U.S. squad in the All-Star Futures Game, alongside I-Cubs teammate and World All-Star Javier Baez.
"Guys are giving me a real hard time, 'When are you going to hit a single?' But If I'm helping my team win in any way possible, then I'm doing my job," Bryant told WHO TV. "I'm kind of riding a little wave here, getting some good pitches to hit, kind of getting them in the air, which is what I try to do up there. They've happened to have gone over the fence."
Bryant's homer -- a towering shot down the right-field line that just barely cleared the top of the wall -- gave the Cubs all the offense they'd need as starter Tsuyoshi Wada (8-4) struck out 10 and held the Isotopes to a run on four hits over six innings. The 22-year-old also drew a two-out walk in the third, popped up to center in the fifth and struck out swinging in the seventh.
"Once he gets the ball in the air, it's gone," Baez said of his fellow infielder, according to the TV network.
At the Triple-A level, Bryant sports a .238 average with nine RBIs, five runs scored and a 1.160 OPS in 21 at-bats. Bryant leads the Minors with 27 homers, tied with slugging Rangers prospect Joey Gallo, and still sits atop the Double-A Southern League with 22 despite leaving the circuit a week ago.
"Maybe all my hits here will be home runs," Bryant said Sunday. "It's kind of a weird little stat, but I've just been blessed with power ever since I was little, so I kind of realized that I had it at a young age and just ran with it."
Bryant made his Triple-A debut June 19, going deep in his last at-bat, before taking a pair of 0-for-4 efforts the next two days. He bounced back with two long balls June 22 against the Isotopes before hitting another solo drive Monday. In 68 games with Double-A Tennessee, the San Diego native hit .355 with 22 homers, 58 RBIs, a .458 on-base percentage, 20 doubles and eight stolen bases over 248 at-bats. Overall, he has 27 homers and 67 RBIs in 74 games.
Dodgers' No. 2 prospect Joc Pederson, who is tied for sixth in the Minors with 17 homers, left the game with two outs in the bottom of the first with an apparent right shoulder injury after he dove for a two-out bloop single to right-center field by Josh Vitters and landed on his shoulder. He was checked by a trainer on the field and then replaced in center by Mike Baxter. The Cubs indicated Pederson did not need to be taken to the hospital, but the severity of the injury remains unclear.
Danny Wild is an editor for MiLB.com. Follow his MLBlog column, Minoring in Twitter. This story was not subject to the approval of the National Association of Professional Baseball Leagues or its clubs.
View More