Bulls' Schultz fans 12, ties career high
Rays prospect allows three hits, two walks over five shutout innings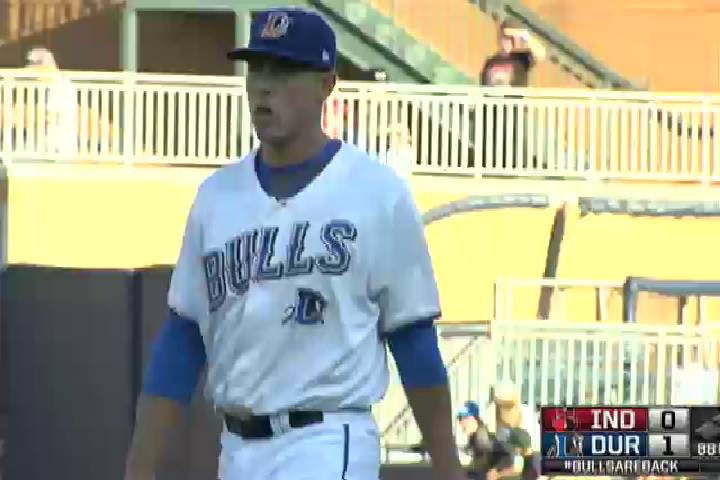 By Michael Peng / MiLB.com | April 24, 2016 10:35 PM
Jamie Schultz didn't leave much for his teammates to do on Sunday, which was probably why they had time to tease him about his performance.
"They all just kind of joked around and made fun of me, saying, 'Why'd you let that guy line out?' or 'You should've struck that guy out, too,' " the Rays' 19th-ranked prospect said.
Schultz tied a career high with 12 strikeouts over five scoreless innings, pitching Durham to a 6-1 victory over visiting Indianapolis. He allowed three hits and issued a pair of walks.
"I felt pretty confident in throwing pitches where I was trying to," the 24-year-old right-hander said. "I felt the two walks were close ones, but overall, my fastball had a lot of carry and my curveball was at probably the best I've ever thrown.
"I also think the environment kind of helped since there was a little bit of a shadow in between the mound and the plate. [Catcher] Carlos Corporan called a great game, too, and we just had a good connection today."
Schultz (2-1) shook off the struggles of his previous outing in which he surrendered seven runs on nine hits over 5 2/3 innings at Gwinnett and credited the work he and pitching coach Kyle Snyder put in between starts for his success on Sunday.
"After the last start, we looked back at it and looked at everything, especially when I was ahead in the count," Schultz said. "I was leaving the ball down the middle, so we focused last bullpen [session] on moving the ball up and down and in and out. We worked on it well and it just came to fruition today."
Schultz struck out the side in the first and third innings and helped return his strikeout ratio to his norm. He'd registered 12 over 16 frames in three starts after leading the Southern League with 168 over 135 innings last season with Double-A Montgomery.
"I think it's just location and pitch selection," Schultz said. "I think my stuff plays here and I have what it takes to put up the strikeout numbers anywhere I play. I was just throwing pitches down the middle instead of where the batters couldn't hit it."
The only thing the 2013 14th-round pick wasn't thrilled about after Sunday's performance was the 96 pitches he threw get through five innings.
"Obviously, the pitch count was high," he said. "I would like that to be lower so I can go longer to be able to help the team. A few times I got lazy today, and I think that showed with the two walks. I just need to continue work on mixing speed and throwing a few more changeups because I think that's a pitch I could use to get guys out early."
Andrew Bellatti relieved Schultz and gave up a run while facing two batters in the sixth. Eddie Gamboa and Tyler Sturdevant finish up game for Durham, which bounced back from Saturday's doubleheader sweep at Norfolk.
Rays No. 11 prospect Richie Shaffer led the Bulls offense with a pair of homers and three RBIs. He hit a two-run shot in the fifth to open a 3-0 lead, then added a solo blast in a three-run seventh.
Michael Peng is a contributor to MiLB.com. Follow him on Twitter @MichaelXPeng This story was not subject to the approval of the National Association of Professional Baseball Leagues or its clubs.
View More