Butler posts first scoreless start of year
Colorado's No. 2 prospect lowers his Texas League ERA to 2.98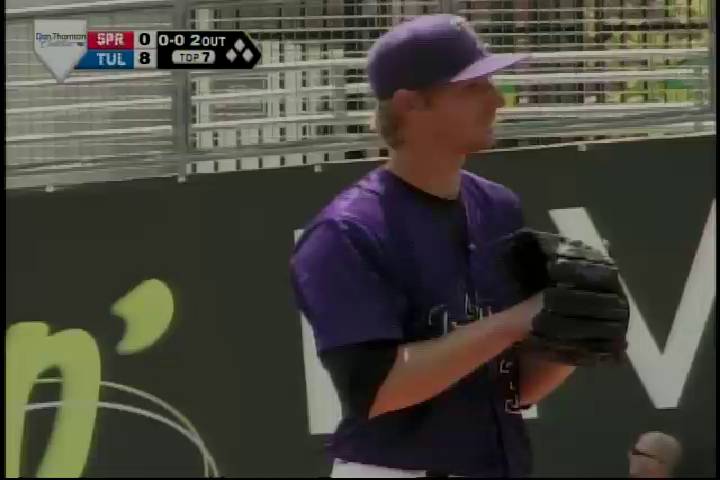 By Sam Dykstra / MiLB.com | May 14, 2014 7:44 PM ET
When you have as sparkling a season as Eddie Butler did in 2013, anything that's perhaps just solid seems pedestrian.
So when the right-hander, who went posted an 0.65 ERA in six Double-A starts late last season, started his 2014 campaign with a 3.45 ERA through his first six games, something may have seemed off.
"I definitely want to repeat those numbers," Butler joked. "But it's tough, especially at this level against these hitters. They've got extensive scouting reports on you every time, and they're charting you for the next time you face them. It makes it tough. I faced a few of these same teams last year, and they have that valuable info."
Thanks to some scouting of his own, Butler's numbers appear to be back on the way to their "regular" lows.
The Rockies' No. 2 prospect scattered six hits and one walk and struck out four in seven scoreless innings Wednesday afternoon to lead Double-A Tulsa to an 8-1 win over Springfield at ONEOK Field.
It was the first zero-laden start of the 2014 season for the right-hander, who improved to 2-4 with a 2.98 ERA in eight starts.
"It's nice to finally have that," he said. "I don't know entirely why it took this long, but it's nice to have it done."
Butler only really faced trouble in the fourth inning, when three straight one-out singles loaded the bases before he got Rafael Ortega to fly out and Matt Williams to pop out to end the threat.
He worked incredibly efficiently, throwing first-pitch strikes to 23 of the 27 Cardinals he faced, and finished his seven frames with only 83 pitches (64 for strikes).
"It was probably my secondary pitches that helped the most," Butler said. "We tried to work a lot of curveballs in because they're a pretty good fastball-hitting team. So we were showing a couple of them early, and all of the first-pitch strikes, that always helps too."
While he knows 2013's stats may have been fairly unrepeatable, the numbers for MLB.com's No. 35 overall prospect this season had their own merits. His 2.98 ERA ranks sixth in the Texas League, while his 1.15 WHIP is seventh. His 8.6 K/9 in 2013 is down to 5.4 this season, his BB/9 rate is also down from 3.1 to 2.1.
The change in stats appears to have come from a change in pitching focus, one that should continue to pay dividends like it did Wednesday.
"We've been working on four-seamers and getting the consistency of that down," Butler said. "The four-seamer, the sinker, that's stuff I've been cluing in on more from the start of the season and trying to work on the most right now."
Rockies' No. 7 prospect Tom Murphy, Butler's batterymate behind the plate, smacked a solo homer, walked two times and scored two runs scored from the cleanup spot.
Sam Dykstra is a contributor to MiLB.com. This story was not subject to the approval of the National Association of Professional Baseball Leagues or its clubs.
View More