Cal notes: Herrera inspires high hopes
Modesto skipper anticipating big turnaround from talented shortstop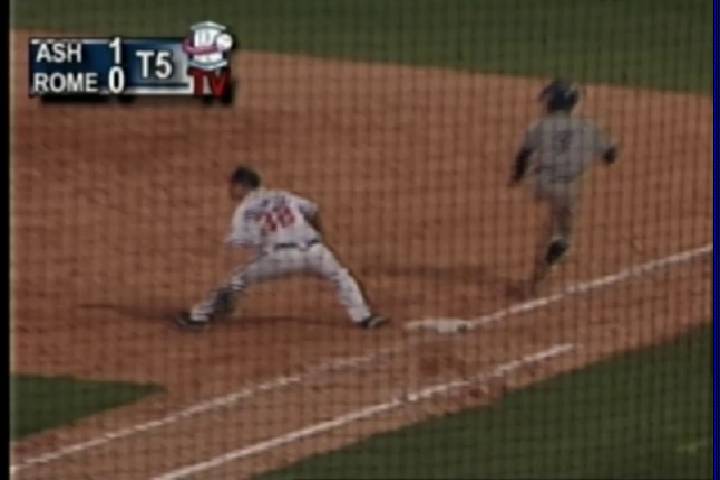 By Alex Espinoza / Special to MiLB.com | June 4, 2014 10:00 AM ET
The Modesto Nuts are waiting for the real Rosell Herrera to rejoin their lineup.
The promising 21-year-old infielder is ranked as Colorado's No. 4 prospect after a stellar season with Class A Asheville in 2013 and earning South Atlantic League MVP. He batted .343/.419/.515 with 16 homers, 76 RBIs and 21 stolen bases for the Tourists but has struggled with the Nuts to start out the year. Nagging injuries to both wrists that kept him out for more than five weeks didn't help.
Through his first 21 games of the season, Herrera was hitting .253/.279/.265 with just one extra-base hit, eight RBIs and three stolen bases. Herrera rejoined his teammates Saturday, trying to find the rhythm that makes him one of the Rockies' most exciting farmhands.
"It's an adjustment for him," Modesto manager Don Sneddon said. "I don't think he's adapted yet. He hasn't hit real well for us at this level. ... He's yet to prove he's a very good high-A hitter. That could've been because of the wrists, so we're hoping that takes care of that and he gets games under his belt now and shows what he can do offensively."
But now that Herrera's getting back into the swing of things, Sneddon likened it to a second Spring Training.
Following his breakout campaign last year, Sneddon said Herrera went back to the Caribbean to play winter ball before going to big league Spring Training, since he's on Colorado's 40-man roster. Sneddon said there wasn't a specific diagnosis on Herrera's wrists but that he simply needed some rest.
"I don't think it was something that was serious at all but something that needed to be tended," Sneddon said. "Probably more than anything, it was about getting over the mental side of this thing. And that's where I think he's at now -- knowing that he can swing without any ramifications or pain in the wrist."
Since he was signed out of the Dominican Republic as a 17-year-old, Herrera's primary position has been shortstop, but the organization is already thinking long-term about his future.
With early MVP candidate Troy Tulowitzki manning shortstop in Denver and under contract until at least 2020, along with emerging 23-year-old third baseman Nolan Arenado, the left side of the Rockies' infield might be set for years to come.
So could Herrera's MLB future be as an outfielder?
"That's not going to be my decision," Sneddon said. "I'm not really privy to where they see him, but I just know they want him to work out at short primarily, they want to work him out at third and we'll work him out in the outfield. If his bat gets going like I think it will, that'll get you a position, won't it? If you can hit, we'll find you a spot."
Listed at 6-foot-3, 190 pounds with an above-average arm, Herrera has split his playing time between shortstop and third base this year. Sneddon thinks Herrera has all the physical tools to make the transition to the outfield, if needed.
Speaking of versatility, it's also worth noting that Herrera can hit from both sides of the plate, though Sneddon said Herrera's left-handed hitting is slightly ahead of his right-handed batting at this point.
With gap-to-gap power, two taped wrists and a couple of weeks left before the All-Star break, Herrera and the Nuts are hoping for big things ahead.
"The pitching is really good this year in this league, and you're thrown right into the fire," Sneddon said. "You don't have the luxury of beating up on some lower-level pitchers first to get your confidence. He's right back into it. That's going to be tough, but I think he can do it, and we're anxious to get him rolling."
In brief
Rough return: Top Astros pitching prospect Mark Appel had a tough start Saturday as he returned to the Cal League for the first time since going back to extended Spring Training. Rancho Cucamonga battered him around for 10 runs on 10 hits in 1 1/3 innings, pushing Appel's ERA to 11.93 in five starts (14 1/3 innings) this season.
Home run Hunter: Through 59 games, Lake Elsinore outfielder Hunter Renfroe leads the Cal League with 15 home runs to go along with a .287/.360/.574 slash line and 48 RBIs. The Padres' No. 5 prospect hit two dingers and drove in a career-high six runs Saturday in a 9-7 win over Visalia.
Another no-no: Southpaw and No. 9 Seattle prospect Tyler Pike fanned eight batters over six innings before Mark Bordonaro and Blake Hauser closed out a no-hitter for High Desert in a 5-0 win over Rancho Cucamonga. The trio of Josh Hader, J.D. Osborne and Daniel Minor accomplished the feat for Lancaster on May 13.
Alex Espinoza is a contributor to MiLB.com. This story was not subject to the approval of the National Association of Professional Baseball Leagues or its clubs.
View More