Cal notes: Mavs' Brinson brings all the tools
Rangers prospect maturing physically and mentally with High Desert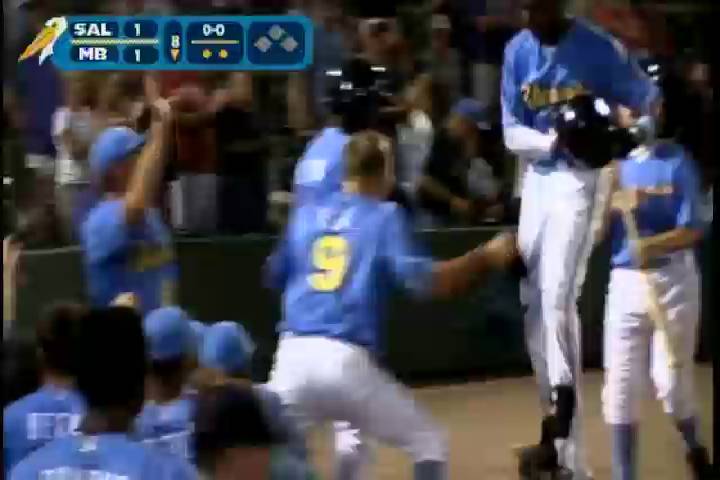 By Alex Espinoza / Special to MiLB.com | July 22, 2015 12:39 PM
High Desert center fielder Lewis Brinson was 6-foot-3 and 170 pounds when the Rangers made him the 29th overall pick in the 2012 Draft. He's grown two inches and put on 30 pounds since then.
Now 21 years old, Brinson has matured physically and as a ballplayer, and in his fourth pro season, he's putting together the type of year that reflects his standing as the No. 6 prospect in the Texas organization.
Through 56 contests with the Mavericks, Brinson has an impressive .303/.389/.547 slash line with nine homers, 32 RBIs and 10 stolen bases. Combined with his range in center field, Brinson is setting the bar high when it comes to expectations.
"I want to be one of the best players in the game when I do get to the big leagues -- the Mike Trouts, Andrew McCutchens, Adam Joneses." Brinson said. "Stealing bases, throwing people out, taking away runs, hitting home runs and hitting for average -- I want to be that all-around guy, and that's what I'm working on now."
Brinson's five-tool potential has been on display this year, but he's also battled nagging injury problems for two straight seasons. Brinson was out from April 27 to June 4 this season after straining his hamstring while running the bases. Last year he missed a few weeks of action with a quadriceps issue.
But Brinson has produced plenty while between the lines in 2015. With nine homers, 16 doubles and six triples in 225 at-bats, Brinson's .547 slugging ranks seventh in the Cal League, evidence for his spike in power. And then there's his strikeout-to-walk ratio of 57 to 29, which is light years away from the 191-to-48 mark he posted in 2013.
Aside from growing into his body, Brinson attributes his success to developing as a hitter, especially against breaking pitches.
"The more I see, the more I get used to it and the more I can recognize it," Brinson said. "When it's up I take a big swing at it and I can hit it now. Before, maybe two years ago, I wasn't so confident. Even if it was a strike, I didn't feel like I could do anything with it. Now, the past two years, maturing as a hitter and seeing more breaking pitches, I feel like I can do more damage against them."
Since Ryan Cordell's promotion to Double-A Frisco, Brinson has taken over the No. 3 spot in High Desert's order after spending most of his time at the top of the lineup. It's not all about the numbers at the plate for the youngster, though. Ask Brinson about his glovework and he'll light up.
"I always loved playing defense and making outs, making diving catches, robbing home runs and throwing people out," Brinson said. "I still get a rush from that. I take a lot of pride in that. Obviously, the hitting has come along and the power's there, and it's going to get better as I mature. I do take pride in being an all-around guy and just helping the team in multiple ways."
In brief
Ports power: The Stockton Ports are lucky to feature two of the Cal League's hottest hitters at the moment. On Monday night, Matt Chapman hit a solo shot in the eighth inning to tie the game in an eventual 4-3 win over Bakersfield. It marked the third straight game with a long ball for the No. 3 Oakland A's prospect, who is batting .309/.434/.721 with seven homers and 15 RBIs in 19 July contests. Teammate Franklin Barreto, the No. 2 A's prospect, has a .375/.393/.700 slash line with six homers and 14 RBIs over the same span, highlighted by a two-home run night Sunday.
Strike zone: Visalia Rawhide right-hander Anthony Banda took over the top spot on the Cal League strikeout leaderboard Saturday with a dominant performance against Rancho Cucamonga. Arizona's No. 24 prospect tossed eight scoreless innings while striking out seven, walking none and allowing six hits. Banda now has 98 punchouts against 29 walks with a 3.82 ERA and 1.36 WHIP in 108 1/3 innings.
Mashing Mitchell: With a two-run triple in Tuesday's matinee against the Giants, Lancaster JetHawks outfielder Ronnie Mitchell extended his hitting streak to 15 games. During the streak, which dates back to July 6, Mitchell has 16 RBIs.
Wild weather: High Desert has been dealing with a bevy of setbacks due to Mother Nature lately. Friday's contest against the Quakes was postponed due to fires in the area, while rain postponed Saturday's game and a scheduled doubleheader Sunday before Monday's doubleheader was postponed due to wet fields.
Alex Espinoza is a contributor to MiLB.com. This story was not subject to the approval of the National Association of Professional Baseball Leagues or its clubs.
View More