Carbonell has career night in Giants' win
Cuban outfield prospect goes 4-for-5 with two homers, three RBIs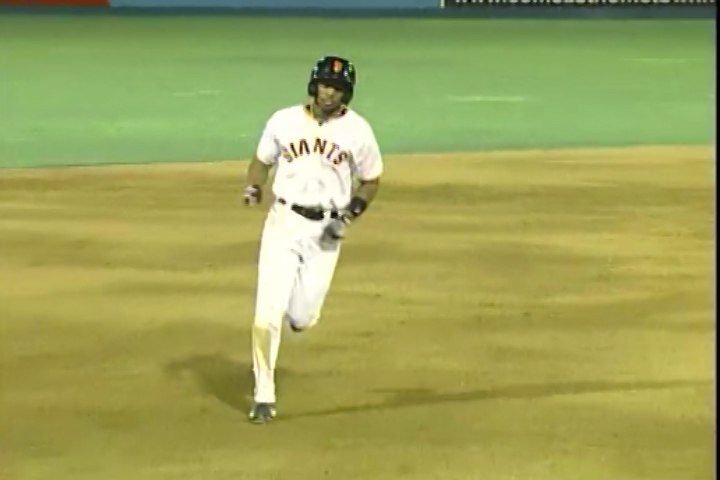 By Kelsie Heneghan / MiLB.com | August 20, 2014 2:52 AM
Only 20 games into his Minor League career, Daniel Carbonell is acting more and more like a professional every day.
The Giants prospect had his best night at the plate Tuesday, collecting four hits, including a pair of homers, and three RBIs to power Class A Advanced San Jose to a 10-6 victory over Modesto at Municipal Stadium.
"These kind of games boost his confidence more," said San Jose hitting coach Lipso Nava. "But this kid plays hard. That's the only way he knows how to play the game and he does his time and [gets] his extra swings. He's always asking questions and making improvements."
Carbonell led off the bottom of the first inning with his second California League homer to kick-start his first career four-hit game. After singling in the third and fourth, he went yard again with a man aboard in a five-run sixth that stretched the Giants' lead to 10-4.
"It was a different sound off the bat, the ball just took off of his bat," Nava said of Carbonell's second homer. "He's got power, but he's got to make sure that he stays within himself and uses the whole field, not try to generate power by himself and try to hit the ball hard for line drives."
As the 23-year-old outfielder circled the bases for the second time, he didn't show any emotion -- a "good sign for a professional player," Nava added. Another sign of his maturity is his ability to hit when he's down in the count, sporting a .556 average with a homer in those situations.
"He's a fighter when he's behind in the count, he lets the ball travel. He uses his tool of his speed to hit in the holes, [so] he's able to beat the outs," he continued. "[He has] occasional power, he goes to both sides, gaps, left side or right side. When he plays more, he's going to be able to have more awareness with the strike zone."
The Cuba native hit .314 in 10 games in the Rookie-level Arizona League before moving up to San Jose. Since the promotion, he has a .356/.420/.622 slash line in 10 contests.
"When he first came, he wasn't using his legs and he wasn't getting ready to swing or put his best swing into the ball, so we we've been working with the machine and the velocity in the cages before the game and it's been working," Nava said.
Brian Ragira hit his fourth homer in five games and drove in four runs for the Giants, while Tyler Horan added a two-run shot.
San Jose starter Nick Vander Tuig (3-0) allowed four runs on nine hits and a walk while striking out five over 5 2/3 innings to pick up the victory.
Kyle Von Tungeln went 4-for-4 with three RBIs for the Nuts, who have dropped three in a row.
Kelsie Heneghan is a contributor to MiLB.com. Follow her on Twitter @Kelsie_Heneghan. This story was not subject to the approval of the National Association of Professional Baseball Leagues or its clubs.
View More