Carolina notes: O's Davis healthy, producing
Promoted Keys OF reborn thanks to offseason efforts with Manto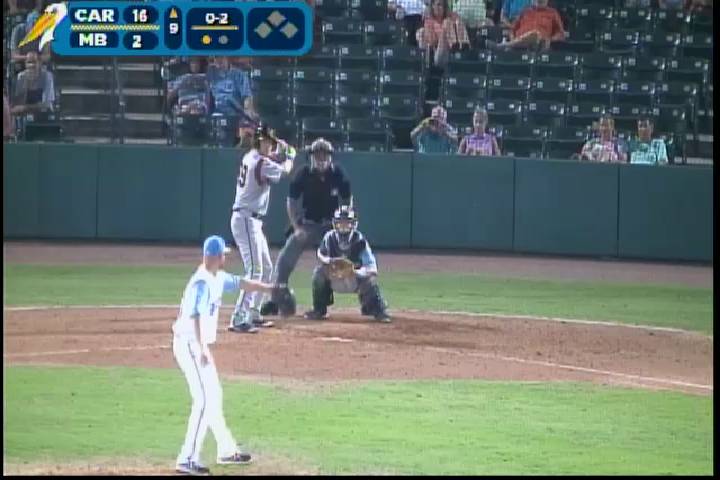 By Jeff Seidel / Special to MLB.com | July 23, 2014 10:00 AM ET
Frederick outfielder Glynn Davis suffered through a 2013 season filled with injuries and hitting problems. He then worked in the offseason and Spring Training looking to make 2014 a better year, and that effort's paid off.
Davis started fast this season and spent much of April with a batting average over .400. He couldn't quite stay at that level, but the Frederick leadoff hitter earned an All-Star selection and was tied for eighth in the Carolina League with a .295 average before being promoted to Double-A Bowie on Tuesday.
"This year, I've probably had the most confidence since my first year," Davis said before his promotion. "I just feel comfortable at the plate and can put a good swing on the ball every time."
That wasn't always the case last year, when Davis missed about a month with hamstring problems and struggled at the plate. Davis batted just .234 with Class A Advanced Frederick, his lowest average since signing with the Orioles as a non-drafted free agent late in 2010.
He then spent the offseason trying to become healthier. Davis is a Baltimore native who lives about 20 minutes away from Oriole Park at Camden Yards, and he went there on a regular basis throughout the fall and winter with a goal of training to remain healthy throughout 2014.
Davis then found success in Spring Training when working with Jeff Manto, the Orioles' new Minor League hitting coordinator. Manto helped Davis adjust his lower body to become more in sync with his swing, a change that paid off. The work Davis did with Manto helped the outfielder keep his average over .400 throughout April, and he finished the first month with a .349 average, laying the foundation for a good season.
"[Manto's] messages are different from anybody that I've ever worked with," Davis said. "It clicked for me, [and] the first couple of weeks, I felt like I was seeing a beach ball. It was crazy. I felt like an 18-year old playing against a tee-ball team. It was nice to get off to a good start."
Frederick manager Luis Pujols said he's impressed with how well Davis has done on offense, good hitting that earned the outfielder a spot in the California/Carolina League All-Star Game last month.
"I believe he has improved tremendously," Pujols said. "He's doing a great job. I'm very pleased with the way he goes about his business, and hopefully he'll stay healthy the rest of the year."
Davis continues working with Manto's drills and is still hitting well. The outfielder's hamstrings remains healthy, and he had a .343 average in July through Monday's games, big reasons why 2014 has been a more enjoyable season.
"It's definitely a change from last year," Davis said. "Everything's been good. Baseball's a lot of mental stuff. If you have the confidence, you can do anything."
In brief
A perfect save: Wilmington right-hander Mark Peterson earned his league-high 21st save in Monday's 1-0 victory over Lynchburg. Peterson struck out three batters in 1 1/3 innings and threw strikes on all 10 of his pitches.
Oh, so close: Winston-Salem's Tony Bucciferro nearly had a no-hitter Sunday night. He didn't give up a hit until Frederick's Davis singled with one out in the ninth inning. Bucciferro (7-9) struck out four and walked one, going the distance in a 5-0 victory.
Cycle time: Jerrud Sabourin hit for the cycle and finished 5-for-6 in Carolina's 17-2 rout of Myrtle Beach on Saturday. Sabourin knocked in three runs and finished with two singles, a double, triple and homer. All nine starters posted at least one hit and one RBI in the 18-hit effort.
Jeff Seidel is a contributor to MiLB.com. This story was not subject to the approval of the National Association of Professional Baseball Leagues or its clubs.
View More