Carolina notes: O's Ohlman moves on
Keys catcher putting shoulder, suspension woes behind him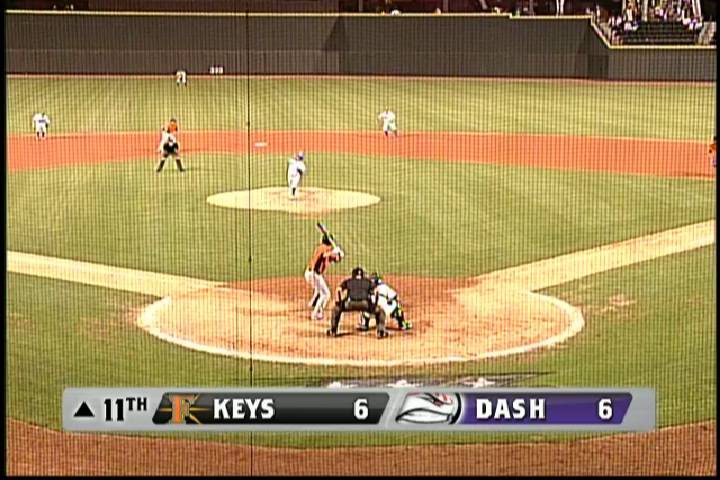 By Jeff Seidel / Special to MLB.com | June 5, 2013 6:00 AM ET
Michael Ohlman has dealt with a lot during the past two seasons, but the problems haven't worn him down. In fact, they've made him stronger.
Ohlman battled through shoulder injuries from a serious car accident as well as a suspension last year. He suffered more shoulder problems this season but finally appears back and swinging the bat well with Frederick.
"I think [the issues] made me more focused," Ohlman said. "It's made me a better person on and off the field. Adversity is going to come in different spots in your life. You live and you learn -- sometimes the hard way."
Ohlman, a 22-year-old catcher, suffered a dislocated right (throwing) shoulder in a car accident in March 2012. He also had a torn labrum and needed to rehab both for several weeks. Ohlman also was suspended for 50 games for a second violation of baseball's Minor League drug program, but returned to hit .300 in 59 games in two different leagues.
Ohlman maintained his momentum at the start of this season after playing well in the Australian Baseball League over the winter. He reinjured the shoulder in mid-April, however, when it popped out of place as he turned away from a close pitch -- that sidelined him for another five weeks. But the 11th-round pick in the 2009 Draft returned in mid-May, spending his time as a designated hitter for now.
"I had to do some serious soul-searching and had to find out who I was, especially after the accident, after a kind of a traumatic accident like that," Ohlman said. "You don't really know what's going to happen in your career. I learned a lot about myself."
Ohlman said he's working at playing hard and removing the shoulder problems from his mind. They could happen again, but Ohlman said he simply doesn't think about that and focuses on the next day.
"He had to kind of go through the rehab process of going to Florida and all that stuff this year," Frederick manager Ryan Minor said. "He came back and was focused and strong. He's done a tremendous job of being ready to play every day."
Ohlman is batting .286 with a homer, nine RBIs and a .421 on-base percentage in 22 games -- 10 of his 22 hits have gone for extra bases.
The Keys aren't sure when Ohlman will get back behind the plate. The organization is being cautious with Ohlman's shoulder, and he's focusing on hitting, staying healthy and making 2013 a good season.
"I feel really good at the plate," Ohlman said. "I'm just trying to continue what I did last year in the second half of the season and in Australia. I feel really good now."
In brief
Strikeout string: Myrtle Beach right-hander Jerad Eickhoff had his best performance of the season on June 3, but it all went for naught. Eickhoff struck out 11 and gave up just one run on three hits in eight innings against Potomac but got a no-decision as the Nationals won, 2-1.
Highly productive: Grant Buckner gave Winston-Salem an offensive boost in a 15-6 rout of Carolina on June 2. Buckner went 3-for-4 with seven RBIs and two homers, one of which was a grand slam.
Offensive efficiency: Salem got just one hit Sunday but still pulled out a 3-2 win over Myrtle Beach. Brandon Jacobs ripped a two-run double in the fourth, and Salem drew nine walks, but the Red Sox scored the deciding run on a throwing error in the sixth.
Jeff Seidel is a contributor to MLB.com. This story was not subject to the approval of the National Association of Professional Baseball Leagues or its clubs.
View More