Greene packs a punch in scoreless start
Reds No. 2 prospect tops 100 mph several times, fans five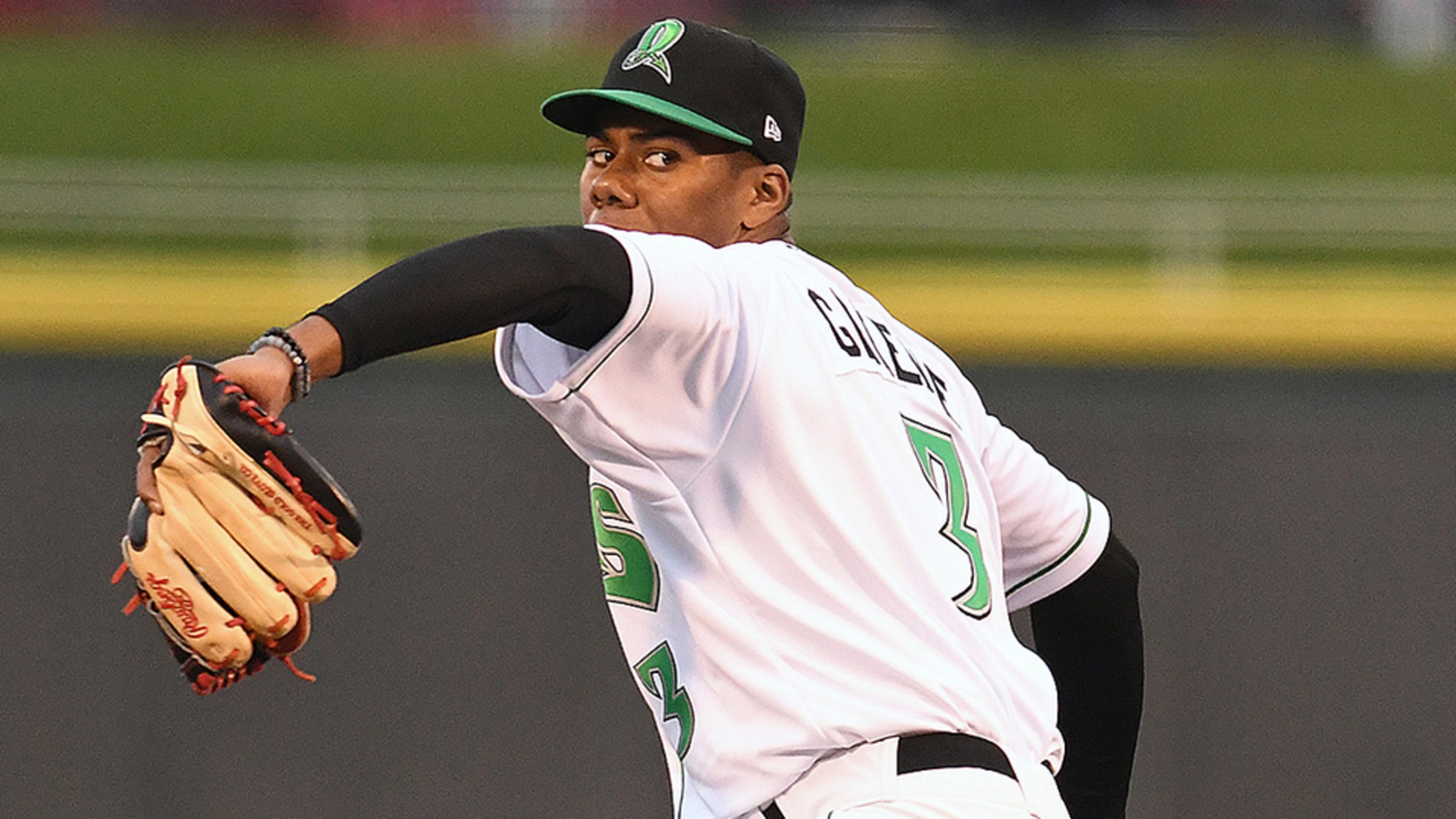 Hunter Greene has a 4.76 ERA in four home starts and a 34.71 ERA in two road starts. (Dayton Dragons)
The Reds organization has been taking things slowly with Hunter Greene. The team's second-ranked prospect totaled 14 innings in his first eight starts dating to last season.This spring, Greene had surrendered 15 runs on 21 hits and 10 walks while striking out 18 over 9 2/3 innings through five starts. But
The Reds organization has been taking things slowly with Hunter Greene. The team's second-ranked prospect totaled 14 innings in his first eight starts dating to last season.
This spring, Greene had surrendered 15 runs on 21 hits and 10 walks while striking out 18 over 9 2/3 innings through five starts. But nothing about the 2017 second overall Draft pick's start on Saturday night against Class A Peoria was slow.
Greene threw four scoreless innings in the longest start of his brief Minor League career, yielding two hits and striking out five while topping 100 mph on the Fifth Third Field radar gun multiple times. He left with a three-run lead, but Dayton dropped a 4-3 decision to the visiting Chiefs.
Dragons pitching coach Seth Etherton said Greene endured a tough stretch over his previous three outings. But the 18-year-old reacted to the struggle in the best way possible. Leading up to Saturday's outing, he was determined to study the Peoria hitters to know exactly how to attack them.
"That was all a great learning experience for him," Etherton said. "He needs to have confidence with his fastball and about executing his pitches, and he's gotten hurt because just throwing upper 90's or 100 isn't enough when you just throw it wherever.
"After today, I talked to him and he felt more confident and in control. It was a mature outing for him and I just hope that continues."
Gameday box score
MLB.com's No. 22 overall prospect set down the first six batters, relying on his fastball. Greene threw his impressive heater -- with much success -- on 47 of his first 48 pitches. The Reds weren't testing Greene's fastball, but his success and accuracy with the pitch was an indication, Etherton, said, of a great week of work. In addition to the extra film study, the pitching coach said Greene worked on his mentality on the mound, deceiving hitters with his windup and release and using both sides of the plate.
Greene hit his first minor bump in the third after surrendering his first hit, a leadoff single to Nick Plummer and another two batters later to Edwin Figuera. But with runners on the corners, he picked off Figuera at first and struck out Cardinals No. 29 prospect Scott Hurst to end the inning.
Greene worked in his breaking pitches and had the Chiefs off-balance late into his start, capping his outing with back-to-back strikeouts, including a final pitch that was clocked at 100 mph. As he left the mound for the final time, Etherton said he saw some rare emotion from the California native, which was a great sign for the normally reserved hurler.
"He's very mature and when he's having a rough outing, he doesn't let it show, which is a good thing," Etherton said. "But it's a good thing to see that from him as he settles in."
According to Etherton, the Reds will continue to ease Greene into his professional career. After a comparitively light workload as a high school senior, the organization wants to see how his body reacts and breaks down after each start and continue to build him up while fine-tuning his mechanics and preparing to unleash his full repertoire.
"He's never been on the five-day rotation and hasn't faced hitters of this caliber," Etherton said. "He's had questions about why he can throw so hard and struggle to get guys out. But he's facing 22- or 23-year-old men who have been around a while. They've seen arms like his. All that is part of the learning curve and finding what works for him."
Andy Sugilio put the Dragons on the board first with a two-run homer in the bottom of the first and Reds No. 6 prospect Jeter Downs followed with a solo shot in the second.
Peoria tied it in the seventh and took the lead in the ninth as Bryce Denton raced home on a wild pitch by John Ghyzel (2-2).
Nathan Brown is a contributor to MiLB.com. Follow him on Twitter @NathanBrownNYC.