Colabello, Ramirez fuel Wings' slugfest win
Twins first baseman, back in Triple-A, picking it up at plate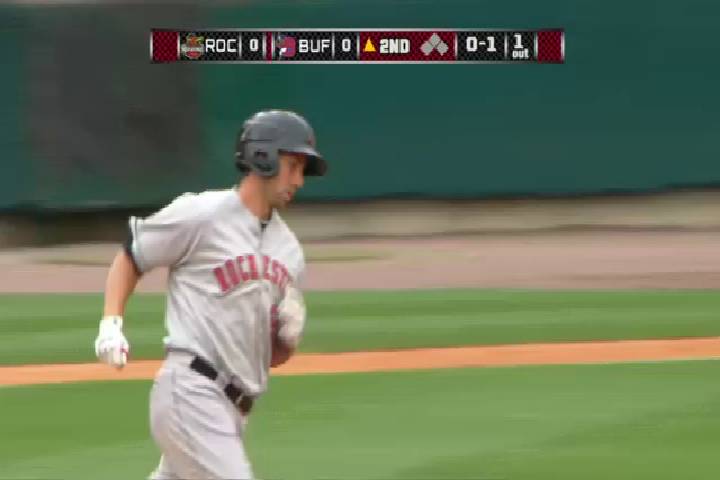 By Danny Wild / MiLB.com | July 1, 2014 7:02 PM ET
Chris Colabello's season has been both historic and humbling. Despite leading the Twins with 30 RBIs on May 25, the journeyman was sent back down to Triple-A, ending the most memorable and successful span of his career. A veteran looking for another chance, Colabello hasn't given up his dream.
"To play this game at the professional level is what I've dreamed about as little kid," Colabello said. "Whatever uniform I get to wear, my goal is to help the team win."
Colabello homered twice and combined with fellow Major League veteran Wilkin Ramirez for seven hits and seven RBIs as Rochester held off Norfolk in a wind-fueled 15-11 victory on Tuesday afternoon.
"I'm just trying to enjoy the game, I love baseball," Colabello said. "This has been a great atmosphere. Last year was a storybook-like year for me, so to come back here where it all happened -- to me, it's pretty neat. Everybody here is great, so I'm just enjoying myself."
Colabello, hitting cleanup for the Red Wings, hit a three-run homer in the first inning and added a two-run shot in the seventh, his fifth and sixth of the year, to help Rochester (47-38) withstand a six-run rally from Norfolk in the sixth. Ramirez went 5-for-5 with a pair of RBIs, Nate Hanson went 3-for-4 with two RBIs and three runs scored and Chris Herrmann added a fourth-inning homer and scored three times.
"Obviously it's good to help the team out however I can, we put some runs across in the middle of the order," Colabello said. "In the first inning, runner on third, two outs, I tried to get something up in the air. I knew if I got something up, it had a chance to go out. Thankfully it did. Same thing on the second one, more of a situation where they were chipping away at the lead and in that situation, if you can push one or two across, it takes the wind out of their sails a little bit."
The wind was, quite literally, a factor in the big offensive day for both lineups. With a 17 mph breeze at first pitch, Colabello said the conditions probably helped some balls travel a bit longer than usual.
"In a lot of ways, it doesn't change the way you approach your at-bats, but it has an impact on the ball in the air," he said. "But I don't think, based on how they swung the bats, it didn't affect it that much. You go out and do the best you can, but it definitely pushed the fly balls a little deeper than they normally would go."
Colabello, who also homered a night earlier in the Red Wings' 8-1 win, has been working his way back up to Minnesota after a hot start earned him American League Player of the Week honors April 7. The 2013 International League MVP began the year in the Majors and was batting .346 as late as April 23 before pitchers caught up to him. After finishing April hitting .286 with 27 RBIs, the first baseman/right fielder slid to a .125 mark in May before being sent back to Triple-A. He ranked second in the Majors in RBIs through April, behind only Jose Abreu, and broke Kirby Puckett's Twins franchise record for RBIs in the month of April, a mark that stood for 20 years.
Despite the rise and fall, Colabello has remained optimistic and appreciative of the chances he's been given. After seven years playing independent ball, the 30-year-old takes nothing for granted.
"Everything is about learning -- it's about learning something new every day and getting better because of it," he said. "[In the Majors], I learned I'm capable of playing at that level and making an impact. I've always believed I could, but to do it is pretty reassuring. The fact I'm down here didn't discourage me at all, it's about getting better every day and learning how you fit into the game.
"It's a humbling game," he added. "You go through so many highs and lows in the months and weeks and games -- it's about learning how to deal with it mentally every day."
The 30-year-old has steadily regained his form, hitting .296 with four homers and 20 RBIs in June. July is treating him pretty well, too, and he's 13-for-37 (.351) with 12 RBIs over his last nine games.
Ramirez's five-hit effort, the first such by a Red Wings batter this season, bumped his average up to .288. The outfielder spent most of last season in the Majors, hitting .272 in 35 games, after seeing time in the bigs in 2011 and 2009. Herrmann, who has seen Major League time in each of his last three seasons, including 17 games this season, extended his hitting streak to six games. He's batting .324 in 29 games at Triple-A this year.
Norfolk (35-53), the Orioles' top affiliate, scored 10 runs from the fourth to the seventh innings but made three errors and was out-hit 19-14. Brett Wallace hit his ninth homer in the fourth and Ivan De Jesus went 4-for-5 with an RBI and two runs scored.
"It's proves no lead is safe in this game," Colabello said. "It's a credit to them to not ever feeling like they're out of it. It was a funky game -- obviously I'm glad to come out on top."
Danny Wild is an editor for MiLB.com. Follow his MLBlog column, Minoring in Twitter. This story was not subject to the approval of the National Association of Professional Baseball Leagues or its clubs.
View More