Coulter powers Timber Rattlers' romp
Brewers' No. 8 prospect homers twice, ties career high with five RBIs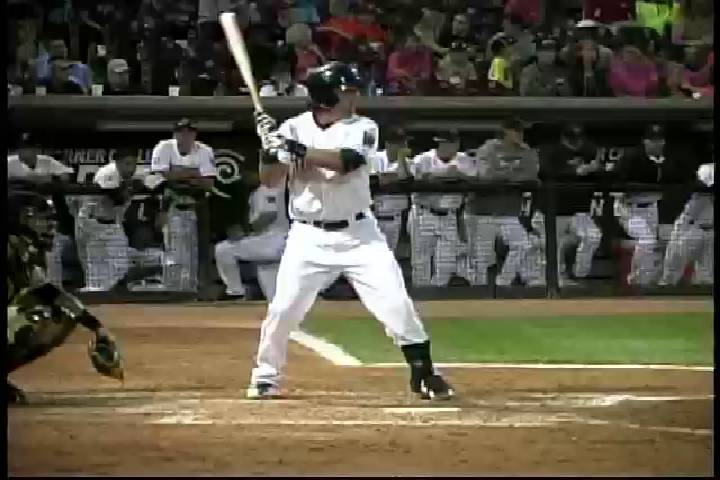 By Robert Emrich / MiLB.com | August 10, 2014 12:30 AM ET
Being stuck in a slump is nothing compared to what Clint Coulter went through last year.
The Brewers' eighth-ranked prospect homered twice and tied a career high with five RBIs on Saturday night, powering Class A Wisconsin to an 11-3 road win over Peoria.
Coulter's first blast was a three-run shot in the Timber Rattlers' seven-run third inning. He added a two-run blast an inning later, finishing with three hits and a walk in five plate appearances.
"When things are going good, you don't have a lot to say," Coulter said. "Your swings are good, you're on time and you're getting your pitches to hit. When things are going bad, you can dissect all the things that went wrong."
The 21-year-old catcher, who also drove in five runs on Aug. 3, 2013 in the Rookie-level Arizona League, said his teammates deserve credit for his success.
"I think RBIs are a team stat -- there's gotta be teammates on base for you to get those RBIs," Coulter said. "It's a testament to my teammates getting on base and having good at-bats to be able to get those guys in."
The 27th overall pick in the 2012 Draft had endured some struggles of late, going 5-for-30 with three RBIs over his previous nine games. But he felt it was a matter of time before he broke out.
"I've had a lot of hard outs," Coulter said. "Our team has been pretty hot, so pitchers have been executing pitches. You can't really change anything at this point in the season. You gotta go out there and stick with what's been working."
Overall, Coulter is batting .268 and is tied for second in the Midwest League with 19 long balls. He leads leads the circuit with a .917 OPS, a far cry from his injury-plagued full-season debut last year, when he posted a .714 OPS in 70 games across three levels.
"Really good," Coulter said of his season. "I think my biggest accomplishment is staying healthy. You can't get better if you're not on the field. I think that was why I struggled last year so much. I'd start to get on the field and get injured, and it was tough to get into a groove.
"It was frustrating, but it's part of the game too. It's good to get that out of the way early in my career, hopefully. It's always a good feeling when you can show your organization that invested a high pick on you that you're making progress and developing."
Steven Halcomb went 4-for-5 with two runs scored and Jose Pena plated a pair of runs for the Timber Rattlers, who totaled 14 hits en route to their fourth win in five games.
Tristan Archer improved to 6-5 after allowing three runs -- two earned -- on five hits over six innings. He walked three and struck out five before Zach Quintana worked three one-hit frames for his second save of the season.
Rowan Wick accounted for the Chiefs' offense with a three-run homer, his third for Peoria and 17th of the season.
Robert Emrich is a contributor to MiLB.com. Follow him on Twitter @RobertEmrich. This story was not subject to the approval of the National Association of Professional Baseball Leagues or its clubs.
View More