Cozens' new approach produces career night
Phillies' No. 8 prospect homers twice on 4-for-5 night for Blue Claws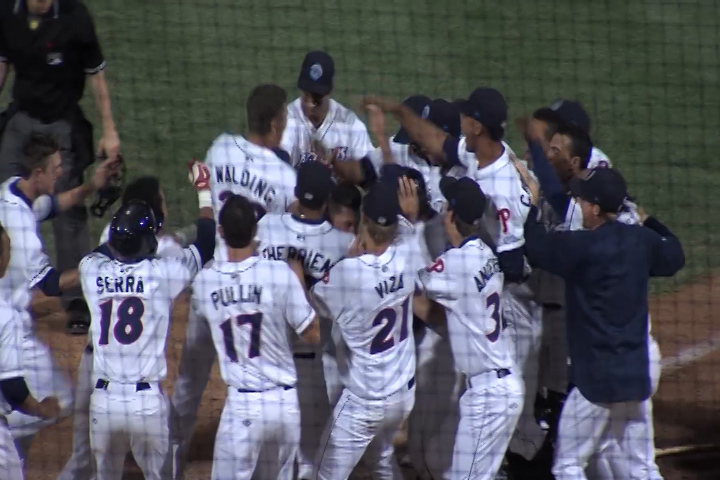 By Kelsie Heneghan / MiLB.com | July 15, 2014 11:53 PM ET
Sometimes a small change makes all the difference. For Dylan Cozens, it was shortening his swing.
Finally feeling comfortable with the new approach, the Phillies' eighth-ranked prospect homered twice and drove in three runs Tuesday night as Class A Lakewood blanked Hickory 7-0, at L.P. Frans Stadium.
Cozens tied career highs with four hits and two long balls, both set earlier this season. He began his 4-for-5, three-RBI night with a leadoff homer in the second.
"First pitch was a fastball away and I took it the other way to left field over the fence, and I was pretty excited about that. I just ran around the bases," he said. "Always fun to even just have one homer, so two is really exciting."
The left-handed hitter belted his second shot of the game to center field to open the sixth and singled to right in the seventh. An inning later, he up with runners on second and third and one out.
"I was looking to get a good pitch to score at least one of the runners, either with a ground ball or a sac fly. I just wanted to make sure I scored that run," the 2012 second-round pick said. "I got pretty deep in the count and hit a line drive to left."
The big night gave Cozens has 15 hits and 11 RBIs in his last 11 games, attributing that success to the change in his approach.
"I'm just staying back and not missing the fastball and staying back on the off-speed pitches, not getting too overaggressive," he said. "First part of the season, I was getting too aggressive; it's hard not to be too aggressive. It took a while for it to really click. Things like that don't really happen overnight; it's a process."
The adjustment came after Cozens batted .188 with nine RBIs in June. He's hitting .377 (20-for-53) in July to get his overall average up to .246 and leads the BlueClaws with 13 homers, 41 RBIs and 16 stolen bases in his first full Minor League season.
"I feel like I can definitely handle the pitching in this league, and maybe next year I think I'll be ready for the next level. I just need to keep putting the work in and keep putting up the big numbers," Cozens said. "Maybe the end of this year I'll do well and it will make up for the low numbers early in the season."
Mitch Walding delivered three doubles and drove in two runs for Lakewood and, like Cozens, continued a stellar July after a disappointing June.
"He swung the bat great, he's been seeing it well lately," Cozens said of the 2011 fifth-round pick. "He's staying on the ball good, not missing his pitches. It's always nice to see someone turn it around like him."
In his first game since being promoted from the Rookie-level Gulf Coast League, Lakewood southpaw Yoel Mecias (1-0) tossed five scoreless innings, holding Hickory to two hits and three walks while striking out seven.
"It's good to see him go out and have a good game like that," Cozens said. "He has control of the game and I felt really confident with him on the mound."
Kelsie Heneghan is a contributor to MiLB.com. Follow her on Twitter @Kelsie_Heneghan. This story was not subject to the approval of the National Association of Professional Baseball Leagues or its clubs.
View More