Crick gets a win in longest start of season
Giants top prospect spins six shutout innings in Richmond victory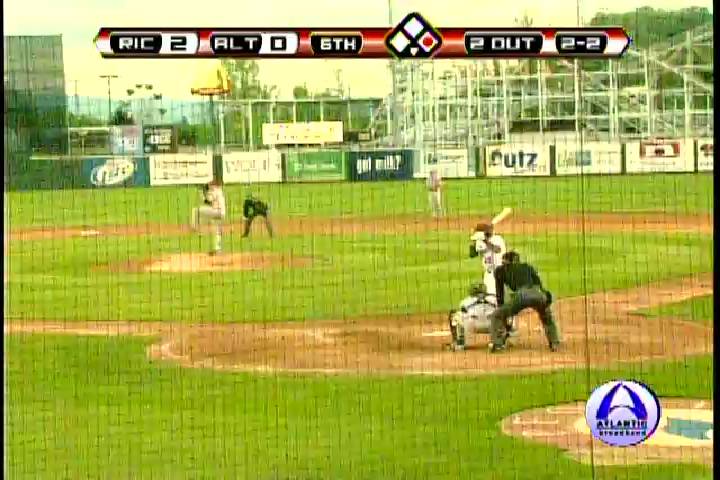 By Mark Emery / MiLB.com | May 16, 2014 10:45 PM ET
It took him seven outings, but Kyle Crick has a quality start at Double-A.
Although the Giants' top prospect has pitched well on multiple occasions this season, he had yet to go at least six innings. That changed on Friday night, when Crick tossed six shutout frames in Richmond's 2-1 win at Altoona.
"I'm more excited about the one walk more than anything," Crick said after allowing two hits and a walk while striking out six. "But it just feels good to get a good one under my belt, get something to build off. I just had a lot of things working tonight. It was the fastball, the slider and the changeup for strikes. That led to success."
MLB.com's No. 28 overall prospect threw 79 pitches, 51 for strikes. He established season highs in strikeouts and innings while tying a season low in walks.
"I just got my momentum going towards home plate on everything," he said. "Everything kind of came out of the same slot."
The 49th overall pick in the 2011 Draft yielded singles to Drew Maggi in the first inning and Justin Howard in the second. Howard was replaced on the basepaths by Andy Vasquez, who grounded into a fielder's choice. Both Maggi and Vasquez tried to steal second on Crick and Richmond catcher Eliezer Zambrano, who gunned them down. Zambrano also nailed Maggi at third in the seventh.
"It's awesome whenever you can steal an out like that without doing anything," Crick said. "Really, all you've got to do is try to focus on being quick to the plate. He's got a good arm, he's quick. I think he ended up throwing three out tonight. That says a lot on his part, man. He takes a lot of pride back there.
"He called a great game tonight. He was really good with the glove. It's easy to pitch when guys are taking care of you back there."
In the third, shortly after Zambrano had erased the Curve's first two baserunners, Richmond grabbed the lead on a two-run single by Angel Villalona. The support Crick had already gotten, offensively and defensively, seemed to allow him to settle in.
The 21-year-old right-hander was perfect over the next three innings and struck out the first two batters of the sixth before walking pinch-hitter Willy Garcia. Crick followed his only free pass of the evening by striking out Alen Hanson, the 58th-best prospect in baseball.
Crick improved to 2-1 and lowered his ERA to 3.28. In 24 2/3 innings this season -- his first at Double-A Richmond -- he has 29 strikeouts against 20 walks.
"I think it's going well," the Texas native said. "I think everything's kind of falling into place now. I'm getting more comfortable with everything and throwing strikes.
"I'm just trying to go out and throw strikes and stay away from free passes as much as I can. I think if I make them hit the ball and put it in play, things will go my way."
Altoona's Nick Kingham, the Pirates' No. 8 prospect, fell to 1-4, despite matching Crick with a quality start. He allowed four hits and two runs across six innings, walking four and striking out four.
Altoona got its run in the seventh inning, when Keon Broxton doubled in Howard.
Mark Emery is a contributor to MiLB.com. Follow him on Twitter @Mark_Emery. This story was not subject to the approval of the National Association of Professional Baseball Leagues or its clubs.
View More