Crooked Numbers: Squirrels love Miley Cyrus
Richmond undefeated on Sundays thanks to choice clubhouse tunes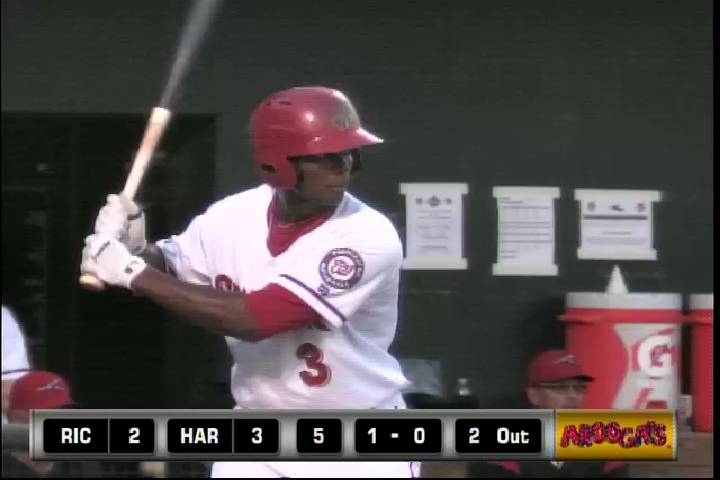 By Benjamin Hill / MiLB.com | July 2, 2014 10:38 AM ET
"Squirrels Remain a Sunday Wrecking Ball."
The above headline, courtesy of Richmond Flying Squirrels broadcaster Jon Laaser, was written in the wake of June 29's 4-3 win over the Bowie Baysox. That narrow victory gave the Flying Squirrels an unlikely 13-0 record in Sunday games this season, and the use of "Wrecking Ball" in the headline was no accident. Prior to each and every Sunday game this season, the Flying Squirrels have blasted the music of Miley Cyrus in the locker room. Tunes such as "Party in the USA," "We Can't Stop" and, yes, "Wrecking Ball" have been an integral part of the team's winning ways.
The person most responsible for Richmond's so-called #MileySundays phenomenon is 21-year-old starting pitcher Clayton Blackburn, who was reached in Arizona as he rehabs from a side injury.
"I wouldn't say that it was just me who started it. The morning of our first Sunday game, everyone was tired and kind of sluggish, but somebody had a speaker on and the first song was Miley and then there were a few more," said Blackburn. "After that I made a playlist on Spotify and from there it took off. By the time we realized [we were undefeated on Sundays], we had won six or seven games. Whether it works or not, I don't know, but we're gonna keep it going because it sets the mood in the locker room."
Blackburn fully owns up to being a Miley Cyrus fan, citing "Adore You," "Hands in the Air" and "23" as his personal favorites. But fandom is not a prerequisite for getting behind the Miley Sundays phenomenon.
"Whether you like it or not, it's a team thing. We bond over it," he said. "We play Miley on repeat before stretches and all that. Everybody enjoys it and nobody complains, because it seems to be working."
Despite his role in establishing #MileySundays, none of Blackburn's eight starts with the Flying Squirrels have actually occurred on a Sunday.
"I've never gotten lucky enough, but hopefully soon. I'll be pitching on Friday in Richmond, and my start after that should be on a Sunday," he said. "But it'd be nice if we had an artist that we could play every day of the week. It's not like Sunday is the only day we choose to play well."
Days and confused: While the Flying Squirrels have dominated on a specific day of the week, the Iowa Cubs have simply dominated during the day. Through June 30, the I-Cubs had compiled a staggering 22-4 record during day games and a less-than-staggering 22-34 record while playing under the lights. Though there is no Miley Cyrus-like explanation for the I-Cubs matinee marvelousness, Cubs broadcaster (and, lest it be forgotten, movie star) Randy Wehofer has some theories:
"I've asked a few players about this trend in postgame interviews and no one has anything to offer besides 'maybe we have a bunch of early risers' on the team. My suspicion is that we get a lot more practice at day games because we schedule a lot more of them than most teams. Of our 26 day games, 17 have been at home. Of the 17, 10 have been mid-week noon games as opposed to the customary Sunday afternoon day games that are more standard everywhere. … That's a lot of opportunities to establish a routine for being ready for day games where most clubs stagger through them because their body clocks aren't used to performing at those times. Not scientific, just a theory."
One of the season's most memorable games was an Iowa Cubs matinee win, the PCL's first no-hitter since 2009, tossed by Chris Rusin in New Orleans and capped by Matt Szczur's memorable catch.
Dunedin done drinking: Like most writers, it is always my goal to do as little actual writing as possible. Therefore, I was delighted to receive the following email from Nate Kurant, director of marketing for the Dunedin Blue Jays. I cannot improve on what he sent me, so I present it you unexpurgated:
The Dunedin Blue Jays clinched the Florida State League North division first-half championship June 12 with a 5-1 victory over the Daytona Cubs. Though clinching a playoff berth in June is commonplace in Minor League Baseball, it was the D-Jays celebration that was peculiar.
After the final out, the D-Jays ran out to celebrate by the clubhouse in right field. There were plenty of smiles, champagne showers and even a few backflips as the D-Jays clinched the postseason for the fifth season in a row. However, the spirited celebration lasted just long enough for a team picture.
Why?
Because the clinching game for the D-Jays was game one of a doubleheader.
So though winning pitcher Matt Boyd -- who took a no-hitter into the sixth -- and his fellow D-Jays celebrated, pitcher Daniel Norris (he of dead fish-related Minoring in Twitter fame) could only watch, already dressed in the alternate uniform to start game two.
And as for game two of that doubleheader, still splashed with champagne and having nothing on the line, the D-Jays went out and won 5-2 over the Cubs to sweep the twinbill.
Pacific Coast peripateticism: The April edition of this column noted that "When Brett Tomko took the mound for the Omaha Storm Chasers on April 7, his 41st birthday, he became only the second player in Pacific Coast League history to play for eight different teams. … The other PCL player to suit up for eight teams was Eddie Mulligan."
Tomko no longer shares this distinction with Mr. Mulligan -- he owns it outright! For Tomko, an indomitable baseball lifer if there ever was one, has now suited up for a league-record nine different teams. The well-traveled 41-year-old was released by the Royals organization June 4, and just five days later he was signed by the Rockies. The Rockies assigned him to the Colorado Springs Sky Sox, and he made his debut with that Pacific Coast League entity on June 11. For the record, Tomko's journey through the PCL has proceeded as follows: Tacoma (2000), Fresno (2004), Las Vegas (2006), Portland (2008), Sacramento (2009-10), Round Rock (2011), Reno (2012), Omaha (2014) and Colorado Springs (2014).
Despite such an extensive track record, Tomko has only appeared in 74 Pacific Coast League games. In fact, with seven of the nine teams he has made nine appearances or fewer. He has never recorded a losing record with any PCL team, going 27-16 overall.
Flightless Birds: The Ripken family knows a little something about difficult starts, as in 1988, brothers Cal and Billy played for a Baltimore Orioles team that began the season with 21 consecutive losses. This famous pair of brothers now owns the Aberdeen IronBirds as part of their Ripken Baseball ownership group and, well, they're probably having flashbacks to 1988.
The IronBirds -- Class A Short Season affiliate of the Baltimore Orioles -- kicked off their season on June 13 and proceeded to win just one of the first seventeen games they played. The blame for this anemic start can be placed squarely on the offense, as the IronBirds have scored just 31 runs on the season -- every other team in the New York-Penn League has scored at least twice as many. The IronBirds are hitting .180 on the season (through Monday), and just .102 with runners in scoring position. The IronBirds' performance at home has been particularly dreadful, as they've compiled a .437 OPS over eight winless outings at Ripken Stadium.
Benjamin Hill is a reporter for MiLB.com and writes Ben's Biz Blog. Follow Ben on Twitter @bensbiz. This story was not subject to the approval of the National Association of Professional Baseball Leagues or its clubs.
View More