Cubs Prospect Primer: System still loaded
Despite graduating stars in 2015, Chicago has more on the horizon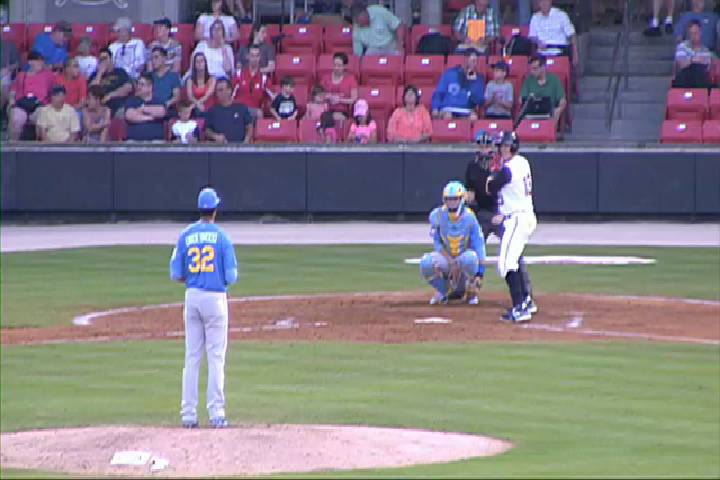 By Tyler Maun / MiLB.com | March 30, 2016 10:30 AM
Some players are on the verge of stardom, others are entering a crucial phase of their development and still others are getting their first tastes of full-season ball. With the 2016 season approaching, MiLB.com takes a look at the most intriguing prospects from each MLB organization.
Shining star: Gleyber Torres, SS
After the Cubs led last season's "Year of the Prospect" by graduating stars such as Kris Bryant, Kyle Schwarber and Addison Russell, it's the young Torres who inherits the mantle of being Chicago's top prospect.
As one of the youngest players in Class A last season, the then-18-year-old starred for South Bend and then jumped up a level to help guide Myrtle Beach to the Carolina League title. Likely ticketed for a return to Myrtle Beach, Torres will bring tremendous offensive upside -- including a 60-grade hit tool, according to MLB.com -- and a terrific defensive profile led by his 60-grade arm. He'll also possess a greater understanding of what it takes to be successful in the Minors.

"He dealt with so much last year off the field -- being away from home for the first time, being in your first season of full-season baseball, all the expectations that were put on you -- and he handled everything like a professional," Cubs director of player development Jaron Madison said at his Sloan Park office in Arizona in mid-March. "Coaching-wise, listening to what guys were trying to help him with and being coachable while having confidence in what he can do and knowing himself as a player, that's been good."
Torres' numbers began to wear down as the Midwest League season went along, but he was thrown into the high-A mix and gained the experience of the Pelicans' title run while keeping his season-ending cameo in perspective.
"While you're in the Minor Leagues, being the No. 1 prospect is not the goal," Madison said. "The goal is to get to the big leagues and contribute to a championship club. I think he's stayed focused on that, and he's really bought into what we're trying to do and sees the big picture."
Climbing toward the upper Minors, Torres will begin to diversify his defensive profile in 2016 too.
"As good as Gleyber is at shortstop, we're going to have him play some games at second just so, if he ever gets to the big leagues and has to go there, he understands," Madison said. "Being versatile just makes you so much more valuable especially with a guy like [Cubs manager Joe Maddon] who's not afraid to move you around."
Major League-ready: Willson Contreras, C
Let's not get too far ahead of ourselves. Contreras won't be in Chicago out of the gate in 2016 and still needs some refinement at Triple-A Iowa. But if 2015 is any indication, the Cubs believe they have in Torres one of the game's most dynamic catching talents in the making.
"He's come such a far way from where he was three years ago in Boise [in Class A Short Season in 2012]," Madison said. "Last offseason he went to Venezuela and played with the pro team there and took a huge step forward maturity-wise, which was always an issue with him, just kind of growing up and figuring out who he was and how he fit in."
Maybe it was the trip home that sparked the Venezuelan catcher into his career-catapulting campaign last year. Contreras played 22 games for the Tigres de Aragua in the Venezuelan Winter League and more than held his own in one of the world's premier offseason leagues with a .273/.324/.545 line.
Before moving to catching full-time with Class A Kane County in 2013, Contreras had played first, second, third and both corner outfield spots in the lower rungs of the Minors. Settled behind the plate in 2015, Contreras broke out with a .333/.413/.478 line and a Southern League batting title in 126 games with Tennessee. Beyond his impressive work at the dish, he's embraced learning all aspects of the catching position, including his place as the game's defensive linchpin.
"That was kind of the message when we told him he was going to the Arizona Fall League: 'Hey, this is going to be a good experience for you to work with different guys and build trust because the pitcher has to trust you,'" Madison said. "You have to be able to lead that guy and understand what he's going through to help him get through those situations."
In addition to his work on the field, Contreras has immersed himself in improving his fluency in English to better communicate with his pitching staff and teammates. He was the first Venezuelan prospect to join the Minor League Baseball podcast for an interview last month.
"The work he did to try and learn English, it helps build that trust with the pitcher, with your teammates," Madison said. "When you can communicate with your teammates and understand and not have to ask for someone to translate, it builds trust and makes everybody a little bit more on the same page.
"He's taken off with it and really understood how important that is for his career."
Back and healthy: Pierce Johnson, RHP
"Healthy" is the descriptor most Cubs fans want to see attached to Johnson, who has shown tremendous promise in three professional seasons but has rarely been able to put together a full campaign. A strained lat muscle limited Johnson out of the gate last year, just like hamstring and calf strains did in 2014. Had the righty been healthy for the qualifying number of innings, he would've led the Southern League in ERA in both seasons.
Johnson finished 2015 with 95 innings for Tennessee, but perhaps more importantly, he finished the year with another healthy 24 2/3 frames for Mesa in the Arizona Fall League.
"I think that's been the biggest thing for him," Madison said. "Starting out the season healthy and continuing to develop his pitches is going to be big for him. I do expect a big year for him. When you go back and look at what he did last year in a little bit more than half of the season, he really put together a good season with not having a full season and not being completely healthy."
Johnson didn't debut for the Smokies until June 11, but his ERA didn't creep over 2.00 until Aug. 24. He allowed more than one run in just four of his 16 appearances. Johnson's repertoire is headlined by a plus fastball and curveball with a cutter and changeup that hover around average grades.
"I think in his mind and in all of our minds, we're looking forward to seeing what he does when he can start out of the gate on a good foot and take off," Madison said. "He has top-of-the-rotation stuff. It's just a matter of it all coming together."
Breakout prospect: Duane Underwood, RHP
Position players have dominated the Cubs' recent prospect success, but Underwood headlines Chicago's pitching talent. Possessing a mid-90s fastball to go along with an above-average curveball and changeup, the righty overcame elbow inflammation to make 14 dazzling starts for Myrtle Beach last year.
"Now it's about refining his pitches and understanding that the things you're able to get away with in Myrtle Beach you're not going to be able to get away with as you move up the ladder," Madison said. "Those mistake pitches that guys swing at out of the zone, as they start to take them, you're going to have to make the adjustment and pitch to a game plan."
Underwood went six or seven innings in six of his 14 outings last year and made two postseason starts for the Pelicans as well. Opposing hitters couldn't get much of a read on him throughout. He limited them to a .202 average in the regular season.
"Now it's about refining that, really working on his fastball command and coming up with that third pitch," Madison said. "He has flashes of a plus curveball and a plus changeup. Now it's: how do you sequence those pitches to make them most effective? I think it's kind of the polishing work now with Duane."
Loudest tool: Dylan Cease, RHP
When the Cubs nabbed Cease with a sixth-round pick in 2014, they knew they were getting a power arm, but the righty's early returns in 2016 are in the stratosphere of exciting. Sitting 98-99 in Spring Training, Cease looks to be more than fully recovered from the Tommy John surgery he underwent after signing with the Cubs two years ago.
Now it's time to take off the reins. Cease's heater grades as a 70, according to MLB.com, and touched triple digits in the Rookie-level Arizona League last summer during his professional debut. In total, Cease went 1-2 with a 2.63 ERA in 11 outings (eight starts) in the desert and should be ready to make the jump to Eugene in the short-season Northwest League with extended time at Class A South Bend likely.
More to keep an eye on: Billy McKinney's season came to an end with a hairline fracture he suffered in August, but the outfielder is healthy and should see Triple-A for the first time this year. … Ryan Williams vaulted over Class A Advanced last year and dominated no matter where he was, going a combined 14-3 with a 2.16 ERA between South Bend and Tennessee to be named the organization's Minor League Pitcher of the Year. He's likely destined for Iowa. … Taiwanese righty Jen-Ho Tseng was a steady force for Myrtle Beach last season, putting up a 3.55 ERA in 22 starts, and will look to regain some lost velocity this season when he hits Tennessee.
Tyler Maun is a contributor to MiLB.com. Follow him on Twitter @TylerMaun. This story was not subject to the approval of the National Association of Professional Baseball Leagues or its clubs.
View More