D-backs Prospect Primer: O'Brien blasts off
Arizona slugger, No. 2 prospect Bradley near Majors as Bray stands out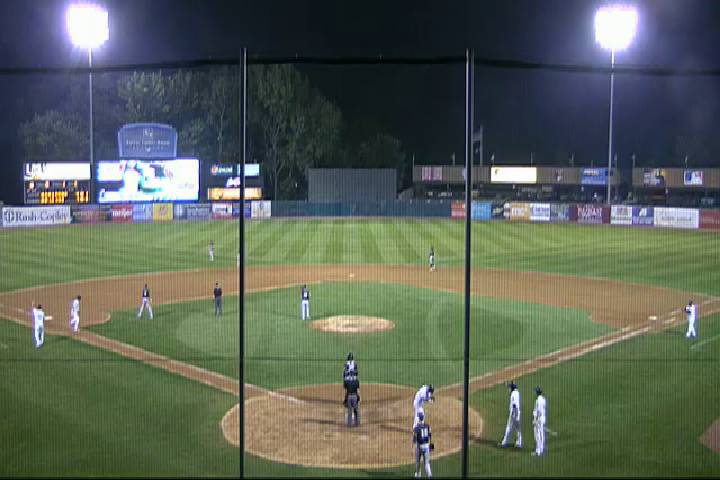 By Kelsie Heneghan / MiLB.com | March 28, 2016 10:30 AM
Some players are on the verge of stardom, others are entering a crucial phase of their development and still others are getting their first tastes of full-season ball. With the 2016 season approaching, MiLB.com takes a look at the most intriguing prospects from each MLB organization.
Loudest tool: Peter O'Brien, C/1B/OF
The crack of the bat for a no-doubt homer is one of the loudest natural sounds in the game, and O'Brien is giving "loudest tool" a whole new meaning. After a breakout 2014 campaign in which he belted a career-high 34 homers, the D-backs' No. 9 prospect brought his hot bat to the Pacific Coast League for his Triple-A debut.
With the Reno Aces, O'Brien dispersed his power, collecting a career-high 70 extra-base hits, including a team-leading nine triples, a personal best. The 25-year-old also led the organization -- and ranked second in the Minors -- with 107 RBIs.
"I don't think there are many people in the game right now who have his raw power, so that certainly sets him apart from many other players in the system and in the Major Leagues for us," said Mike Bell, the D-backs' director of player development. "Power is hard to find, and we have it with Pete. We're fortunate to have him and his impact on a lineup, and he's swinging the bat really well right now."
O'Brien brought his bat to Arizona for his Major League debut in mid-September, and in his fifth plate appearance slugged his first big league jack off eventual American League Cy Young award winner Dallas Keuchel.
With four long balls and 14 RBIs over his first 21 games at big league camp this season -- including the hardest-hit home run ever recorded -- O'Brien is poised as another option for the D-backs' outfield this season.
Breakout prospect: Colin Bray, OF
Bray's career was just kicking off in 2014 when he broke his foot chasing a fly ball nine games into his full-season debut. The switch-hitter sat out the remainder of the season before returning to the Midwest League in 2015.
Switching uniforms as the D-backs changed affiliates from South Bend to Kane County, Bray impressed quickly. Arizona's No. 24 prospect hit .308 with 25 doubles and 52 RBIs, swiping 27 bases in 36 chances as he displayed his 70-grade speed.
"He's off a lot of people's radar, but he's a good looking outfielder, center fielder -- tall, lanky, strong young player who has all the tools. He's just learning the game right now, but he is progressing fine," Bell said. "He'll make another jump and will likely go to Visalia, and I expect him to have a big year there."
In the hitter-friendly California League, Bray will get a chance to develop his power, which is his tool that has the most room for improvement. And with a spacious center field in Class A Advanced Visalia, the 22-year-old can also show off a defense that committed just six errors in 197 games.
Major League-ready: Archie Bradley, RHP
A year ago, Bradley was back and healthy, and it looked like 2015 was going to be his year. He started the season in the Majors, holding opponents to three earned runs over his first three big league starts. But in start No. 4, the D-backs' second-ranked prospect was hit in the face by a comebacker and placed on the disabled list.
Bradley returned to the Majors a couple weeks later, but shoulder tendonitis emerged in June and stymied his return, and he spent the rest of the season rehabbing. In six Minor League starts, MLB.com's No. 72 overall prospect posted a 2.76 ERA with 32 strikeouts and 10 walks over 29 1/3 innings.
Bradley is back once again, this time starting with Triple-A Reno. But rest assured, it won't be long before the 23-year-old is back in Phoenix.
"He's throwing the ball really well. He had a pretty good year last year -- unfortunately he got hit and that set him back a little bit, but I think he's back on track now," said Bell. "At the beginning of the year or not, I think he's going to be a big contributor in the big leagues."
At the crossroads: Zach Borenstein, OF
Just two years ago, Borenstein was a ranked Angels prospect quickly climbing through the system. But after being traded to the D-backs, things haven't quite been the same for the left-handed hitter.
Borenstein started 2015 with seven hits in his first four games for Double-A Mobile and was quickly promoted to Triple-A. But after collecting eight hits in 18 games with Reno, it was back to the Southern League for Borenstein. The 25-year-old fought through injuries to finish the year with a .289/.363/.461 slash line overall.
As Borenstein enters his sixth professional season, the question remains whether he has what it takes to make it at the next level. Before he was reassigned to Minor League camp, the Eastern Illinois University product hit .290 with four RBIs in 31 Cactus League at-bats.
"I think he just needs at-bats at higher levels -- he's been at Double-A, a little bit in Triple-A, hasn't gotten significant or consistent at-bats there, so he needs at-bats, whether it's in the big leagues or Triple-A, consistent at-bats and I think he is going to have a good year," Bell said. "I think with his power, he's going to have some impact on the [big league] team this year."
Full-season debutant: Taylor Clarke, RHP
After 13 scoreless outings, it's time for Clarke to make his full-season debut. The D-backs selected the 6-foot-4 right-hander in the third round of last year's Draft and sent him to Class A Short Season Hillsboro as a reliever so he could log innings.
And with those frames, Clarke became the most dominant pitcher in the Northwest League, holding opponents to eight hits, four walks and one hit batter in 21 innings. The 22-year-old stuck out 27 while keeping foes from crossing the plate.
"He's a mature person and he overmatched hitters in the Northwest League," Bell said of the club's No. 12 prospect. "He came [into camp] in great shape, feels good, so yeah, he'll get out to a full season to start and he appears to be a guy who can move fairly quick too."
More to keep an eye on: Arizona's Top 30 ranking is peppered with talented relief pitchers, including Adam Miller (No. 18), Jake Barrett (No. 20), Ryan Burr (No. 22), Jose Martinez (No. 26) and Silvino Bracho (No. 30), with Barnett and Burr destined for a ninth-inning role.... After being traded from the Mariners last June, outfielder Gabriel Guerrero (No. 11) is set to show off his above-average arm in his first full season with the D-backs, while right-hander Tyler Wagner looks to start his first game with Arizona since being dealt from Milwaukee in January.
Kelsie Heneghan is a contributor to MiLB.com. Follow her on Twitter @Kelsie_Heneghan. This story was not subject to the approval of the National Association of Professional Baseball Leagues or its clubs.
View More