Carolina notes: Burt becoming total package
Royals prospect raises defensive profile while improving at plate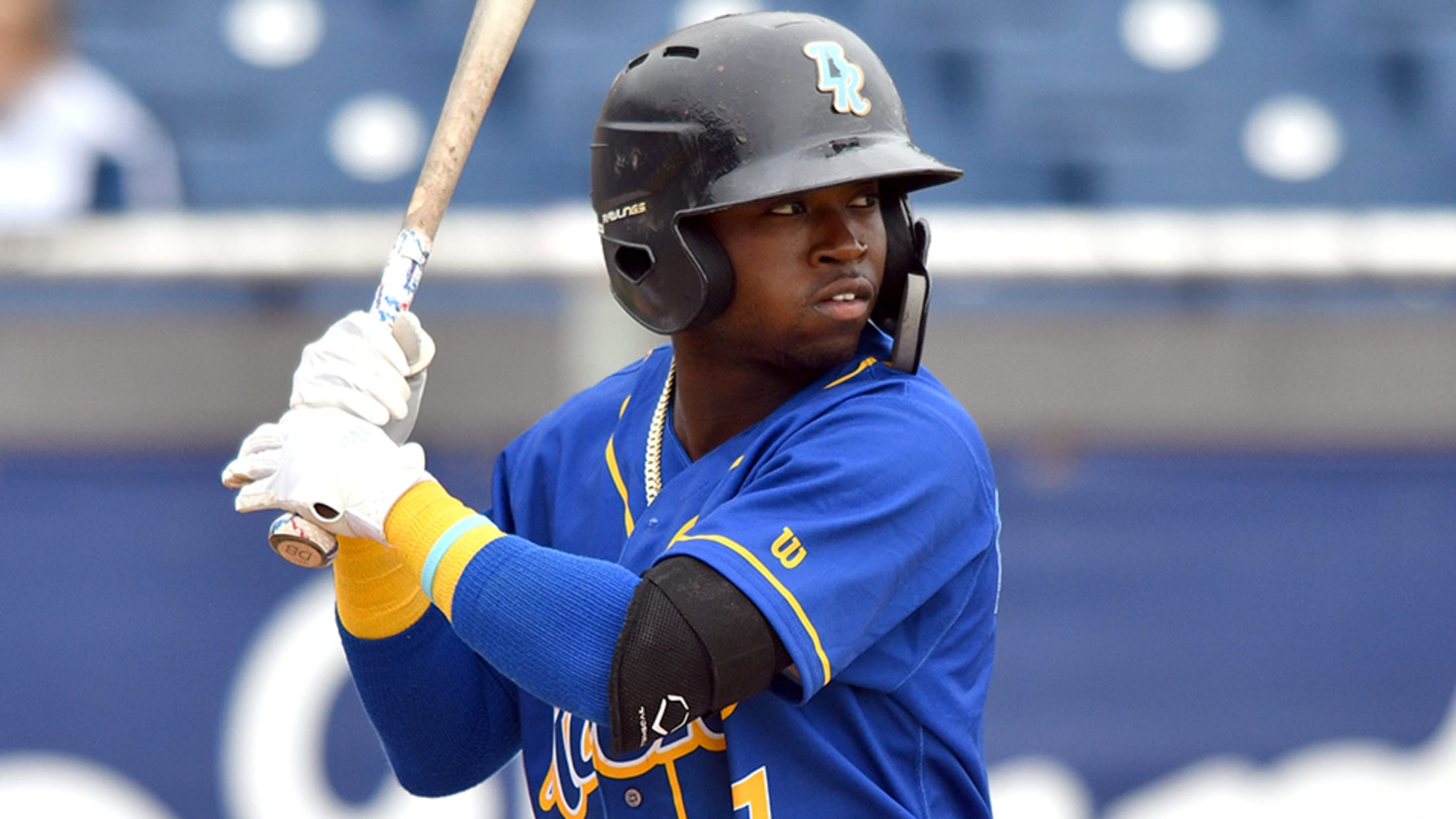 Wilmington's D.J. Burt ranks third in the Carolina League with 27 steals and a .383 on-base percentage. (Ken Inness/MiLB.com)
D.J. Burt spent this past offseason in his hometown of Fuquay-Varina, North Carolina, working on a bit of everything. He recruited his grandfather, Wade Burt, to help him work on his fielding, and the two spent hours together as the elder Burt put baseballs through a machine to simulate grounders.But
D.J. Burt spent this past offseason in his hometown of Fuquay-Varina, North Carolina, working on a bit of everything. He recruited his grandfather, Wade Burt, to help him work on his fielding, and the two spent hours together as the elder Burt put baseballs through a machine to simulate grounders.
But his focus didn't stop there. Kansas City's 28th-ranked prospect also reworked his approach at the plate after the Royals encouraged the 22-year-old to level his swing and develop a line-drive approach.
With the help of Tom Hayes, who serves as pitching coach at Burt's alma mater, Fuquay-Varina High School, he focused on smoothing out his swing and getting the ball closer to the ground off the bat.
Using the mantra "Any way on base for me," Burt has thrived following the adjustment. He ranks among the top 10 in the Carolina League in batting average, stolen bases, runs scored, triples and on-base percentage in a stellar second stint with Class A Advanced Wilmington.
"Obviously last year wasn't the year I wanted to have, but I didn't hang my head," Burt said. "I learned a lot of things I didn't know and I just trusted the process and kept through with my plan. I have a lot more confidence this year, and that's what I feel like helped me out a lot."
The 2017 season was a learning experience for Burt, who was three years removed from being drafted in the fourth round out of high school. He hit .227 with 24 extra-base hits, 29 RBIs and 32 stolen bases.
He got off to a sizzling start this season, batting .377 in his first 16 games, but the average dipped to .279 on June 25 after an 0-for-3 showing against Lynchburg.
It didn't take long for Burt to get back on track. He has 14 multi-hit games since then, and his .298 batting average ranks sixth in the Carolina League. Burt is second in runs scored with 64, third in both on-base percentage (.383) and stolen bases (27) and tied for fifth in triples with five.
"It's pretty much just confidence right now," Burt said. "I like the way I'm swinging it, and I just go up there with a positive mind knowing I'm going to do something good."
His batting average on balls in play is 73 points higher than last season. The .383 mark would best his personal high of .372 set in 2015 with Rookie-level Idaho Falls in the Pioneer League.
"Through the whole organization, really, through all the hitting coordinators, they've been working with me," Burt said. "Like I said, 'Any way on base.' I can't really get on base if I'm hitting the ball in the air."
Burt's fielding work hasn't gone unnoticed, either.
He played exclusively at second base last season after seeing an occasional appearance at shortstop in 2016 with Lexington in the South Atlantic League.
Burt committed 15 errors in 2017 after 22 miscues in 2016, and that number has continued to decline this season even though he has played four different positions. He's played third base in 33 contests this season -- his first year at the position in the Minors -- while making 27 appearances at second. He's also played shortstop and left field as he adds defensive versatility to his game.
He's been charged with 11 errors this season, six coming at shortstop and two apiece at second and third.
"It's come along. I had a lot of errors last year," Burt said. "They've been expanding my range. I've played some at third and they've put me in left field, and I'm just really comfortable playing anywhere pretty much. I worked really hard in the offseason, taking a lot of ground balls at a facility back at home, and all the stuff is really just paying off."

In brief
Still rolling:
Kirk McCarty
got off to a rocky start with Class A Lake County this season. He allowed three earned runs or more in nine of his first 12 starts and his ERA was 6.44. But improvement began in June, and he carried that over into his first start with Lynchburg. The Indians' seventh-round selection from the 2017 Draft scattered two hits and struck out six in six scoreless innings Sunday against Down East. It was his third appearance this season in which he has not allowed a run and dropped his 2018 ERA to 4.08.
Welcome back, Robert:
Outfielder
Luis Robert
has made the most of his return to the Winston-Salem lineup. The No. 25 overall prospect was placed on the disabled list on June 28 after suffering a left thumb sprain, and he returned July 31. The No. 6 outfield prospect and White Sox No. 3 prospect is 11-for-32 with a pair of home runs, two triples and three RBIs in nine games back from the DL.
Keys love free baseball:
If Frederick plays a game involving extra innings, chances are the Keys are coming away victorious.
Stuart Levy
's infield RBI single in the 10th inning Saturday night resulted in the Keys' fifth walk-off victory of the season and first since June 26. Three of Frederick's four wins from Aug. 4-11 came in extra innings as the Keys improved to a league-best 7-1 in such contests.
Damien Sordelett is a contributor to MiLB.com