Dahl knocks in four runs for Tourists
Rockies' No. 3 prospect doubles three times to take SAL lead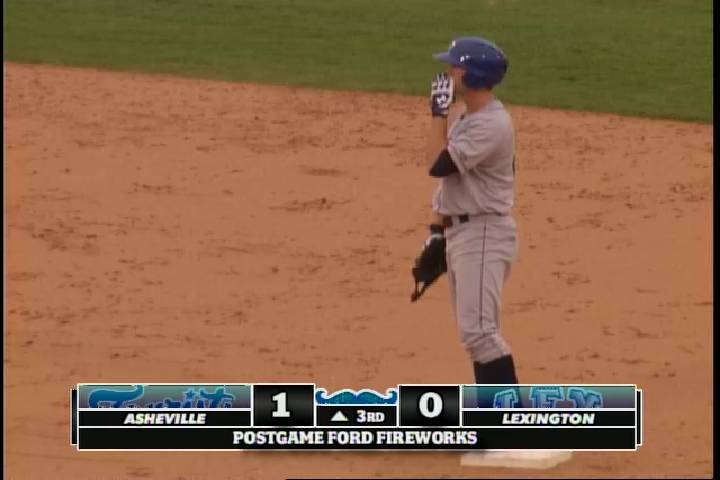 By Josh Jackson / MiLB.com | July 15, 2014 11:12 PM ET
Plating multiple runs in a game is always a plus for any ballplayer. According to David Dahl, doing it from the top spot in the batting order is even better.
"It feels really good. That means the guys in front of me are getting on base," said the Rockies' No. 3 prospect. "I give them credit for that and thank them for putting me in that situation, and I'm also really thankful I was able to drive them all in."
Dahl went 3-for-5 with three doubles and four RBIs on Tuesday night to lead Class A Asheville to a 10-5 victory over visiting Savannah.
The three doubles give a South Atlantic League-leading 32, one ahead of teammate and fifth-ranked Rockies prospect Ryan McMahon
"We joke around a little bit. Out of the box, we're both thinking doubles or extra bases," the 2012 first-round pick said. "He's going to try [to retake the lead Wednesday]."
Dahl, who was sent to extended spring training for disciplinary reasons last April and suffered a season-ending hamstring injury in May, also has raised his batting average from .278 on June 15 to .304, collecting 18 hits over his last 10 games. Tuesday's three-hit effort was his fourth game with that at least that many since July 7.
"I'm just trying to have good at-bats and hit the ball hard and help out the team however I can," Dahl said.
Leading off the bottom of the first, the left-handed hitter struck out against Sand Gnats southpaw Alex Panteliodis, losing a five-pitch battle. Dahl got his revenge an inning later when he drilled a 1-1 pitch the other way for a two-run double.
"[The first at-bat] helped a lot. I saw a lot of pitches and he got me on a pitch that the ump called a strike. I had a lot of at-bats left in the game and I told myself not to let that affect the later at-bats," said MLB.com's No. 56 overall prospect.
"In the second at-bat, I just tried to stay on it and take the ball the other way. Against lefties, especially, I try to stay inside the ball and not yank it out; I'm trying for line drives to left field. He threw me a fastball middle-away and I went with it."
Dahl doubled off Panteliodis again in the fourth, this time to left field, scoring Emerson Jimenez from third base. It was the second of four consecutive doubles by the Tourists.
"With a guy on third, I was looking for a pitch to hit to the outfield," Dahl said. "He threw me one to hit on the first pitch."
In the fifth, he delivered another RBI double to left against John Mincone, another left-hander.
The 10th overall pick in the 2012 Draft led off the ninth by striking out against Hunter Carnevale in a nine-pitch at-bat.
"The guy had a good changeup or splitter and a good slider," Dahl said. "He had some really tough pitches and I was just trying to battle. You've got to tip the hat to somebody who gets you out on pitches like that."
McMahon contributed an RBI single, while Michael Benjamin was 3-for-4 with two doubles, an RBI and two runs scored for Asheville.
Tourists right-hander Zach Jemiola (7-8) recorded his first win in four starts since June 24, allowing four runs on six hits and two walks with five strikeouts over five innings.
Josh Jackson is a contributor to MiLB.com. This story was not subject to the approval of the National Association of Professional Baseball Leagues or its clubs.
View More