Davis pedals to 'surprise' cycle for Stars
Brewers prospect thought fourth-inning triple was only a double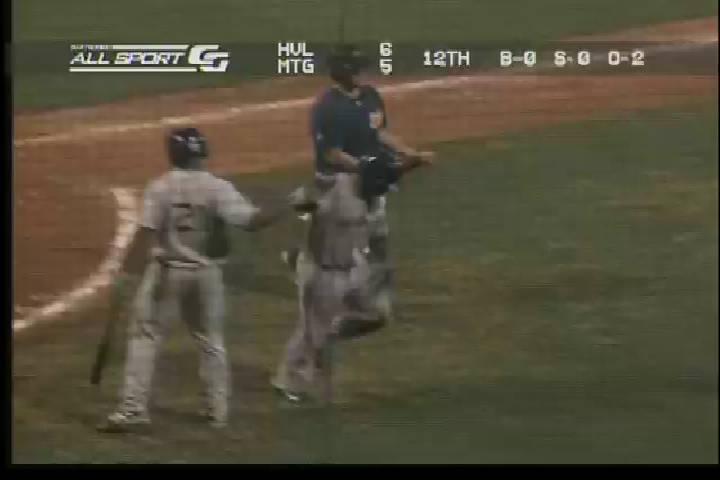 By Mark Emery / MiLB.com | May 23, 2014 3:37 AM
Kentrail Davis walked off the field in the wee hours Friday morning thinking he had merely performed well in Huntsville's extra-inning defeat at Montgomery.
The Brewers outfield prospect thought he had collected a homer and two doubles on a four-hit night. But he thought wrong.
After the game -- following a walk-off ground-rule double by Cameron Seitzer that gave the Biscuits a 7-6 win over the Stars in Thursday's 13-inning game -- Davis learned that his drive to the left-center gap in the fourth inning was ruled a triple, not a double.
That meant his home run in the 12th inning was the finishing touch on the eighth cycle in the Minor Leagues this season.
"I had no clue," Davis said. "It was a surprise to me. It feels good, man."
With one out in the fourth, Davis laced a ball that split left fielder Willie Argo and center fielder Joey Rickard and reached the fence, where Argo needed two attempts to retrieve it. The Mobile, Alabama native made it to third base standing up, under the impression that he had another two-bagger to go with the one he hit to right in the second.
"Pretty much everyone on the team thought it was a double, so I thought it was a double too," Davis said. "I just found out before I called you. I guess that's even better.
"Now that I think about it, it was probably better that I thought it was a double and not a triple to keep if off my mind," he laughed.
In his next two at-bats, the left fielder flew out to center in the fifth and reached on a fielding error by shortstop Jake Hager and got caught stealing in the eighth.
Montgomery scored three runs in the eighth to tie the score and send the game to extras. The 2009 first-round pick (No. 39 overall) hit a liner into right for a single in the 10th, and in the 12th, he roped a solo shot over the center-field fence with two outs.
"This is definitely at the top of my list as far as being in pro ball," said Davis, who scored three times in the game. "It's a great accomplishment. You can go your whole career without doing it. To have it happen now, five years in, it's awesome."
The long ball was a go-ahead shot, but in the bottom of the frame, Montgomery's Richie Shaffer doubled and scored on a throwing error by shortstop Nick Shaw. In the 13th, Jeremy Moore led off with a single, advanced on Taylor Motter's sacrifice bunt and scored on Seitzer's double.
The 25-year-old is hitting .239/.307/.398 with 14 RBIs, two homers and four stolen bases in five attempts across 31 games this season. After six games, he suffered a groin injury that sidelined him about two weeks. Davis said he struggled with timing when he returned April 24, but has been feeling better at the plate lately.
His cycle was the first in Huntsville's 30-year history.
"I had no clue about that," Davis said. "I guess it's a great accomplishment."
It was also the second such feat in the Southern League this season. Pensacola's Donald Lutz completed one in a 17-1 win at Jacksonville on April 21.
Mark Emery is a contributor to MiLB.com. Follow him on Twitter @Mark_Emery. This story was not subject to the approval of the National Association of Professional Baseball Leagues or its clubs.
View More