DeShields' bat proves too heavy in rout
Astros' No. 12 prospect misses cycle by single, but ties career highs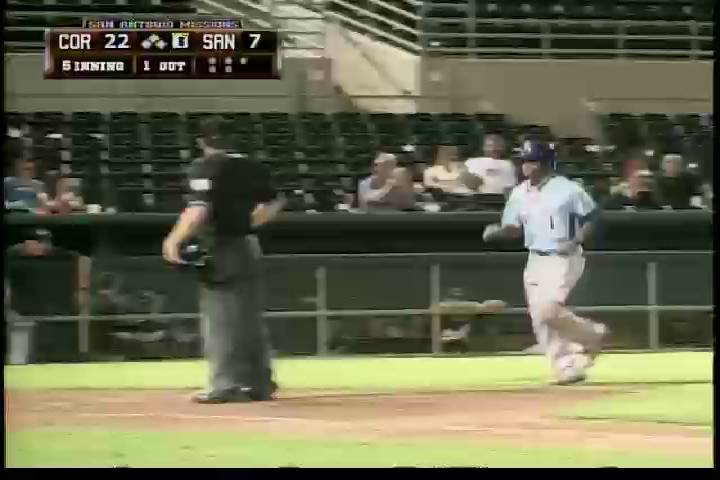 By Mark Emery / MiLB.com | August 26, 2014 2:14 AM ET
After just five innings Monday, the last hurdle that stood between Corpus Christi's Delino DeShields and the cycle was the one typically the easiest to clear.
"Some people in the stands said, 'All you need is a single!'" he recalled. "I was like, 'Well thanks, I'm not going to get a single now, with y'all jinxing me.'"
The Astros' No. 12 prospect got two chances to record the one-bagger. In the sixth inning, he belted a pitch over the left-field fence for his second homer of the game, and in the seventh, he drew a walk.
Though he fell just short of history, DeShields tied career highs with two home runs and five RBIs as the Hooks coasted to a 23-7 win over the Missions on the road at Nelson W. Wolff Municipal Stadium.
"It would have been cool to accomplish it, but the homer was nice too," the eighth overall pick of the 2010 Draft said. "The cycle is obviously a pretty big deal, and it would have been really nice to get that single out of the way, but it didn't happen. Mixed in a walk. Shoot, I had seven at-bats to do it. Just one short. But it's all good. I wasn't really pressing about it."
The 22-year-old bashed a leadoff home run to set the tone for Corpus Christi early, struck out looking in the second, cleared the bases with a three-run triple in the third, went down swinging in the fourth and ripped a ground-rule double to right-center in the fifth.
Previously, he went yard twice in one game against Frisco on May 9, and also racked up five RBIs on July 28, 2013 with Class A Advanced Lancaster.
"I was just trying to have quality at-bats, like I always do," DeShields said. "The pitchers made a couple mistakes and I attacked them aggressively. I did some damage tonight."
In 107 games, the Georgia native is batting .244/.352/.374 with 11 homers and 55 RBIs. He ranks second in the Texas League with 50 stolen bases and 69 runs while standing fifth in walks with 56. Back in April, he was hit in the face with a pitch, which caused him to miss 19 games.
Monday proved to be a highlight to remember for him in "an up-and-down year."
"I was just trying to have quality at-bats, and if I got the single, it would have been cool, but I still had a good day," DeShields said. "Kudos to all our guys. We were hitting the ball hard today, everywhere. Everybody had good turns at the plate. Their pitchers made mistakes. We didn't miss their mistakes. It was just a good all-around day, for myself and my team."
Corpus Christi's other notable offensive performers included Brandon Meredith and Tyler Heineman, who collected three hits and four RBIs apiece. No. 11 Astros prospect Teoscar Hernandez fell a triple short of the cycle and drove in three and No. 5 Colin Moran added three hits.
Hooks reliever Travis Ballew (6-3) allowed two runs on four hits over three innings for the win. Missions starter Leonel Campos (2-6) was charged with the loss after he was tagged for seven runs on four hits and six walks across two innings.
Mark Emery is a contributor to MiLB.com. Follow him on Twitter @Mark_Emery. This story was not subject to the approval of the National Association of Professional Baseball Leagues or its clubs.
View More