Dodgers Prospect Primer: Pederson thrives
Tools-laden outfielder spent the offseason working on shortcomings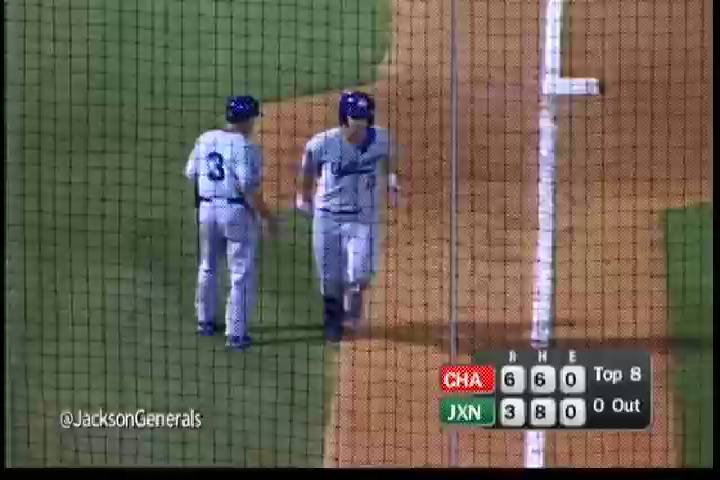 By Josh Jackson / MiLB.com | March 26, 2014 10:00 AM ET
Some players are on the verge of stardom, others are entering a crucial phase of their development and still others are getting their first tastes of full-season ball. With the 2014 season approaching, MiLB.com takes a look at the most intriguing prospects from each MLB organization.
Even with four star outfielders on the big league roster, Dodgers fans can be forgiven for clamoring for the day when the team's No. 2 prospect arrives. Pederson hit 22 homers, stole 31 bases and put up a .381 on-base percentage in the Double-A Southern League last year, which -- it's easy to forget -- was only his second full season as a pro.
Pederson, MLB.com's No. 36 overall prospect, also saw time at each outfield position last year ,and he'd be more than happy to fill any need that arises on the Major League club this year. Still, he admitted he does have a preference.
"I like all three, but I feel most comfortable in center," he said at a Dodgers prospect camp in January. "I grew up playing center. It's more of a 'prime time.' You get more action out there. I like to go run down fly balls."
The left-handed hitter hasn't always been in his element against southpaws, but he worked on that in Venezuela over the winter and has continued to use apparently top-secret methods to improve even more. As he irons out the wrinkles in his game, he's confident a Major League opportunity eventually will come in one form or another.
"My dream is to play in the big leagues. There's a lot of different routes to get there. It's tough," he said of the notion of being traded. "I would love to play here. The Dodgers are going to do what they do. I hope they do keep me."
Carlos Frias is not especially well known, even among devoted Dodgers fans, and he's not even considered by MLB.com to be among the organization's top 20 prospects. Nonetheless, he's on his way to becoming an important figure in L.A.'s bullpen. If he can continue to make the strides he made in 2013, when he combined for a 3.31 ERA across three levels, he'll be there sooner than later.
"Carlos Frias is a guy no one is talking about," Dodgers vice president of player development De Jon Watson said. "He's been great for us. He had a good year and [pitched well] in the Dominican [Winter League]."
Indeed, the 24-year-old followed up that impressive 2013 with 15 winter relief appearances, over which he posted a 1.62 ERA. A shaky spring in big league camp (he had a 15.00 ERA in four appearances in his first stab at the Cactus League) hardly means he won't plow through innings in the Minors and possibly be ready for the Majors by September.
At a crossroads: Pedro Baez, RHP
Unlike Frias, Baez is a player many Dodgers fans have heard of, even if it's been a little while. He went to two Futures Games as a third baseman before the organization converted him to a pitcher after the 2012 season. Because of that conversion and because of the kind of hurler he profiles to become, Dodgers general manager Ned Colletti has compared Baez to one-time catcher Kenley Jansen.
In his first year on the mound, Baez struck out 55 and walked 23 over 58 innings in 48 relief appearances between Class A Advanced Rancho Cucamonga and Double-A Chattanooga. He was 2-2 with a 3.63 ERA and two saves in the California League and 1-1 with a 4.24 ERA after jumping up to the Southern League. The difference might be explained by an over-reliance on his fastball, which wouldn't have hurt so much at the Class A Advanced level. In the Arizona Fall League, he struck out six, walked three and allowed three hits over 4 1/3 scoreless innings in four appearances.
"I don't want to blow our program, but we have guys under the radar that aren't publication sexy, and Baez is definitely one of them," Watson said. "Pedro Baez is throwing crazy heat. He continues to make progress. He throws 95-96 with heavy sink and a strong slider. He's becoming a really solid pitcher."
How Baez handles a full season at the upper levels of the Minors will be a good indicator of the conversion's long-term success.
More to keep an eye on: Considering what he accomplished at an advanced level for his age last year, teenaged Mexican phenom Julio Urias, who already has three strong pitches, promises to be one of the more exciting hurlers to watch in the Minors in 2014. He's still 17, and it wouldn't be a surprise to see him back in the Midwest League for the start of the year. Shortstop Corey Seager, who's ranked 34th overall and second in the Dodgers system, will likely start in the Cal League and may work his way up to Double-A Chattanooga. Chris Anderson and Tom Windle, Los Angeles' first two picks in last year's Draft, were stellar for Class A Great Lakes, figure to face a challenge in the hitter-friendly Cal League and could reach Double-A.
Josh Jackson is a contributor to MLB.com. This story was not subject to the approval of the National Association of Professional Baseball Leagues or its clubs.
View More