Eastern notes: Berrios settles his nerves
Twins right-hander stepping up after shaky debut with Rock Cats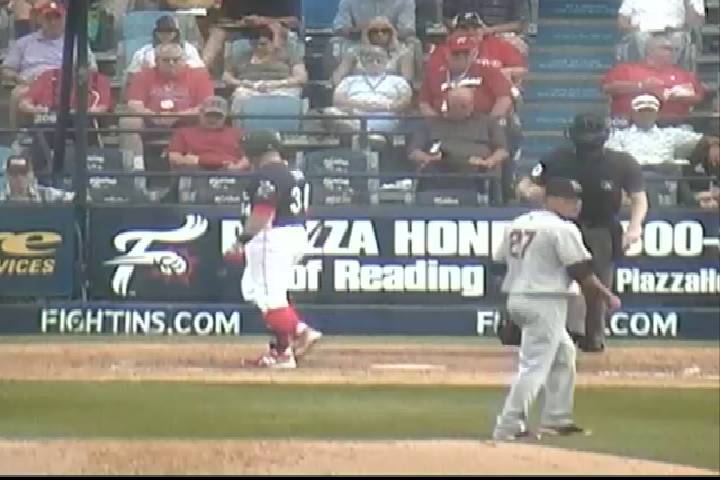 By Craig Forde / Special to MiLB.com | July 29, 2014 11:18 AM ET
Even after getting the bump up to Double-A at the beginning of July, New Britain starter Jose Berrios continues to impress.
In three starts since joining the Rock Cats, the 20-year-old Puerto Rican righty is flashing a first-round-worthy repertoire, already stepping up against some of the better competition in the Eastern League.
After a bumpy first start in which he allowed five runs in five innings against New Hampshire, Berrios has settled in nicely, allowing just one earned run in each of his last two starts.
"The first start I felt a little pressure, first time in Double-A, young player," said the Twins' No. 5 prospect. "It was OK -- that game happened and past. Now I feel better, more comfortable, more confident when I do my work."
In a head-to-head showdown against one the league's best hurlers, Portland's Henry Owens, it was Berrios who shined, striking out seven Sea Dogs over seven strong innings en route to his first Double-A victory.
"I needed to do work, throw strikes down in the zone," said Berrios, who admitted to being a bit pumped up about the opposition that night. "I had good offense and good defense to help me. Owens is a good pitcher."
"He's mature for his age," said Portland's Derrik Gibson, who went 0-for-3 against Berrios. "He did a good job keeping us off-balance and did pretty good working both sides of the plate. He was tough."
Berrios starred at Papa Juan High School in Bayamon under the tutelage of his father and was taken by the Twins with the 32nd overall pick in the 2012 Draft, becoming the highest drafted pitcher ever from Puerto Rico. At 18 he was pitching on the Puerto Rico national team and would soon roll through two of the Twins' Rookie-level teams in his debut season.
His first full season was spent entirely with Class A Cedar Rapids, and even starting this season with Class A Advanced Fort Myers, Berrios was aiming for a trip north to New Britain before the season's completion.
"It was my goal for this year before I started the season," said Berrios, who went 9-3 with a 1.96 ERA before being called up from Fort Myers. "I started healthy and strong [at Fort Myers]. Now I want to keep healthy and strong."
With Minnesota firmly in his sights, Berrios is looking to maintain that sound mind and health, hoping to gear up for big matchups against some of the big league hurlers he looks up to.
"There are a lot of good pitchers, like Yu Darvish, Jose Fernandez, Justin Verlander," said Berrios when asked whom he enjoys watching. "But now I want to be Jose Berrios."
In brief
Groovin', on a Sunday afternoon: Portland's Brian Johnson fanned a career-high 12 in a seven-inning, one-hit performance over New Britain on Sunday. For the week, the No. 11 Red Sox prospect went 1-0 in two scoreless road starts, scattering seven hits and four walks over 13 innings. The 2012 first-rounder is 12-3 with a 2.53 ERA in 20 starts between Class A Salem and Portland this season.
Putting a lid on the competition: In his last six starts, Giants top prospect Kyle Crick has gone 2-2 with a 1.91 ERA and 48 strikeouts over 33 innings. He matched a career-high with 11 strikeouts against Erie in his last outing. Crick has recorded double-digit K's in three of his last six starts.
Bipartisan improvement: Harrisburg outfielder Michael Taylor has improved his numbers in most major categories this season and sits near the top of the leaderboard in batting (.312), home runs (21), RBIs (59), runs (72) and stolen bases (30). The Nationals' No. 3 prospect is also tied for the league lead with 127 strikeouts, just four shy of his career high, which he set a year ago in Potomac.
Craig Forde is a contributor to MiLB,com. This story was not subject to the approval of the National Association of Professional Baseball Leagues or its clubs.
View More